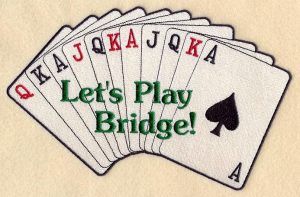 Group Leader:  Angela Domer, email:  AngelaCV@earthlink.net
(July 2021) The 3rd Monday AAUW Party Bridge group will be having its first in-person game on July 19th at 12:30. It will be at the home of Lola Rohrs. Though our group is full, we can always take names for substitutes. All of our AAUW Bridge groups will be meeting on Mondays at 12:30 so that the month's hostess will no longer be providing lunch — light snacks and liquid refreshments only are suggested. If you are interested in becoming a sub, call or text Angela Domer at 925 997 1692 or email at angelacv@earthlink.net. 
To join this group, please contact group leader.
Meeting Day/Time:  3rd Monday/12:30 pm
Open to intermediate players and advanced beginners.
Bridge, Daytime Party is an informal social group. We start at 12:30 with hostesses serving snacks and  liquid refreshments.  We are accepting substitute players.
View bridge rules.