AAUW CALIFORNIA PUBLIC POLICY TEAM ANNOUNCES  FIRST VIRTUAL LOBBY DAY!
Kathleen Harper, Director, and Sue Miller, Public Policy Committee Co-Chairs, publicpolicy@aauw-ca.org
On March 24, 2021, AAUW California in conjunction with our new advocacy firm, MVM Strategy Group, will be conducting a virtual Lobby Day with our legislators in Sacramento.  This is a terrific opportunity for branch members to get involved in the public policy process by helping the state Public Policy (PP) Committee advance our legislative goals for 2021-22.  It's also a great way to meet your local legislators and let them know how you, through AAUW, are helping their constituents in your communities.
Interested branch members, please register HERE by February 28, 2021.
All participants will be given full training in a Zoom webinar on March 22, 2021, at 7:00 p.m.   Click HERE to register for "How to Talk to Your Legislators."
Important Dates:
·  February 28, 2021 – Last day to register to participate in Lobby Day
·  March 22, 2021 – Lobby Day training webinar
·  March 24, 2021 – Lobby Day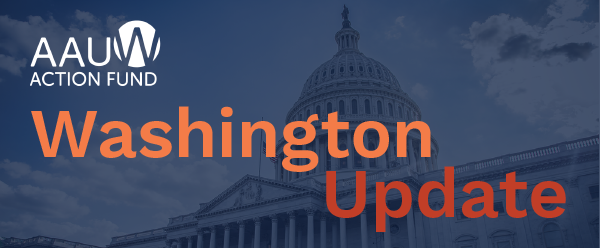 Act — Take action on the most pressing policies
As we enter a long winter holiday season, Americans need help now. Quickly rising COVID-19 cases, the detrimental and disturbing impact on women's ability to participate in the workforce, and the chilling silence from our elected officials has left this country in dire need of relief.
Your vote is only one part of your voice in our democracy—now we must hold our officials accountable. The U.S. House of Representatives passed the HEROES Act seven months ago without subsequent action in the Senate. Revisions to the bill this fall maintain key provisions from the original bill, including additional funding to bolster education and childcare, and offer a path forward to keep the country safe while stimulating economic recovery. Support our communities in need and take action for the HEROES Act today.
Learn — Dig deeper into the issues that matter
In spite of the pandemic, Americans showed up in record numbers at the polls—across race, gender, age, and zip code—to elect many diverse women to positions of power. Notably, Kamala Harris became the first woman, Black American and South Asian American elected to the second highest office in the land. Now is the time to shift our attention to advancing the rights of women and girls in the United States.
Reach out to newly elected officials and remind them of your priorities. Revisit the 2020 Voter Issue Guide to direct questions on health care, voter access, paid sick and family leave, equal pay, college affordability and campus sexual harassment and violence.

This year underscored the importance of investing in voter access to help every American cast their ballot in safe and accessible ways. Contribute your voice in support of passing the John R. Lewis Voting Rights Advancement Act, which includes critical voter protections.

As we look to move policy issues forward in the coming year, quick action from our Action Network is crucial. Ask your friends and family if they'll join you in engaging with policymakers by signing up for our Two-Minute Activist tool.
Engage — Share the important work we're doing
Please join AAUW CEO Kim Churches and Irasema Garza, the senior advisor to the AAUW Latina Policy Initiative, to hear about a new collaboration on the status of Latinas and the impact of the pandemic on their economic security and wellbeing. RSVP to join us today at 4 p.m. ET. (The webinar recording will be posted next week for those unable to join today.)

The 2020 update to The Simple Truth about the Gender Pay Gap is now available. It focuses on the impact of the COVID-19 pandemic on women's economic security, the projected rate of change for the closing of the gender pay gap based on race, and the work that must be done by policymakers and employers to accelerate that narrowing.

AAUW's Legal Advocacy Fund, created in 1981, has provided millions of dollars to balance the scales of justice for people working toward gender equity through the legal system. We recently streamlined our application and grant-making system to provide more timely and targeted support to plaintiffs facing sex discrimination in employment or education. We also launched a new opportunity: Clinic Campus Outreach Grants are available to law school clinical programs in California and New York that address legal claims regarding gender equity, particularly in the education and employment realms.