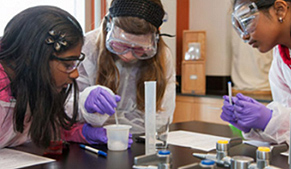 Farewell to the Tri-Valley Expanding Your Horizons (EYH) Conference
The Lawrence Livermore and Sandia National Laboratories consortium that manages the annual Tri-Valley EYH Conference has decided that they will no longer host the annual STEM event for girls. The wealth of STEM-oriented programs available in the Bay Area and challenges recruiting conference leadership and volunteers from the Labs has resulted in the Tri-Valley Conference being retired.
From the early days of the TVEYH Conference some 40 years ago, our branch and the Livermore-Pleasanton-Dublin branch have partnered with the National Labs in conducting the Tri-Valley EYH Conference. We have provided hundreds of event volunteers over the years who have served as workshop monitors and in other capacities. AAUW volunteers from both branches have played an important role in the smooth and successful execution of the annual conference. Many of you have daughters and granddaughters who attended the conference.
Our heartfelt thanks to Judy Lauper for her enthusiastic, committed service to the branch and the conference as our TVEYH lead and her recruitment and management of DAW volunteers each year. We also extend our thanks to all of you who have volunteered for the Tri-Valley EYH Conference at one time or another. We know this event will be missed by our members.
By Ann Willoughby (June, 2023)