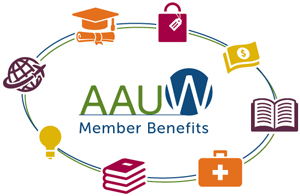 AAUW membership is a great way to meet like-minded women through activities that focus on equity for women.
Our monthly events from September to June are a mix of educational programs on women's issues, fundraising events, and social activities.  Some of our typical activities are
September Membership Brunch that kicks off our year with a talk from a woman leader in politics, education or the community
Educational program on ballot initiatives
Speakers on hot topics in women's rights
December Holiday Home Tour to support our Tech Trek summer science camp for girls
May Garden Tour to support local women completing university degree programs
June Member Appreciation Event where we share our successes and plan for the future
Wine and cheese socials where members can catch up with each other and share ideas about AAUW activities
In parallel, our 24 Interest Groups offer a wonderful way to connect with other members who share your passions.  Our Board committees create and manage all our activities and would especially welcome new-member participants.  Our Public Policy team offers an excellent opportunity to advocate with the backing of our respected AAUW organization.
Value of Membership – What Do We Get from our Dues?
Membership in the American Association of University Women (AAUW), is open to all graduates of two year accredited colleges with AA degrees and / or accredited four-year colleges or universities. AAUW values and seeks a diverse membership. There shall be no barriers to full participation in the organization on the basis of gender, race, creed, age, sexual orientation, national origin, disability or class.
| | | |
| --- | --- | --- |
| Regular Member Dues | $103.00 | (Association, State and Branch dues) |
| Life Members Dues | $44.00 | (State and Branch dues) |
| Dual Members Dues | $21.00 | (Danville-Alamo-WC Branch dues only) |
Dues are payable to "Danville-Alamo-Walnut Creek AAUW" on or before July 1 and are delinquent July 31.  To join or renew, please click here.
Students at accredited institutions who do not qualify for membership may become affiliates of AAUW. Student affiliate dues are $38.81 (Association $18.81, State $20, and Branch $0).
AAUW members also have access to a variety of discounts and perks.  Click here the see the details.
Questions on membership?  Please contact our Membership VP .