DAW FY 21 Strategy Meeting Results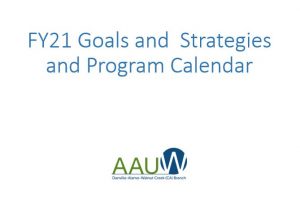 Your Elected and Appointed Board met (17 strong) for a four-hour Zoom session on  August 21st, 2020, to envision and create an engaging and purposeful road map for our branch activities this year. The energy was high and the meeting time passed amazingly quickly! We were guided by several inputs:
• Our member survey results stressing the importance of keeping our social connections strong while expanding our influence in advancing our mission
• Our national priorities and FY21 focus areas of equity for women of color, voter access, and economic equity for all.
• Meeting the external challenges of socially distant activities and addressing the newly in-focus issues of racism.
Funding Our Core Projects
We first reinforced our need to support our core projects of Tech Trek, Local Scholarship and AAUW FUND. We are able to fully fund all of these projects in FY21. We will support our Tech Trek 2021 campers with the funds raised for the cancelled 2020 camps. Our June 2021 Local scholars are generously funded by the proceeds of our recent Garden walk. This year we will kick off our AAUW FUND campaign with our membership brunch FUND speaker and continue our traditional solicitation drive through the Fall. We will not hold the Holiday Home Tour this year as social distancing requirements would not allow it and we believe it is time for our branch to find other less work-intensive fundraising activities. We will take this year to explore other fundraising opportunities to fund our Tech Trek campers, including investigating the possibility of a combination of corporate support and a smaller fall fundraiser.
Building On Our Branch Connections
One big take-away from the member survey results is the importance of the connections we share with our fellow members based on our common interests and dedication to our mission. We are challenged by our current environment of social distancing so an important part of our plan is to use virtual ways to work on our projects and also to socialize.
We have a dynamic slate of educational programs planned that will be provided virtually so that we may, in fact, have more attendance than our in-person events. Beginning in October, we will hold a Zoom Wine, Cheese and Chat Board Update the 3rd Thursday of each month from 5:30-6:30 where we can share our Board News and we can all share our thoughts. We will also offer technical support to our interest groups and neighborhood groups to help them adapt to the virtual world.
Teresa Cheung, our webmaster, has taken the opportunity this summer to update and modernize our website so that you can rely on it for up-to-date news of branch programs, initiatives and opportunities. We will add more social media to our communications this year to raise our profile with potential members and community organizations.
Advocating for Equity with Focus on Women of Color
Our new communication tools prepare us to more effectively advocate to local officials and other influencers in our community who can support our FY21 mission focus on equity for women of color, voter access, and economic equity for all. We started the year with our Voter Access postcard writing project and are re-activating our Public Policy Committee to organize other public policy education and advocacy activities for our branch. Many of you expressed interest in becoming more vocal in advocating for our mission goals so please take this opportunity to contact Asha Bajaj to join her Public Policy Committee.
Also in focus this year is addressing racism in our community. We will begin with an educational program dedicated to help us identify areas we may need to address within ourselves and our group. Our Public Policy Committee is assessing other opportunities to expand on our efforts to insure equity for women of color.
Putting It All Together
Our overall plan to advance our mission is summarized in the graphic below. Our next steps are to finalize the activities and budget and identify activity champions to support this plan, which we will post on the website after our September 16th board meeting. You will receive an email ballot at the end of September asking for your approval of the budget to support the plan.
Summary of Mission-Based Actions FY21 – Preliminary Aug, 2020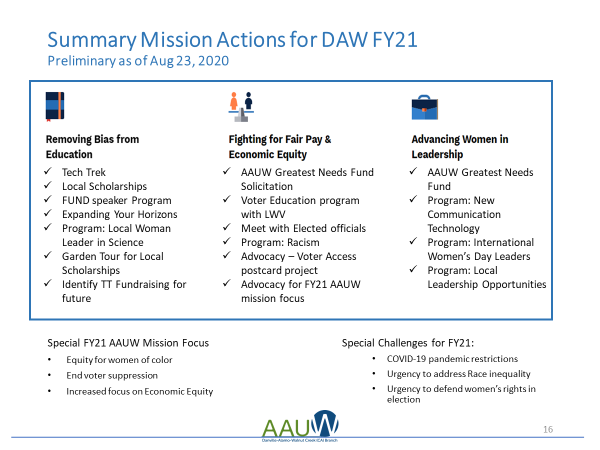 I believe we can make big strides this year to advance our mission and strengthen our branch effectiveness despite the limitations imposed by social distancing. The entire Board welcomes your feedback and thoughts on our plan. You can contact us through the Contact Us page on our website, where we are all listed at https://daw-ca.aauw.net/about/contact/ (I encourage you to check it out – it's easy) or via our emails or telephone numbers in your directory.
Here's to a vibrant and dynamic FY21.
Chris Ritter, President 2020-2021
_______________________________________________________________
Prior Year Goals and Budgets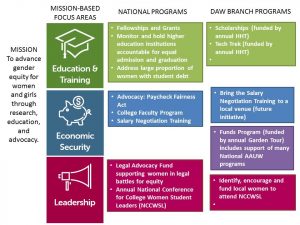 _______________________________________________________________
Operating Budget: