Click here to see our latest Membership Updates.
If you are a current branch member and forgot your password to our password protected documents, please contact the webmaster here.  We will send you the password at the email address you have submitted with your membership information.
Below is information related to AAUW DAW Branch:
 Membership Application
Branch Strategy, Goals & Objectives: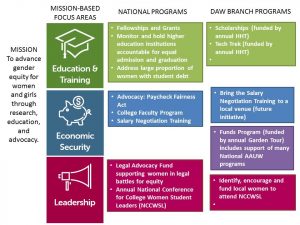 Operating Budget:
AAUW DAW Policies & Procedures & Bylaws:
Click here for Announcements regarding our members.
Other branch board documents (Password Required)