AAUW Fund Branch Named Gift Honorees
(October 4, 2021) After being delayed several times from our usual June time frame, four Named Gift Honorees for FY21 were introduced at the Membership Brunch. In addition, we have a fifth honorable mention honoree. We are pleased to share their names and accomplishments with you.
Deborah Wechsler – Deborah has continued to support the leadership of our branch as a main advisor to Past President Chris Ritter while also holding the position of Parliamentarian. Deborah assumed the roles of Tech Trek Chair and launched a new function as communications manager for our branch which helped us to organize our greatly increased digital communications. With the Tech Team she helped update and organize our digital infrastructure. Deborah is updating our leadership plan to help bring our job descriptions and policies and procedures up to the current standard.
Bette Felton – Bette has outstanding energy!  Her innovative efforts to obtain speakers for our branch programs in 2020 and 2021 have been varied and very informative. As a result of her community connections and commitment to our AAUW mission and goals, the quality and relevance of our programs were greatly enhanced.
Teresa Cheung – Teresa worked with Chris Ritter to vastly improve our branch website.  This could not have been accomplished without Teresa's dedication and skills. Teresa also generously enabled us to have a very successful fundraiser with the restaurant she and her husband own.
Kathy Harkins – Without Kathy there probably would not have been a Garden Tour last summer. She did so much on her own especially with the restrictions we had with COVID 19.  Kathy worked tirelessly to make this a successful fundraiser by going above and beyond and adding special touches such as the virtual tour.
Tena Gallagher – Special Honorable Mention – Tena has a wealth of knowledge regarding our branch, the state AAUW and National.  Tena is always ready to help and give us background information and suggestions which will improve our branch.
Many thanks, and congratulations to all the honorees!
Annual Funds Campaign in October
Judy Halden and Marilyn Lawver, Funds Co-VPs
Be on the lookout for this year's Funds solicitation letter. It will be in your snail mail box by the end of the month. We are hoping you will make a contribution; this is a very critical source of funding to support the mission of AAUW.
(January 2021) We hope we finds everyone happy, healthy, safe and not stir crazy.
Susan Terzsoli, Teresa Cheung, and their numerous drivers and helpers put together a wonderful and delicious fundraiser for Funds. The Montecatini event raised $1,728.60. Donations in our branch name to National totaled $15,446.00., for a total of $17,174.60 in donations. We still have until the end of this month to make donations in our branch's name.
As always, our branch members are outstanding in giving of their time and donations. Thank you for your generosity.
Happy Holidays!
(November 2020)  It's almost that time of the year again. No, not Thanksgiving. Can you guess? Yes, it's Funds Solicitation letter time. Your donation is very important and truly does make an impact on women and girls' lives. 
Please CLICK HERE to donate. 
Please make sure during your donation process, to add your AAUW Member ID, shown in the mailing label of your directory.  Or Contact Us and  choose:
Since 1881 AAUW has been empowering women both as individuals and as a community. We have worked together as a national grassroots organization to improve the lives of millions of women and their families for more than 130 years.
At this time AAUW is facing a large shortage. Please consider making your donations to the Greatest Needs Fund and participating in our Triple-Win Fundraiser this month. These funds are unrestricted and may be used where most needed. Look for your letter coming soon for more information.
Liz Williams and Robin Halloran
Funds Co-VPs
(October 2020) Please join us and Meet the AAUW Fund Fellows Sat, October 10 & 24.  
Look for the annual Funds Solicitation letter.  It will arrive in your mailboxes in late October.  Through these funds we are able to contribute to furthering the education of scholars such as Araceli.  Our goal this year is to raise $15,000.00.
(Sept 2020) AAUW FUND Update and Honorees
We hope everyone and their families are safe and healthy.
We are kicking off our FUND solicitation season early this year at our Membership virtual brunch Saturday, October 3rd from 11:00 AM – 1:00 PM.  We will feature one of our amazing FUND Fellows, Araceli González, who will speak on "Education Equity and Access in Rural Communities".   Will you please consider making a donation to the AAUW FUND in lieu of your brunch ticket?   Here is the link: https://ww2.aauw.org/donate-gift-new/.
We will continue our FUND drive with our annual solicitation letter, which will come your way in late October.  National has suggested that donations be directed to the Greatest Needs Fund, number 9110.  Due to these trying times, National suggests that our donations go to where the funds can help the most, thus the suggestion for fund number 9110.  As our Garden Tour proceeds will now be directed to Local Scholarship, our membership brunch and Fall solicitation letter will become our new fundraisers for our National AAUW FUND. Thank you all for your continuing support for our national programs and scholars.
The California AAUW Funds luncheon will be held on Zoom on October 10 at 11:30AM. A second meeting will be held on Zoom on October 24th. No information is currently available on how to register.  Check the California AAUW website for information. 
Congratulations to Chris Ritter our Named Gift Honoree for 2019-2020.  Chris has been a tireless worker for our branch.  Some of the offices she has held include:  Treasurer, President Elect, and, now President. Congratulations, Chris and a huge "Thank You" for all you have done.
At the Installation six other members were honored for their dedication to our branch:  Marsha Anderson-Landau, VP of Membership, Dianne Tinnes and Monika Witte, Tech Trek Co-Chairs, Susan Terzuoli, Holiday Home Chair, Joanne Quijano, Database Manager and Directory Design and Compilation, and Jennifer Brandenburg, Local Scholarship Committee.
Liz Williams and Robin Halloran, FUND VPs
Thank You 2019 Donors
Thank you for your generous 2019 calendar year contribution to the AAUW Fund.  Our branch raised over $32,200 this calendar year.  Through your donations we can create change, advance equity and empower women and girls.  Every gift to AAUW has an impact.  It is a top-rated 501 (c) (3) charity and donations are tax deductible.  Tax ID: 52-6037388.
You join our honored group of DAW AAUW members and supporters in over 50 years of giving.  Branch Funds History
Please Keep Us Moving Toward Equity with Your 2020 Donation!
We have come a long way but the struggle for equity is far form over.  Will you please consider making your 2020 donation today?  You can designate your support to any of the four major focus areas or ask AAUW to apply your donation to the area of greatest need.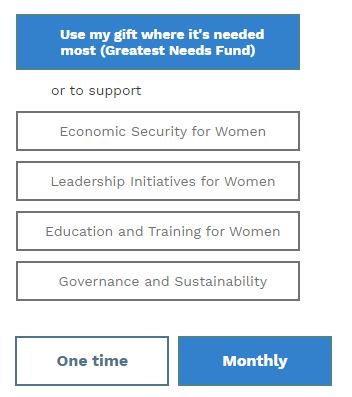 Learn more about the the projects you support that advance equity for women and girls at AAUW Fund