AAUW FUND Update and Honorees
(Sept 2020) We hope everyone and their families are safe and healthy.
We are kicking off our FUND solicitation season early this year at our Membership virtual brunch Saturday, October 3rd from 11:00 AM – 1:00 PM.  We will feature one of our amazing FUND Fellows, Araceli González, who will speak on "Education Equity and Access in Rural Communities".   Will you please consider making a donation to the AAUW FUND in lieu of your brunch ticket?   Here is the link: https://ww2.aauw.org/donate-gift-new/.
We will continue our FUND drive with our annual solicitation letter, which will come your way in late October.  National has suggested that donations be directed to the Greatest Needs Fund, number 9110.  Due to these trying times, National suggests that our donations go to where the funds can help the most, thus the suggestion for fund number 9110.  As our Garden Tour proceeds will now be directed to Local Scholarship, our membership brunch and Fall solicitation letter will become our new fundraisers for our National AAUW FUND. Thank you all for your continuing support for our national programs and scholars.
The California AAUW Funds luncheon will be held on Zoom on October 10 at 11:30AM. A second meeting will be held on Zoom on October 24th. No information is currently available on how to register.  Check the California AAUW website for information. 
Congratulations to Chris Ritter our Named Gift Honoree for 2019-2020.  Chris has been a tireless worker for our branch.  Some of the offices she has held include:  Treasurer, President Elect, and, now President. Congratulations, Chris and a huge "Thank You" for all you have done.
At the Installation six other members were honored for their dedication to our branch:  Marsha Anderson-Landau, VP of Membership, Dianne Tinnes and Monika Witte, Tech Trek Co-Chairs, Susan Terzuoli, Holiday Home Chair, Joanne Quijano, Database Manager and Directory Design and Compilation, and Jennifer Brandenburg, Local Scholarship Committee.
Liz Williams and Robin Halloran, FUND VPs
Thank You 2019 Donors
Thank you for your generous 2019 calendar year contribution to the AAUW Fund.  Our branch raised over $32,200 this calendar year.  Through your donations we can create change, advance equity and empower women and girls.  Every gift to AAUW has an impact.  It is a top-rated 501 (c) (3) charity and donations are tax deductible.  Tax ID: 52-6037388.
You join our honored group of DAW AAUW members and supporters in over 50 years of giving.  Branch Funds History
Please Keep Us Moving Toward Equity with Your 2020 Donation!
We have come a long way but the struggle for equity is far form over.  Will you please consider making your 2020 donation today?  You can designate your support to any of the four major focus areas or ask AAUW to apply your donation to the area of greatest need.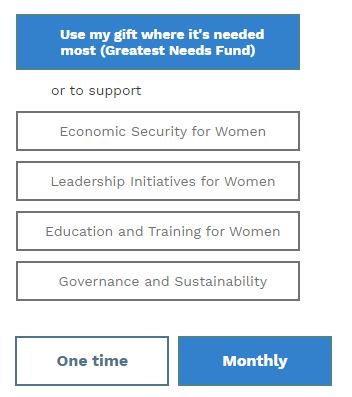 Learn more about the the projects you support that advance equity for women and girls at AAUW Fund