Science & Math Camp for Girls
Tech Trek is a science and math camp designed to develop interest, excitement, and self-confidence in girls who will enter eighth grade in the fall. It features hands-on activities in science, technology, engineering, and math (STEM). All activities and lodging are located on a university campus where camps are held.  Click here to learn more about Tech Trek.
2018 Tech Trek Camp was a great experience!!
Thanks to the wonderful interview teams we selected an impressive group of 7th grade girls to sponsor this year. We also want to thank Pat Kenber, our fantastic volunteer Dorm Mom!
Congratulations to our 2018 Tech Trek Sponsorship Recipients
The following girls earned a 2018 Tech Trek Sponsorship and spent a week at STEM camp at Sonoma State University.
| | |
| --- | --- |
| Middle School | Sponsorship Recipients |
| Charlotte Wood, Danville | Tatum Roberts |
| Diablo Vista, Danville | Ivy Terranova & Prakriti Saxena |
| Foothill, Walnut Creek | Natalie Mar & Freya Grant |
| Los Cerros, Danville | Audrey Kamena & Kailey Emmons |
| Stone Valley, Alamo | Eden Hale & Melina Hoffman |
| Walnut Creek Intermediate, WC | Yasmeen Saif Eddin & Madeline Abellera |
The Tech Trek Program, Selection Process, and Funding
The first Tech Trek was a local program held at Stanford University in 1998, with initial funding from the AAUW Educational Foundation.  It became so successful, it is now a National AAUW Program.
The selection process for camp is done by 7th Grade Science and Math Middle School Teachers who nominate students to attend camp.  The only way to attend is to be recommended by your teacher(s) and be selected through the Local AAUW Branch interview process.
Girls selected to receive sponsorships attend Sonoma State University for one week.  They attend core classes taught by teachers and professional women in the fields of science, technology, engineering, and math (STEM) featuring hands on experiments while learning that math and science can be fun.  The girls enjoy living in the dorms on a college campus plus special activities planned by the camp Director.  AAUW members volunteer to serve as camp staff, dorm moms and chaperons.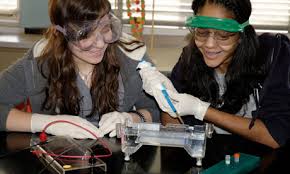 In 2017, The Danville-Alamo-Walnut Creek Branch (DAW) of AAUW funded 11 students from the six public middle schools in the San Ramon Valley and Walnut Creek Unified School Districts to attend camp at Sonoma State University.  Additional recognition is awarded the 11 girls by our Branch members.  Each sponsorship recipient is invited to attend the DAW Annual Branch Membership brunch held in the fall, to be recognized and to speak about their experiences.  Sponsorships are funded primarily by monies raised by our annual Holiday Home Tour and by individuals, companies, and AAUW special interest group private donations. Parents/Guardians are requested to make a family contribution.
Tech Trek is continuing proof that AAUW puts its mission to support equity and education for all women and girls into action.
Donations
Please consider a tax deductible donation to Tech Trek, a 501 (c) 3 charity. The donation can come from an individual, business or company, or an AAUW Special Interest Group.
Your check must be made out to "AAUW-CA SPF" and on the memo line you must write "Sonoma State University, Danville-Alamo-WC Branch."
Checks may be sent to:
AAUW Danville-Alamo-Walnut Creek Branch
Attention: Tech Trek Chair
P.O. Box 996
Alamo, CA 94507
Please Contact Us for more information.