Science & Math Camp for Girls
Tech Trek is a science and math camp designed to develop interest, excitement, and self-confidence in girls who will enter eighth grade in the fall. It features hands-on activities in science, technology, engineering, and math (STEM). All activities and lodging are located on a university campus where camps are held.  Click here to learn more about Tech Trek from AAUW National.  Our Branch Tech Trek Campers come from the following six Middle Schools in the Danville, Alamo and Walnut Creek public school systems: Charlotte Wood, Danville, Diablo Vista, Danville, Foothill, Walnut Creek, Los Cerros, Danville, Stone Valley, Alamo, Walnut Creek Intermediate, Walnut Creek

Update on Tech Trek — STEM 2021 Virtual Camp
by Deborah Wechsler, Tech Trek Chair 2020-21
(April 2021) We are continuing with plans for three to four 2021 Virtual Camps scheduled between mid-June and early August. Here is our progress:
We were approved for 18 campership positions for the 2021 camp. We received 2 nominations from each of our 12 schools, but two of the girls were not able to commit to attend the camp. Therefore, we will be funding 16 camperships with 10 girls from 2021 and 6 from our 2020 cohort.

Each campership is $400, and we do have funding for these 16 girls, thanks to generous donations from companies IGEL and Alima Technologies and our ability to use funds collected for 2020 camp. But we will need funding for the 2022 in-person camp. Thankfully, Robin Halloran stepped up to arrange the highly successful Mangia Mi fundraiser, aided by Liz Williams and Susan Terzuoli. We are within $3,000 from funding 12 girls for in-person camp in 2022!
You can still get involved. Please let me know if you are interested in helping with any of the following:
Help distribute robotics kits to selected girls.
The Virtual camp really needs more coaches! Please consider this opportunity to engender excitement with girls for their future education. Participate as a Build Coach, Social Coach, or Workshop Coach for one or more camps. You will receive training (4-8 hours) and a monetary stipend. Here are the descriptions of the coach positions, and you can access the application form here. This opportunity is available to non-AAUW members as well!
(February 20201) You may have already heard that all Tech Trek in-person camps nation-wide have been cancelled for 2021. But the planned virtual STEM experience offers many exciting opportunities for your involvement. Please let Deborah Wechsler, Tech Trek Chair 2020-21, know if you are interested in helping with any of the following:
Participate in the interview and selection process, to be done virtually probably beginning in February 2021. Details of how this will happen are being worked out at the CA State level, but it will all be done virtually this year.
Help distribute robotics kits to selected girls
 Participate as a Build Coach, Social Coach, or Workshop Coach for one or more camps. You will receive training (4-8 hours) and a monetary stipend. Applications for positions will be coming out soon.
Help by joining an advisory team for giving feedback and ideas.
More details: California Tech Trek leaders, partnering with the technology company Qualcomm, have created a virtual camp experience based on a pilot in August 2020 with about 40 participants. The camp has a core component of hands-on robotics creation. Three to four 2021 Virtual Camps will be scheduled between mid-June and early August based on camper enrollment (likely dates 6/21-25, 7/12-16, 7/26-30, and/or 8/2-6). Each camp will have the capacity for about 288 campers and need a staff of about 146/camp. The cost to attend will be about $400/girl, almost all of which will be subsidized by our Branch fundraising with a small participation fee from each girl's family.
Core Education Components for 2021 virtual Tech Trek:
Morning project-based robotics Core Class led by trained AAUW members.
After-lunch Inspiration Hour featuring speakers chosen for excellence.
Interactive afternoon hands-on or interactive Workshops chosen for excellence.
Additional resources and nighttime events for social activities, college/financial aid information, STEM speakers, etc.
Click here to learn more about Tech Trek California in 2021.
Thank you corporate sponsors for DAW Tech Trek!

2020 Tech Trek
All Tech Trek in-person camps nation-wide had to be canceled in 2020 due to the coronavirus pandemic. Our branch had already selected some outstanding young women to attend camp, and they deserve congratulations for their success. Also thanks to Tech Trek Chair 2020 Monika Witte and Programs VP Bette Felton, these girls had an opportunity to participate in a virtual STEM experience with fermentation experiments and a professional women's panel discussion. The 2020 Tech Trek girls are:
Alison Cook, Charlotte Wood
Bela Patel, Charlotte Wood
Corinne Simons, Walnut Creek Intermediate
Jenya Fedchanka, Walnut Creek Intermediate
Madeline Chaplan, Diablo Vista
Michaela Young, Foothill
Natalia Batiz-Blanco, Stone Valley
Sienna Coburn, Los Cerros
Srishti Prabhalkar, Foothill
Tram Doan, Stone Valley
Donations
Please consider a tax deductible donation to Tech Trek, a 501 (c) 3 charity, tax ID 68-0463071. The donation can come from an individual, business or company, or an AAUW Special Interest Group.
Your check must be made out to "AAUW-CA SPF" and on the memo line you must write "Tech Trek"
Checks should be sent to:
AAUW Danville-Alamo-Walnut Creek Branch
Attention: Tech Trek Chair
P.O. Box 996
Alamo, CA 94507
Thank you amazing DAW members! Please let your friends and acquaintances know about this opportunity to encourage local girls to pursue STEM education.
Tech Trek is continuing proof that AAUW puts its mission to support equity and education for all women and girls into action.
Please Contact Us for more information.
The Tech Trek Program, Selection Process, and Funding
The first Tech Trek was a local program held at Stanford University in 1998, with initial funding from the AAUW Educational Foundation. It became so successful, it is now a National AAUW Program.
The selection process for camp is done by 7th Grade Science and Math Middle School Teachers who nominate students to attend camp. The only way to attend is to be recommended by a teacher(s) and be selected through the local AAUW Branch interview process.
Girls selected to receive sponsorships attend Sonoma State University for one week. They attend core classes taught by teachers and professional women in the fields of science, technology, engineering, and math (STEM) featuring hands-on experiments while learning that math and science can be fun. The girls enjoy living in the dorms on a college campus plus special activities planned by the camp Director. AAUW members volunteer to serve as camp staff, dorm moms and chaperons.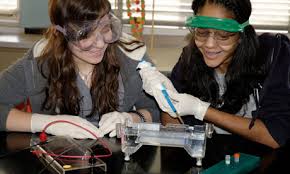 Each sponsorship recipient is invited to attend the DAW Annual Branch Membership brunch held in the fall, to be recognized and to speak about their experiences. Sponsorships are funded primarily by monies raised by our annual fundraisers and by individuals, companies, and AAUW special interest group private donations. Parents/Guardians are requested to make a family contribution.
From the Tech Trekers:
(Quotes from the 2019 Sonoma State Tech Trek Girls' Thank You Notes)
Thank you for nominating me for Tech Trek. I have had an amazing experience at the Sonoma State camp. In my core class, biology, I learned so much! I did many labs, including a bacterial plating lab. It was my favorite because it taught me how easily bacteria is spread . . .
Student from Diablo Vista Middle School, SRVUSD
Thank you so much for sending me to Tech Trek. I have had so much fun learning and meeting new people. . . All of the hands-on experiments, such as those in my Engineering Core, have been very fun . . .
Student from Los Cerros Middle School, SRVUSD
Thank you so much for sending me to Tech Trek. It was an amazing experience that will help me a lot in the future. In my biology class, I was able to dissect frogs and extract DNA from strawberries. . .
Student from Walnut Creek Intermediate School, Walnut Creek School District
I am writing to thank you for the opportunity to come to Teck Trek and for sponsoring me. One of my favorite things about camp was listening to my astronomy teacher talk about the stars, galaxy distances, and black holes. . . there is so much to learn!
Student from Stone Valley Middle School, SRVUSD
I am writing this letter to thank you for giving me the opportunity to attend Tech Trek. One of the activities I really enjoyed was doing the model bungee jumping in Aerospace Engineering. I love math, so figuring out how to measure the number of rubber bands needed for the jump was really fun.
Student from Stone Valley Middle School, SRVUSD
Thank you so much for nominating me for this amazing opportunity! I had so much fun, and learned so much during this week. My core class was Math and Architecture. We built popsicle stick bridges and tested them . . .we built models of our dorm rooms . . .In Astronomy I learned what a light year is . . . Also, I got to meet many new people, who made my camp experience even more amazing.
Student from Charlotte Wood Middle School, SRVUSD
Firstly, I would love to thank you all for giving me this wonderful opportunity. I learned about water in chemistry class . . . Astronomy allowed us to explore how light reaches us . . .the evening activities included a wide variety . . . the field trips were informative.
Student from Foothill Middle School, MDUSD
Thank you so much for sponsoring me. I have gained a lot from this experience and am so thankful. Some of my favorite parts of this camp were going to the Sonoma County Water Agency, chemistry classes, and mad city money. . . Tech Trek is amazing!
Student from Diablo Vista Middle School, SRVUSD
I don't know how to thank you enough for sponsoring me on this awesome experience. The friends and memories I've made will stay with me throughout my lifetime . . . on one fun field trip I went to the Russian River and learned about wildlife and the ecosystem. Because of the flooding in February the populations of some species of fish declined because eggs were damaged . . . I loved spending time with my dormmates, they made me laugh and were easy to relate to.
Student from Charlotte Wood Middle School, SRVUSD
2019 Tech Trek Camp was a great experience!!
Thanks to the wonderful interview teams we selected an impressive group of nine 7th grade girls to sponsor in 2019. These girls were able to spend a week at STEM camp at Sonoma State University.
Ellen Tauscher and some of the Tech Trek girls sponsored by our branch who went to Sonoma State in the summer of 2019 to experience STEM.