Science & Math Camp for Girls
Tech Trek is a science and math camp designed to develop interest, excitement, and self-confidence in girls who will enter eighth grade in the fall. It features hands-on activities in science, technology, engineering, and math (STEM). All activities and lodging are located on a university campus where camps are held. Since 2021 we have also added a very successful virtual camp option.  Click here to learn more about Tech Trek from AAUW National.  Our Danville-Alamo-Walnut Creek Branch Tech Trek Campers come from the following six Middle Schools in the Danville, Alamo and Walnut Creek public school systems: Charlotte Wood (Danville), Diablo Vista (Danville), Foothill (Walnut Creek), Los Cerros (Danville), Stone Valley (Alamo), Walnut Creek Intermediate (Walnut Creek). Click here to learn about Tech Trek at the California State level.
2023 Tech Trek Update
This coming year DAW hopes to send some girls to each of the following camp opportunities: Sonoma State – June 18-24 or July 23-29, Fresno State – June TBD, and Virtual Camp – July 23-29.
We are looking for volunteers to support this popular and effective program.
1) Selection/Interview Teams – Starting February with wrap-up in March
2) Workshop Instructors – more information HERE
3) Professional Women's panel at one or more camps
4) Dorm Mom
5) Ice Cream Social (1st or 2nd Sunday in June)
Please contact Deborah Wechsler if you are interested or with any questions.
Donations
Please consider a tax-deductible donation to Tech Trek, a 501 (c) 3 charity, tax ID 68-0463071. The donation can come from an individual, business or company, or an AAUW Special Interest Group.
Please click the big green "Donate" button on the right side of this page for instructions on how to donate.
Thank you amazing DAW members! Please let your friends and acquaintances know about this opportunity to encourage local girls to pursue STEM education. Tech Trek is continuing proof that AAUW puts its mission to support equity and education for all women and girls into action.
Please Contact Us for more information.
STEM 2022 In-Person and Virtual Camps
by Deborah Wechsler, Tech Trek Chair 2021-22
(July, 2022) This June we completed two in-person camps and one virtual Tech Trek camp. Our branch sent 15 7th-8th grade girls to camps this year. Danville-Alamo-Walnut Creek also had several of our former Tech Trek participants and some of our members help out as virtual coaches and Junior Counselors.
Congratulations to the following girls who were nominated by their science and math teachers and successfully went through our interviews and selection process:
Nihal Abassi, Stone Valley MS
Charlotte Abellera, Walnut Creek Intermediate
Julianna Altangerel, Walnut Creek Intermediate
Risha Bhat, Diablo Vista MS
Emma Burke, Stone Valley MS
Julia Chao, Foothill Middle School
Allison Dellamaggiore, Stone Valley MS
Nandini Ghata, Charlotte Wood MS
Sienna Hohenstein, Walnut Creek Intermediate
Kate Hwang, Foothill Middle School
Anusha Kapoor, Diablo Vista MS
Lillian Naslund, Charlotte Wood MS
Ava Sadigh, Walnut Creek Intermediate
Monika Tekic, Charlotte Wood MS
Ava White, Diablo Vista MS
Here are links to photos from the Sonoma Camp, Fresno Camp, and Virtual Camps
12 of our 15 Tech Trekkers attended the annual Brunch and Membership Meeting on September 17. Their presentations were inspiring! Here is a photo of the group at the Brunch.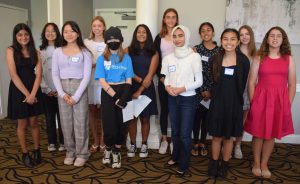 I would like to thank the 2022 Tech Trek Interview team of Cindy Dragomanovich, Bette Felton, Diane Fornasier, Kathy Gage, Laura Johnson, Bev Nidick, Liz Peters, Lisa Simone and Monika Witte, who worked together to select the Tech Trek girls for this year. I would also like to thank Lisa Simone and Asha Bajaj, who joined me working as class monitors for some sessions of the Sonoma Camp. It was wonderful to observe how the camp works and the girls enjoying their experience!
We will begin active efforts again in the fall! Let me know if you would like to join the team!
The Tech Trek Program, Selection Process, and Funding
The first Tech Trek was a local program held at Stanford University in 1998, with initial funding from the AAUW Educational Foundation. It became so successful, it is now a National AAUW Program.
The selection process for camp is done by 7th Grade Science and Math Middle School Teachers who nominate students to attend camp. The only way to attend is to be recommended by a teacher(s) and be selected through the local AAUW Branch interview process.
Girls selected to receive sponsorships attend Sonoma State University for one week. They attend core classes taught by teachers and professional women in the fields of science, technology, engineering, and math (STEM) featuring hands-on experiments while learning that math and science can be fun. The girls enjoy living in the dorms on a college campus plus special activities planned by the camp Director. AAUW members volunteer to serve as camp staff, dorm moms and chaperons.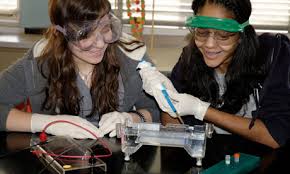 Each sponsorship recipient is invited to attend the DAW Annual Branch Membership brunch held in the fall, to be recognized and to speak about their experiences. Sponsorships are funded primarily by monies raised by our annual fundraisers and by individuals, companies, and AAUW special interest group private donations. Parents/Guardians are requested to make a family contribution.