Welcome to the Danville Alamo Walnut Creek Branch of the American Association of University Women. Advocating for equal rights, gender equity and education for women and girls since 1881, we are tenacious and trailblazing!
We sponsor and fundraise for STEM (Science, Technology, Engineering, Math) education through TechTrek and Expanding Your Horizons (EYH) for local girls and each year our branch awards scholarships to local women to help them complete academic degrees and graduate programs.
Besides sharing a love for community service around women's equity and education, we enjoy a rich social event calendar as well as a broad selection of Interest Groups – Books, Movies, Bridge, Gourmet, Writing, Art and Garden, Mah Jongg, Hiking, and Great Decisions. Please explore our website and contact us if you would like to learn more.

---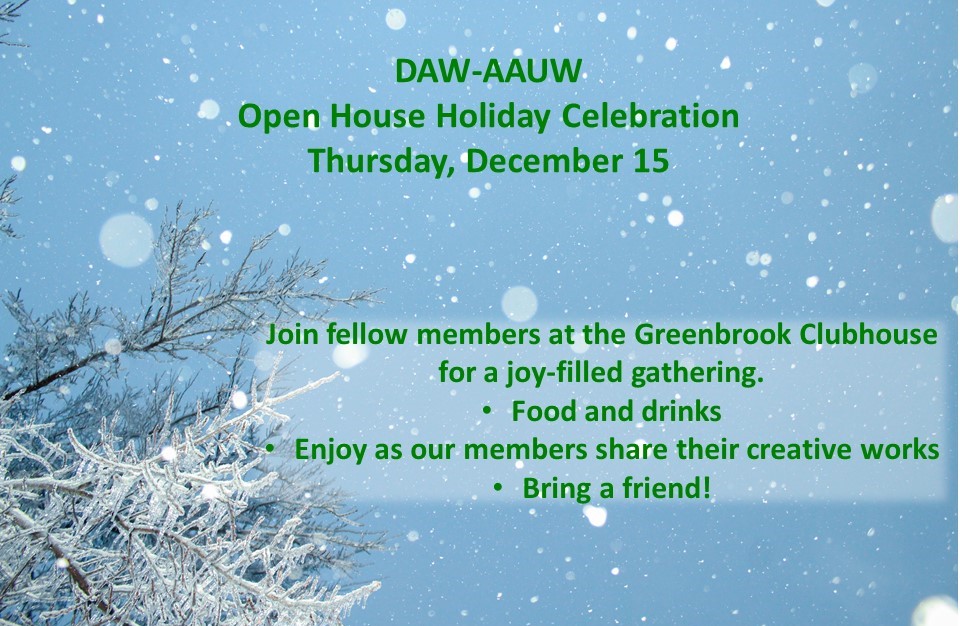 Open House Holiday Celebration
Thursday, December 15, 2022
6:00 – 9:00 PM
Greenbrook Clubhouse,
300 Greenbrook Drive, Danville
Join your fellow members, spouses, significant others and friends for our

Open House Holiday Celebration and Creativity Night

on December's third Thursday Member Meeting night! Come when you can, stay as long as you like, there's no formal program for this meeting. For more information and to RSVP visit the Event Page!
---
Our annual donation drive is now in progress! To see how to make your contribution to the AAUW Fund, our branch Local Scholarships, and to our branch Tech Trek camperships, click HERE.
---
Read our November newsletter

 

HERE

 

to learn about our latest news and happenings. 
---
Direction Regarding Twitter Account
In early November, AAUW California issued a statement that they had closed their Twitter account in light of the company's recent actions. They were primarily concerned that the incidence of hate speech, disinformation, discriminatory and misogynistic rhetoric, and the spread of dangerous and divisive theories will continue to rise under the new leadership. This is not a platform with which AAUW California can any longer associate.
In keeping with the AAUW California direction, and after discussion within our branch board, we have decided to pause all branch activity on the app. This will be in effect until further notice and pending any further direction from AAUW Calif. We have taken the Twitter button off our website and any other places where it might appear.
To read the AAUW California statement about their Twitter direction, click here.
---

Co-President's Message
Please click here to read the latest from our Co-Presidents, Chris Ritter and Joanne Quijano, on the programs and happenings of our branch.
---
Mangia Mi Fundraiser – A Success!
The fundraising event on November 7th, partnering with Danville restaurant Mangia Mi, was a great success! Pat Morris, Fundraising Chair, organized 8 volunteer drivers who delivered 72 tasty meals that evening. Thanks to the many members who ordered dinners and tipped generously, we raised $1,917 to support our branch activities.
Click here for a recap of this event
---
Members Reconnect and Energize for FY23 at Membership Brunch
Over 85 members and guests attended this year's Membership Brunch at Crow Canyon Country Club on Saturday, September 17th. It was an enjoyable event that included an excellent keynote speaker along with various branch presentations and activities. Many thanks to the Membership Team for organizing this annual event!
Click here for a recap of this event
---
Supreme Court's Decision Overturning Roe vs Wade
We were deeply disappointed and disturbed to learn of today's Supreme Court decision to overturn the landmark Roe vs Wade ruling for women's reproductive rights. Besides taking away a long-established right for people to control their bodies, it sets a terrible precedent for future decisions by the court to potentially overturn other contested rights. I would like to share National AAUW's summary regarding this as well as a link to their website with their full statement.   (6/24/22 – Joanne Quijano, President DAW Branch)
AAUW Statement on Dobbs Decision
AAUW strongly condemns the U.S. Supreme Court's decision in Dobbs v. Jackson Women's Health Organization. AAUW believes everyone has the right to make decisions about their own reproductive lives without government interference. Abortion access is vital to women's ability to control their lives, bodies and futures. Without reproductive freedom, there can be no equity.