(September, 2022)
Highlights of the National Bipartisan Infrastructure Bill  
by Asha Bajaj, Public Policy Chair
Funding allocations -This bill that was enacted in November, 2021, and contains $1.2 trillion of funding spread across several industries. While most funding goes toward pre-existing projects, it also provides $550 billion in new spending.
$65 billion of new spending will go toward expanding broadband access, particularly in rural areas. Another $65 billion helps with the power grid, funding updates to broken power lines.
Billions of dollars go toward environmental projects. $21 billion will be used to clean up abandoned mines, old oil wells, and Superfund sites. The government will use $7.5 billion to build electric charging stations and another $7.5 billion to buy electric school buses.
Of the new spending funds, $283.8 billion goes toward the transportation sector. $110 billion helps with roads and bridges throughout the United States. It will provide for building new bridges and repairing old ones, including in American territories like Puerto Rico. $66 billion helps with railroads, allowing the passenger rail system to receive upgrades and maintenance in cities. However, there is no new money for high-speed rail. The bill allocates $25 billion for upgrades and expansions at airports, with $5 billion specifically for air traffic control towers and radar systems. $17 billion helps with ports. The Army Corps of Engineers will receive half of this funding, to use as it pleases. The Coast Guard also receives some funds, which they can use to renovate shipping ports and ferry terminals.
Sources of funding – The US Treasury will transfer $118 billion from its funds into the Highway Trust Fund. State governments can tap into the trust fund to pay for highway renovations and road projects.
The bill repurposes $3 billion in COVID-19 relief funds to pay for airport renovations. States can also tap into their relief funds to cover the expenses of different projects.
The overall impact of the bill may be significant. The bill could create more than 800,000 jobs by 2030, though it will add more than $250 billion to the deficit.
Project selection and funding oversight – State, county, and local governments will oversee much of the new funding. Cities can make project requests of their state governments which can then allocate money toward local projects. While the federal government can provide oversight, it is up to local officials to decide who to hire for construction projects and which projects deserve attention. Local governments may also need to provide some of their own money to cover expenses.
Impact of the bill -It will take years for Americans to experience the full effects of this bill, probably not until 2030 or later. State governments must spend time processing reports and grant applications from cities. Once approved, cities have to interview contractors, who then have to hire employees.
For more information about the Infrastructure Bill, visit  The White House website
(June, 2022)
Sexual Assault on College Campuses
By Amy Hom and Melissa Maceyko,, AAUW California Public Policy Committee
Students on college campuses often face sexual harassment and violence. A 2019 study found
the rate of undergraduates who experienced rape or sexual assault through physical force,
violence, or incapacitation to be 26.4 percent for women, 23.1 percent for transgender,
genderqueer, or nonconforming students, and 6.8 percent for men.
A crucial first step toward solving problems is accurate reporting and measurement. While
numerous studies show that campus rape is common, the vast majority of American college and university campuses report zero incidents of rape, and only 1 in 5 undergraduate women report their sexual assault to authorities. This speaks to the inadequacy of reporting structures rather than the frequency of assaults. Lack of reporting, action, education, and trust may be
exacerbated by the understaffing and underfunding of Title IX positions and offices at
universities.

Further aggravating these ongoing problems, in 2017 the U.S. Department of Education, led by
then-secretary Betsy DeVos, rescinded a number of sexual harassment protections under Title
IX while expanding protections for those accused of sexual misconduct. These changes to Title
IX have had a chilling effect as it has become even more challenging for students to come
forward to report sexual assaults through official university channels. 
Two pieces of proposed legislation in California in 2022 can make strides to address existing
problems. The first is Assembly Bill 1712 (AB 1712), which establishes a workgroup for developing and deploying campus climate and sexual misconduct surveys to students on the
campuses of California Community Colleges (CCCs), California State Universities (CSUs), and
Universities of California (UCs) in order to better understand campus sexual violence and
identify improvement areas. The second piece of legislation is Assembly Bill 1968 (AB 1968),
which will standardize the content and presentation of crucial information for members of the
CSU and UC communities who have survived a sexual assault, helping them to clearly
understand their support and reporting options immediately following an assault.
The Department of Education under President Biden is expected to unveil major revisions to the current Title IX rules this spring, including making changes to the definition of sexual
harassment and the ways in which schools must respond to complaints of sexual harassment.
Further, the Department has stated that it will prioritize protections for students based on sexual orientation and gender identity. The AAUW CA Public Policy committee will be looking out for the Department's new proposed Title IX revisions and will provide updates as they become available.
(December, 2021)
by Asha Bajaj, Public Policy Chair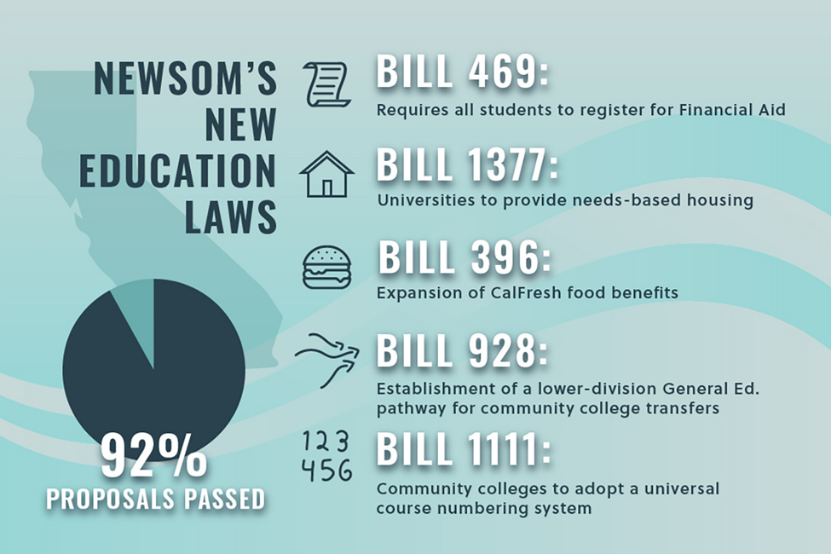 Parent Healthcare Act Introduced in February by ASM. Miguel Santiago, the "Parent Healthcare Act," (Assembly Bill 570), targets people who don't qualify for Medicare and cannot afford health insurance including immigrant families whose children are documented citizens, but their parents aren't. The bill goes into effect January 1, 2023. ASM Santiago commented on how this bill will impact California families, "AB 570 brings California one step closer to providing healthcare for all by allowing adult children to add dependent parents to their health insurance. This helps working families save money by combining healthcare costs on one plan. This is also an option for mixed-status families or working families with a disabled parent at home who doesn't qualify for other safety-net programs like Social Security or Medicare."
Sponsored by: California Department of Insurance. Supported by California Health Advocates and immigrant groups fighting to improve access to health care for undocumented citizens.
Sexual Assault and Spousal Rape
 Assembly Bill (AB) 453, AB 1171, AB 939 and Senate Bill (SB) 215.
AB 453, authored by ASM Cristina Garcia (D- Bell Gardens), makes the act of non-consensually removing a condom, also known as "stealthing", illegal.
SB 215, co-authored by Senator Connie Leyva (D-Chino), will allow survivors of sexual assault to track and receive information regarding their sexual assault evidence kit. A new online portal will enable survivors to access the SAFE-T database.
Denim Day Act of 2021 (AB 939) bans a survivor's clothing from being used as evidence of consent in a sexual assault case. The bill is named for Denim Day in April which amplifies the message that the manner of dress does not equate to consent. Under this new law, stealthing would be considered a form of sexual battery, however, it doesn't criminalize it.
Stay alert! Stay engaged! Stay involved!
"Build Back Better" infrastructure bill signed by President Biden is headed to the Senate.
Booster doses and vaccines for kids 5-11 are now available. Please go to Myturn.ca.gov to sign up.
(November, 2021)
by Asha Bajaj, Public Policy Chair
Higher Education Package – The California state budget's unprecedented level of investment in higher education reflects a continued commitment to affordability, more accessible institutions, higher quality programs, equitable outcomes, and more efficient degree pathways—all of which are critical for driving upward mobility across the state.
The budget includes total funding of $47.1 billion ($25.7 billion General Fund and local property tax and $21.4 billion other funds) for all higher education entities in 2021-22. The state's three public segments—the University of California (UC), the California State University (CSU), and the California Community Colleges (CCC)—receive substantial ongoing base augmentations, and the Budget includes significant investments to make postsecondary education more affordable, including expanding the state's Cal Grant program to additional CCC students. Also included are investments to make college savings accounts widely available to low-income children; provide grants to advance training and education for workers impacted by the COVID-19 Pandemic; promote learning-aligned, long-term career development opportunities; and support regional K-16 education collaboratives focused on streamlining educational pathways leading to in-demand jobs.
Increasing Transfer Rates for Underserved Students
AB 928 by Assembly member Marc Berman (D-Menlo Park) – Requires the CSU and UC to jointly establish a singular lower division general education pathway for transfer admission into both segments.
AB 1111 by Assembly member Marc Berman (D-Menlo Park) – Requires, by July 1, 2024, the CCCs adopt a common course numbering system (C-ID) at all community colleges and for each community college campus catalog.
Finding Solutions to the Student Housing Crisis
AB 1377 by Assembly member Kevin McCarty (D-Sacramento) – Requires the CSU system, and requests the UC system, to conduct a student housing needs assessment for each campus, and create a student housing plan outlining how projected student housing needs will be met.
SB 330 by Senator María Elena Durazo (D-Los Angeles) – Requires the Los Angeles Community College District (LACCD) to develop a pilot program to provide affordable housing to students or employees of LACCD.
Making Financial Aid More Accessible
AB 340 by Assembly member Chris Ward (D-San Diego) – Expands allowable withdrawals from 529 plans to include expenses associated with participation in a registered apprenticeship program and student loan repayment.
AB 469 by Assembly member Eloise Gómez Reyes (D-San Bernardino) – Requires the California Student Aid Commission and the California Department of Education to facilitate the completion of the Free Application for Student Aid and the California Dream Act Application, through the sharing of specified data.
SB 737 by Senator Monique Limón (D- Santa Barbara) – Modifies and expands criteria for which the California Student Aid Commission may apportion funds to support projects under the California Student Opportunity and Access program, and additionally expands the duties and responsibilities of funded projects.
Upcoming Important Supreme Court Decision
Abortion access -The Rally for Reproductive Rights was very successful, but the Texas bill is still in effect banning abortions after 6 weeks of pregnancy. The justices on Dec. 1 will hear arguments over Mississippi's 15-week abortion ban, a case that poses a direct challenge to the 1973 Roe v. Wade ruling that first recognized a right to abortion.
(November, 2021)
Updates from AAUW California Public Policy Committee
by Kathi Harper, Co-Chair – updated legislative outcomes as of October 29 by Chris Ritter
Abortion Justice
Although the constitutionally-guaranteed right to an abortion has been systematically under attack for decades, it is currently in danger of disappearing altogether.  As AAUW National recently noted, "Every person should have the ability to make their own informed decisions regarding their reproductive life.  It is beyond time for abortion to be secured legally, funded fully, and equitably available for all who need it, when they need it, without shame or stigma."  With the recent refusal of the U.S. Supreme Court to intervene in the onerous Texas case, it is clear that we can no longer count on the courts to protect this critical right.  Congress must pass the Women's Health Protection Act.  Watch for Action Alerts from National, use them to keep pressure on your representatives, and sign-up now for the 2-Minute Activist if you haven't already done so by clicking here https://www.aauw.org/act/two-minute-activist/.
Legislative Updates
Four of our priority bills have been enrolled (passed by the Legislature) and were sent to the Governor for signature. Here are the results:
SB 62 – requires fair pay, instead of "by the piece" payment, for garment workers – Signed
AB 367 – requires free menstrual products be provided in girls/women's bathrooms in schools – Signed
AB 123 – increases paid family leave benefits to 65 – 75% of regular pay – Vetoed due to cost
AB 1074 – requires hotel and janitorial workers who have lost their jobs due the pandemic to be prioritized for hiring as businesses reopen – Vetoed due to overlap with AB 93 passed last year that contains strong recall and retention protections for hotel workers who lost their job because of the pandemic and applies to existing and successor employers
Latina Equal Pay Day
October 21st was Latina Equal Pay Day – the day Latina women, who are paid just 57 cents to every white male's dollar, finally catch up from the previous year.  To help raise awareness, our coalition partner Stronger California hosted a Latina Equal Pay Day & Essential Women Workers Virtual Summit.  The summit was recorded and you can learn more and hear from iconic civil rights leader Dolores Huerta as well as California's First Partner Jennifer Newsome. Click here  Summit Recording to listen to the virtual Summit.
(October, 2021)
By Asha Bajaj, Public Policy Chair
I'm happy to report that two of our priority bills just got signed into California law by the governor. One is SB 62, the Garment Workers' Bill, which strengthens protections for garment workers to ensure fair wages. The other is AB 628, Removing Barriers to Employment, that will focus resources on innovative approaches to, and proven practices for, addressing racial, ethnic, and socioeconomic disparities in the labor market. YAY!
As we all know, women's reproductive rights are in an extremely perilous position right now in states all across our nation. We are fortunate that we are not in danger here in California, but we need to support those whose rights are in jeopardy. It is important that we show solidarity and support for our sisters in imperiled states by sending a strong, united message to SCOTUS to retain the protections of Roe for ALL women, regardless of where they live. I'm excited to let you know that AAUW is now officially partnered with the coalition of organizations leading the national Rally for Abortion Justice happening across the country this Saturday, October 2. The AAUW encourages members to join our local marches with AAUW-identifying accessories, i.e., shirts, hats, banners, etc.
Stay engaged- stay alert -stay involved! And please do stay well!
(September, 2021)
Expansion of CFRA Leave and Sick Pay – Two bills, currently pending in the Senate, seek to expand the scope of the California Family Rights Act (CFRA). The second bill also looks to expand sick pay. Under the CFRA, employers in California are required to grant eligible employees up to 12 workweeks of unpaid protected leave during any 12-month period for family care and medical leave. Under current law, this protected leave includes leave to care for a parent.
Assembly Bill (AB) 1033 would expand the definition of family care and medical leave to include leave to care for a parent-in-law.
Assembly Bill (AB) 1041 would expand family care and medical leave to include leave to care for a "designated person." The bill defines designated person as "a person identified by the employee at the time the employee requests family care and medical leave." However, the bill authorizes an employer to limit an employee to a single designated person per 12-month period for family care and medical leave. The introduction of a "designated person" would significantly expand the scope of both acts. Employers can anticipate more requests for CFRA leave or paid sick days, especially as the COVID-19 pandemic continues.
Telehealth Services Become Permanent -Assembly Bill 32, by Assemblymember Cecilia Aguiar-Curry (D-Winters) and Assemblymember Robert Rivas (D-Salinas), introduced at the beginning of the legislative session, sought to expand health care accessibility via telehealth, by making permanent the telehealth flexibilities put in place during the pandemic.
California Gubernatorial Recall Election – You should have received your ballot for the election to recall Governor Newsom. Make your voice heard, please vote early.
(August, 2021)
California Senate Bill 503, which would implement a uniform statewide signature verification standard for mail-in ballots, passed the Assembly Elections Committee in a 6-1 vote and will head to the Appropriations Committee.
Senate Bill 504, which would take steps to ensure that those who have been released from incarceration would not inadvertently be removed from voter rolls, was approved by the committee unanimously and will head to the Public Safety Committee.
At the Federal level the two major infrastructure bills touted as the "New Deal" are still in limbo.
(July, 2021)
Juneteenth was declared a federal holiday – a cause for celebration for justice and equality. It also brought into focus how fragile these freedoms can be under the onslaught of voting rights being restricted and modified in Georgia, Texas and other states. All the more reason that a federal level voting rights bill needs to pass congress and the Senate to counteract these efforts.
California to restrict unemployment benefits – California has added more than 390,000 jobs since February. In April alone, California accounted for 38% of all new jobs added in the U.S. But that same month, California still had the second-highest unemployment rate in the country at 8.3%. Since the pandemic began, California has processed more than 20 million unemployment claims and paid out more than $128 billion in benefits.
Normally, the most money someone can get from unemployment benefits in California is $450 per week. But Congress has added an additional $300 per week on top of that because of the pandemic.  Now as coronavirus cases have fallen and more people are getting vaccinated, employers have said they are having a hard time finding people to work. In response, most states, including California, will require people to look for work in order to be eligible for unemployment benefits. And 25 states have stopped paying the extra $300 per week in benefits to prod people back into the workforce.
Housing Crisis – Sen. Anthony Portantino's bill, Senate Bill 15, seeks to empower and incentivize local governments to rezone commercial properties in order to make room for much-needed affordable housing. Until now, one big roadblock to building more affordable housing, according to Portantino, D-La Canada, has been the fact that cities earn more revenue from sales tax than they do from property tax.
Vacant or idle commercial properties eligible to be rezoned range from single stores at least 75,000 square feet, multi-store strip mall locations, and even the large, big box stores. "Idle" as it is written in SB15, means that at least 80% of the site is not occupied and has been so for at least 12 months.
The stipulations written into the bill make certain that the housing developed at these commercial locations be for low-income and workforce housing – 80% of the median income level, according to Portantino.
Funding for SB15 would be handled by the California Department of Housing and Community Development (HCD). The HCD would issue a Notice of Funding Availability for a year, on grants for which interested cities could then apply. The HCD would then accept applications for those grants at the end of that 12-month period. The HCD would do this each year the funds are made available.
Reproductive Rights – "Reproductive rights may be in question again after it's been decided for 40 years," said state Sen. Lena Gonzalez (D-Long Beach), author of California Senate Bill 245, the Abortion Accessibility Act. "We're taking a stance, not just to make abortions available but to make them free and equitable."
The state Legislature is considering the bill just as the fate of Roe vs. Wade has been thrown into question. The conservative-leaning Supreme Court has agreed to review this year a Mississippi law that bans abortions after 15 weeks, and its ruling could end or weaken Roe.
(June, 2021)
Mississippi Abortion Law in Supreme Court. The Supreme Court announced Monday (May 17) that it will consider a major rollback on abortion rights. The nation's highest court will decide whether states can ban abortions that take place prior to the time in which a fetus can survive outside the womb, which will set up a showdown over abortion, expected in the fall.
The proposal comes as the Supreme Court has already shifted to a more conservative court, nearly 50 years after the 1973 Roe v. Wade rulings on constitutional abortion rights and its reaffirmation 19 years later. The case involves a Mississippi law that would prohibit most abortions after the 15th week of pregnancy. The law has been blocked by lower courts as inconsistent with Supreme Court precedent, which supports a woman's right to get an abortion prior to the fetus being developed enough to survive outside of the womb. Watch out for another attack on the constitutionality of Roe vs Wade!
Flexible Work Schedules  Businesses are currently grappling with how to physically return employees to work following a year of working remotely during the pandemic.   The California legislature is weighing into the mix by proposing two bills to provide employers and employees with more leeway to agree to mutually beneficial "flexible work schedules."
Assembly Bill 230 (the Workplace Flexibility Act of 2021) and Assembly Bill 1028 (the Telework Flexibility Act of 2021), introduced in February, would provide hourly employees with the right to request flexible work schedules to work up to four 10-hour days per week.  With this request, the employer would not have to pay overtime for the 9th and 10th hours worked per day in that schedule.  In addition, the Telework Flexibility Act of 2021 would provide remote employees with more flexibility to schedule their meal periods and rest breaks.
State Stimulus Money  Gov. Gavin Newsom proposed a second round of $600 state stimulus checks on Monday to hasten California's recovery from the COVID-19 pandemic, hoping to expand the payments from low-income residents to also include middle-class families, and noting that doing so would ensure benefits for 2 out of 3 state residents.
The proposal to deliver $8 billion in new cash payments to millions of Californians is part of a $100-billion economic stimulus plan made possible in part by a budget that has swelled with a significant windfall of tax revenues, a surplus the governor put at $75.7 billion.
(May, 2021)
The high-profile case of George Floyd resulting in the guilty verdict for Officer Derek Chauvin on all three counts was a welcomed step forward towards social justice all over the country. Whether this will result in police reform remains to be seen.
California has pushed through some strong measures for police accountability. The most high-profile proposal, Senate Bill 2, would empower the state Commission on Peace Officer Standards and Training to decertify peace officers who engaged in "serious misconduct," a term to be defined by future regulation. The commission would also act on decisions issued by a new nine-member citizen panel, only two members of which would be required to have a law enforcement background.
Bradford's bill to expand victim restitution to cases involving police confrontations also won support from the panel's only Republican, State Sen. Rosilicie Ochoa Bogh (R-Yucaipa). The proposal, Senate Bill 299, broadly defines such incidents and states that payments would be allowed "regardless of whether the law enforcement officer is arrested for, charged with, or convicted of committing a crime. "The author of SB 299, state Sen. Connie Leyva (D-Chino), said the current process can exclude victims who didn't cooperate with police officers. Critics argue the bill would allow restitution in cases in which the officer was never arrested or charged.
Last year's law to ban the use of chokeholds by law enforcement would be expanded to include any restraint or transport of suspects that involves a high risk of "positional asphyxia," which limits breathing, under Assembly Bill 490, approved by the Assembly Public Safety Committee.
Assemblyman Mike Gipson (D-Carson) said the broad limit on restraint procedures was removed from last year's chokehold ban, though he cited several cases in which subjects died during confinement by law enforcement officers.
The Paycheck Fairness Act was passed with the support of AAUW.
(April, 2021)
The American Rescue Plan, which comes just months after a $900-billion package that lawmakers approved late last year, amounts to one of the biggest government relief efforts in the country's history. Cleared by the House after passing the Senate on a 50-49 party-line vote, the legislation is more than twice the size of the $787-billion 2009 American Recovery Act. And it is the latest in a series of such aid packages since last spring that together have provided roughly $4 trillion in assistance for individuals, businesses, states, and local governments.
Most noticeable to many Americans are:
Providing up to $1,400 in direct payments.
Extending $300 weekly emergency unemployment benefits into early September.
Expanded tax credits over the next year for children, childcare and family leave plus spending for renters, food programs and people's utility bills.
Sending $350 billion to state and local governments whose revenue has declined due to COVID.
Allocating $130 billion to help re-open schools and colleges.
Allotting $30 billion to help renters and landlords to weather economic hardship.
Devoting $50 billion for small business assistance.
Dedicating $160 billion for vaccine development distribution and related needs.
Expanding the child tax credit up to $3,600 per child.
Expanding premium subsidies for people who buy health insurance on their own instead of through government programs or business employers.
Vaccination Update
President Biden also promised that the vaccine eligibility will become open to all by May 1st ; we may be able to enjoy some outdoor gatherings on Independence Day, July 4th.
Under the new health order, private gatherings would also be allowed with up to three households, with masking and distancing always required. People who are fully vaccinated could gather in small numbers indoors with others who are fully vaccinated without masks or distancing requirements.
Hate Crimes Against Asian-Americans
Mr. Biden denounced hate and violence against Asian Americans: "It's wrong. It's un-American. And it must stop," said Biden. A coalition of California lawmakers announced their support Monday for a basket of bills designed to address the rise of hate crimes in the state. The push for hate crime legislation is in response to 3,000 incidents of racially motivated hate crimes against Asian Pacific Islander Americans in 2020 nationwide, according to the lawmakers. Many of the victims are in California.
"Our Asian American community has been yelled at, spat on, shoved down and beat up, slashed and disfigured and murdered," explained Assembly Member Rob Bonta, D-Oakland, who is the first Filipino American elected to the state legislature. Bonta was joined by members of the Latino, Black, Jewish and LGBTQ caucuses in backing bills that would stiffen penalties for those convicted of hate crimes, provide support for victims, enhance training for law enforcement to better identify hate crimes and provide money for stepping up security for targeted ethnic institutions.
"African Americans have been facing this for 400 years in this country," Sen. Steve Bradford, D-Los Angeles, explained. "If it's happening there today, it'll be in your backyard tomorrow."
Re-opening of California Schools: Senate Bill 86
The legislation, Assembly and Senate bills 86, offers public schools a share of $2 billion in aid for reopening costs if they resume some level of in-person instruction by the end of March, with decreasing amounts up to a May 15 deadline. An additional $4.6 billion is aimed at helping address learning loss from remote instruction. The Assembly passed the bill 72-4 after the Senate approved it 36-0.
Childcare Subsidy Bill
AB 1179 proposes a childcare subsidy as a new form of employee benefit. This is not a leave benefit, or a job-protection benefit, but rather a fund to be used for emergency childcare needs. The bill would apply only to the largest employers – those who employ 1,000 or more employees (including the state, its political subdivisions, and its municipalities, to include charter cities), but companies who already provide equivalent benefits would be exempted.  The bill also would not apply to workers whose collective bargaining agreements provide similar benefits, to construction industry employees covered by collective bargaining agreements that provide hourly pay of not less than 30% of the state minimum wage, to certain airline employees, and to government retirees who receive state retirement benefits.
Stay Well: Stay Alert: Stay Engaged!
(March, 2021) The Golden State Stimulus – Gov. Gavin Newsom and legislative leaders have agreed to provide low-income Californians a $600 state stimulus payment to help them weather financial hardships during the COVID-19 pandemic. This is part of a $9.6-billion economic recovery package that also includes $2.1 billion in grants for small businesses. The "Golden State stimulus" payments provided under the state proposal, are in addition to the $600-per-person stimulus checks already approved by Congress and would be on top of direct payments of up to $1,400 per person that have been proposed by House Democrats.
The package put forward for immediate action also provides more than $400 million in new federal funds for stipends of $525 per enrolled child for all state-subsidized child-care and preschool providers, which serve some 400,000 children in subsidized care statewide.
The CRISES Act (The anti-police terrorism project in California) – In the California State Assembly, Sydney Kamlager crafted the CRISES Act in partnership with Cat Brooks, co-founder of the Oakland-based Anti-Police-Terror Project. The bill would establish a grant program for community groups to create emergency response teams that would respond to a wide range of calls instead of the police. These calls might involve intimate partner violence or a mental health crisis. They might come from someone leery of calling the police because of their immigration status, or terrified that they'll be the one sent to jail. They might come from any Black or Latinx person who fears that when the police are called, someone may end up dead.  "All of those groups still have the right to be able to call someone and ask for help when there's an emergency, without the assumption that they're criminals, and without the threat of an arrest," Kamlager said.
Reflections on Black Women's History – As February Black History Month closes, it is a good time to reflect on the AAUW Fellows and grantees who make Black history all the time. From 1978-79 American Fellow Barbara Smith, a founder of the Black feminist Combahee River Collective, to 2016-17 American Fellow Keisha Blain, who edited a new book with Ibram X. Kendi chronicling 400 years of Black history, these remarkable women span decades and fields. Sometimes they even interview each other!
AAUW alumnae are true trailblazers: There is the first African woman to lead the World Trade Organization (1977-78 International Fellow Ngozi Okonjo-Iweala), the first African American female chemical oceanographer (2000-01 American Fellow Dr. Ashanti Johnson), and the first woman of color elected district attorney in Massachusetts (1996-97 Selected Professions Fellow Rachael Rollins)
 Actions You Can Take for Equity –As we approach Equal Pay Day (March 24), women and people of color continue to hurt most from the pandemic and resulting economic crisis.  You can help by urging Congress to raise the federal minimum wage and pass the Paycheck Fairness Act (PFA) and the FAMILY Act.
Important March Dates for Public Policy

March 4

March 9

Asian American and Pacific Islander Equal Pay Day

March 14-26

March 24

Equal Pay Day (for all women compared to all men)
Stay informed, stay engaged, stay involved!
by Asha Bajaj, Public Policy Chair
(February, 2021)  The ugly specter of rioters in the Capitol building cast a shadow on our history of having a smooth transition of Presidential power. However, it was heartening to see the House and Senate go back the same day to complete the count of the certified electoral votes and confirm the inauguration of President Elect Joe Biden and Kamala Harris as our Vice president. Thankfully the inauguration went smoothly. But the specter of thousands of troops at the nation's capital was a grim reminder of how fragile democracy can be. We can only hope and pray that the country will pull together to deal with the major issues like the Coronavirus, stimulating the economy, and improving our health care system and move towards a bipartisan legislative agenda.
Governor Gavin Newsom recently signed a number of bills that will affect California employers in 2021. Most significantly, the new laws greatly expand the California Family Rights Act (CFRA), create stringent workplace reporting requirements related to COVID-19, and clarify California's year-old independent contractor law, Assembly Bill 5 (AB 5).
Supplemental COVID-19 Paid Sick Leave – Assembly Bill (AB) 1867 expanded supplemental paid sick leave for COVID-19-related reasons for certain employers not already covered by the federal Families First Coronavirus Response Act (FFCRA). Specifically, it required private employers that employ 500 or more U.S. employees to provide California employees with paid sick time for COVID-19-related absences. In addition, some local governments, including the City and County of San Francisco, San Mateo County, and Sacramento County, have extended their local sick leave ordinances to require covered employers to provide paid COVID-19 sick leave into 2021.
COVID-19 Recording and Reporting Requirements -Taking effect January 1, 2021, AB 685 establishes stringent COVID-19 recording and reporting requirements when employers receive notice of a potential COVID-19 exposure at the workplace. Among other things, AB 685 requires employers to provide multiple notices within one business day after receiving notice of a potential COVID-19 exposure:
Written notice 1 to all employees and employers of subcontracted employees who were at the worksite within the infectious period
Written notice 2 regarding COVID-19-related benefits, including workers' compensation benefits, COVID-19 leave, paid sick leave, and the company's anti-discrimination, anti-harassment, and anti-retaliation policies
Written notice 3 to employees regarding the company's disinfection protocols and safety plan to eliminate any further exposures, per CDC guidelines
Employers must also notify their local public health department within 48 hours if an "outbreak" occurs at the worksite (defined as three lab-confirmed cases within two weeks). The new law also authorizes the Division of Occupational Safety and Health (Cal/OSHA) to immediately shut down a business without prior notice if it concludes there is an imminent risk of serious physical harm due to COVID-19, and to issue significant monetary citations for serious violations relating to COVID-19.
The law also requires employers to draft and implement a separate COVID-19 Pandemic Plan that addresses all COVID-19 exposures, identifies the manner in which the employer intends to correct such exposures, and indicates how the employer will enforce its procedures, train its employees, conduct inspections, and review its plan for effectiveness.
Re-opening of Schools – Governor Gavin Newsom announced a $2 billion plan to reopen schools, beginning as soon as February for younger students and gradually phasing in older grades. His plan is optional for schools but includes incentives to participate. It calls for widespread testing, contact tracing, masks and other safety measures, including ventilation upgrades. While ventilation improvements are not required under Newsom's plan, research shows that well-ventilated clean air can lessen the spread of the coronavirus as well as other contaminants, including wildfire smoke, dust and air pollution. Clean air can also improve students' academic achievement, reduce absenteeism and boost health overall for students and staff, according to the Environmental Protection Agency.
State Budget – Governor Gavin Newsom unveiled a $227.2 billion budget proposal Friday, kicking off a 6-month-long process to finalize a state budget for 2021-2022. The proposal includes $14 billion in programs to assist workers and businesses impacted by the pandemic, as well as assistance to reopen schools. That includes nearly $5 billion that Newsom will ask the Legislature to approve before the budget is finalized in June.
Newsom predicts $34 billion in what he calls "budget resiliency," or a combination of reserves and discretionary surplus, with $15.6 billion coming from the state's rainy-day fund. Even amid the coronavirus pandemic, Newsom's $227 billion spending plan marks a record-high budget proposal. Keely Bosler, director of the Department of Finance said "We did not know how deep the recession was going to be. But due in large part to strong economic recovery among wealthier earners, the budget has been put forth with the state relying disproportionately on income tax revenue."
Vaccination rollout -The vaccination roll out has been slow, but hopefully most of you have signed up to get it. Most adults 75+ are projected to be vaccinated by end of February.
Stay well, stay engaged, stay tuned!
By Asha Bajaj, Public Policy Chair
(January, 2021)  The second stimulus package of 900 billion dollars is headed to the Senate and White House for confirmation. This package includes a $600 stimulus payment for all taxpayers, $300 added to unemployment benefits for 11 months, extension of the payroll tax exemption for small business loans, rental assistance, a moratorium on evictions, and extension of the nutrition and food assistance program.
President-elect Joe Biden moves forward in naming his cabinet appointees, just as Mr. Trump continues his challenges through the courts and his followers in the media, and just as we faced another lockdown in California, December through January 6, 2021.
AB-10 re-opening protocols for schools: Democratic legislators led by Assembly member Phil Ting, a San Francisco Democrat, are co-authoring Assembly Bill (AB-10), one of the first bills introduced this legislative session. They say this bill is in response to the fact that many public schools across California are still doing remote learning even though the state allowed them to physically reopen campuses this fall.
If passed by two-thirds of the Legislature and signed by Governor Gavin Newsom, AB-10 would require public schools to plan for transition to in-person learning within 2 weeks after their counties move out of the purple (most restrictive) tier. Local school boards and administrators would still have authority to decide logistics on scheduling and how their schools would transition to in-person learning. But the plan would have to be in place within 2 weeks from moving up from the purple tier. Parents would still be allowed to keep their children in remote learning if they want to.  Certificated staff who are medically fragile would be exempt from having to return to campuses in person. AB-10, if passed, would take effect March 1.
Under AB-10, public schools would also have to create more detailed plans for engaging students who are not participating in remote classes. This school year several California students have effectively been shut out of online classes because they lack stable internet access or functioning technology; this despite state and local efforts to close a decades-long digital divide in the state.
AB-14 Internet for All Act of 2021: The pandemic has highlighted the dire need to move quickly on providing access, especially to underserved and underinvested communities, and to act upon the Broadband for All Initiative. Governor Newsom first announced it at the 2019 California Economic Summit in Fresno. With one in eight families in California disconnected and nearly one million school-aged children with no internet connection, the lack of access is creating additional hardships during a time when connectivity is more essential than ever. As the California Dream Index shows, broadband access is less available for Black, Latino and tribal communities in California. "The heartbreaking reality is that 1 in 8 California homes still do not have internet access and communities of color face even higher numbers of students and families who remain disconnected," said Aguiar-Curry. At the 2020 California Economic Summit on Friday, Dec. 4, Aguiar-Curry introduced Assembly bill 14 (AB-14), the "Internet for All Act of 2021" and announced a partnership working with Senator Lena Gonzalez. This created real momentum for much needed progress.
AB-14 reflects Aguiar-Curry's steadfast commitment to achieve our state's digital connectivity goals. It is a product of the knowledge Aguiar-Curry gained through her own bill this year, AB 570 (Aguiar-Curry, the "Internet for All Act of 2020") and the negotiations between both houses of the State Legislature and the Governor's administration through the 2020 legislative session.
It's been wonderful to hear about the introduction of nearly three vaccines that are already being shipped and put it into the arms of our front-line workers. Hopefully by spring of 2021 we will all be vaccinated and be able to put this threat of the Corona virus behind us.
Let's begin the New Year with renewed hope in the future of our country and the tenets of democracy.
Stay alert! Stay engaged! Stay well!
By Asha Bajaj, Public Policy Chair
(December 2020) Our election is over, and people turned out in massive numbers to vote. The voting process has been declared fraud-free, the Electoral College will meet in December, and it is anticipated that President-elect, Joe Biden, will take the oath of office in January.
What's next?
December 14, 2020: Each state's certified results will be reflected in the votes taken by the Electoral College.
December 23, 2020: Congress will receive the results from the Electoral College.  Because the U. S. Supreme Court unanimously ruled against faithless Electors, the Electors are expected to vote according to the popular vote in their respective states.
Jan 3, 2021: The 117th Congress will be sworn into office.
Jan 6, 2021: Congress will count the electoral votes and certify the winner. The candidate team with 270+ electoral votes will be declared President and Vice-president.
Jan 20, 2021: We anticipate that Joe Biden and Kamala Harris will be sworn into office.
Vice President: Our own Californian, Kamala Harris, will be the first woman, the first Black, and the first South Asian American to serve. Harris has been a leader in legislative reform as Attorney General in our state and has spoken often about the disproportionate effect of coronavirus on Black and Brown communities. Her early beginnings in Oakland/Berkeley sowed the seeds of her civil rights and social justice reforms. Her recent book, We hold these Truths, provides a good window into the background and motivations of this truly remarkable woman. Her new role creates an opening for a new U. S. Senator from California. Prospective picks include Barbara Lee, Alex Padilla, Xavier Becerra, and Libby Schaff.
AAUW supports a peaceful transition:  AAUW joins with the World justice Project in supporting the rule of law and peaceful acceptance of election results as stated in the "A Joint Appeal to Protect the Rule of Law in the 2020 U.S. Elections": "We urge those in leadership positions to encourage peaceful participation in the election Process and to condemn any threats or acts of violence. We also urge all Americans to exercise patience, civility, and restraint, so that the results of the elections can be determined in accordance with the rule of law and peacefully accepted by the American people."
 Call to Action: Make your voice heard in the halls of our representatives. We deserve a peaceful and smooth transition. We deserve a coordinated and adequate response to the pandemic and we deserve a chance to issue stimulus help to the many people who have lost their jobs. Let's urge our representatives to do the do the right thing by our democracy and nation.
Stay well-Stay engaged and keep up the fight.
Asha Bajaj, Public policy chair
(November 2020)  AAUW co-sponsored the SRVUSD School board debate on September 23rd.  Topics included the reopening of schools, teacher retention, police on campus, and the budget. 
The Nov. 3 ballot includes current Board President Greg Marvel, local business owner Shelley Clark and SRVUSD parent Priscilla Graft (Trustee Area 2, central and eastern Danville), and community volunteer Laura Bratt, project manager Kumar Nallusamy, and San Ramon Valley Education Foundation board member Scott Roberts (Trustee Area 3, Dougherty Valley).  The candidates debated a range of issues including managing the COVID-19 crisis, social justice reform, and teacher retention.
Safe re-opening of Schools:  All candidates would like students to return to class as soon as it is safe.
Promotion of diversity:  Candidates agreed that the promotion of diversity and inclusion should be a top priority, and that the best place to begin addressing anti-racism was in the classroom.  Clark said, "That means more education in the areas of ethnic studies in the area of curriculum, anti-racism programs like 'No Place for Hate' and 'Teaching Tolerance'."
Emotional Learning and Wellness:  Bratt advocated for more counselors to help students with emotional learning and wellness. Clark advocated for social and emotional learning among students in small groups, promoting "Breaking Down the Walls," a program which encourages students share their lives and experiences with one another.
Police on campus: Marvel said that school resource officers' goal was to make students feel safe, but newcomer Bratt argued that some students feel more afraid when they see police officers and called for understanding and more inclusivity for all students.
Teacher Retention:  Some candidates thought that the district had not done enough to meet the needs of teachers. "Our students are our future leaders and our teachers are our heroes," first-time candidate Nallusamy said, adding that negotiation is the key to good relations with teachers. Nallusamy advocated for increased transparency and communication among district staff as a way to improve teacher retention.  He would also ask teachers for the top five things that could be implemented now.
Budget:  The SRVUSD is the second-lowest funded school district per pupil in California. Candidates spoke strongly in favor of seeking other sources of revenue due to the budget deficit anticipated from declining enrollment and the financial crisis from the pandemic. Candidates had divergent views on a bond, which would be an extra burden on parents at the time of COVID.
National: The confirmation of Amy Coney Barrett is anticipated.  The Supreme Court faces cases on the Affordable Care Act (Obamacare) and Roe vs Wade.  Meanwhile, election fever has gripped the nation and early voter turnout has been in larger numbers than before.
Asha Bajaj, Public Policy chair
(October 2020) AAUW Supports 7 of 12 Ballot Initiatives.  Twelve (12) ballot measures were certified to appear on the ballot for the election on November 3, 2020.  AAUW CA has announced its support for seven of the 12 initiatives.  Branches are not required to adopt the supported measures but they cannot oppose them.
Click the number of the proposition below to find out more specifics from Ballotpedia.org.  Or, review the California 2020 Ballot Initiatives Pros and Cons on from the League of Women Voters posted on our DAW AAUW website.
| | | | | |
| --- | --- | --- | --- | --- |
| Type | Prop # | Subject | Description | AAUW CA Position |
| CISS | 14 | Bonds | Issues $5.5 billion in bonds for state stem cell research institute | Support |
| CICA | 15 | Taxes | Requires commercial and industrial properties to be taxed based on market value and dedicates revenue | Support |
| LRCA | 16 | Affirmative Action | Repeals Proposition 209 (1996), which says that the state cannot discriminate or grant preferential treatment based on race, sex, color, ethnicity, or national origin in public employment, education, or contracting | Support |
| LRCA | 17 | Suffrage | Restores the right to vote to people convicted of felonies who are on parole | Support |
| LRCA | 18 | Suffrage | Allows 17-year-olds who will be 18 at the time of the next general election to vote in primaries and special elections | Support |
| LRCA | 19 | Taxes | Changes tax assessment transfers and inheritance rules | No |
| CISS | 20 | Law Enforcement | Makes changes to policies related to criminal sentencing charges, prison release, and DNA collection | No |
| CISS | 21 | Housing | Expands local governments' power to use rent control | Support |
| CISS | 22 | Business | Considers app-based drivers to be independent contractors and enacts several labor policies related to app-based companies | No |
| CISS | 23 | Healthcare | Requires physician on-site at dialysis clinics and consent from the state for a clinic to close | No |
| CISS | 24 | Business | Expands the provisions of the California Consumer Privacy Act (CCPA) and creates the California Privacy Protection Agency to implement and enforce the CCPA | No |
| VR | 25 | Trials | Replaces cash bail with risk assessments for suspects awaiting trial | Support |
Source: https://ballotpedia.org/California_2020_ballot_propositions
GOTV (Get out the Vote) Voter Guide
"California is well positioned to vote by mail given its past use and overwhelming voter acceptance."  Michael Baldassaro, Public Policy Institute of California.
Important Dates
 Oct 9, 2020

: Deadline to register, online or by mail

Oct 27th: Deadline to apply for absentee Ballot by mail
Nov 3rd: Election Day
Voting Rules and options: Register at https://registertovote.ca.gov.  Voters will get a mailed ballot in October without requesting it. You can also request an absentee ballot at http://sos.ca.gov/elections/voter-registration/vote-mail No witness signature is required. No ID photo is required. Note that early voting begins Oct 5th in some counties.
Polling places
Find your voting location at https://www.sos.ca.gov/elections/polling-place. Polls will be open from 7am to 8 pm, will have sanitizers, and will practice social distance.
Resources
Remember your vote is your voice.  Let it be heard loud and clear at the ballot box.
If any of you are interested in doing phone banking or phone texting please send an email to the following address:  rov.dcmv@gmail.com
Get Out the Vote Postcard Project Update
We completed a very successful postcard writing campaign to get the vote out this month. The project involved writing cards to 500 people in Tarrant county Texas. The script was bilingual and we really enjoyed the exercise.  Estimados senoritas.
Our special thanks to the following volunteers:  Bev Nidick, Chris Ritter, Pat DeRensis (who took 3 packets), Pat Morrison, Judy Finch, Cathy Colman, Asha Bajaj, Martha Gus Slavin, and Isabel Lau. Apologies to some of the volunteers who were not able to participate:  Marcia Steinhardt, Judy Keenholtz, Nancy Murray, Dianne Tinnes (who wrote cards on her own initiative), and Kathy Gage.
There were a few glitches in zip codes in a number of addresses and our erstwhile group went the extra step to verify these as we went along –a full and profound gratitude to all of you.  We invite you all to the next project on Phone banking via texting.
We are looking for a few good activists to join the public policy committee.  If interested, please contact Asha Bajaj.
Stay engaged.  Stay alert.  Stay involved.
Asha Bajaj,  Public Policy chair
(September 2020)  August 18th 2020 Marks the Centennial Anniversary of Women's Suffrage –a long battle to get the right to vote for women. Today we face the battle of exercising this right to vote. There are attempts to stop mail in ballots, people are getting dropped off the rolls and voter disenfranchisement especially in brown and black neighborhoods has become a rampant phenomenon.
DAW AAUW is acting to Support Access for All Voters –We have undertaken a postcard writing project directed towards voters who have been dropped from the rolls to make them aware and remind them to update this registration on time. Thank you much for the overwhelming support for this project.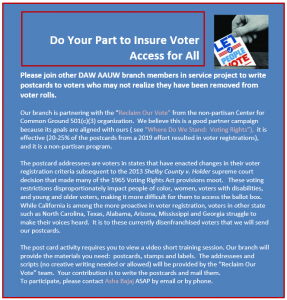 What History Tells Us About the Importance of Voting
Organized work for women suffrage began in the United States with the Women's Rights Convention in Seneca Falls, NY., in 1848. Lucretia Mott and Elizabeth Cady Stanton, early leaders of Massachusetts and New York, called to action, in response to the indignation aroused by the refusal to permit women to take part in the anti-slavery convention of 1840. From the date of that convention, the suffrage movement in the United States
began the fight that lasted seventy years and ended with victory. Another convention followed in 1852 at Syracuse, N.Y., at which delegates from Canada were present and it was there that Susan B. Anthony assumed leadership of the cause to which she devoted her life.
In 1869 the National Woman Suffrage Association, with Miss Anthony and Mrs. Stanton at its head, was formed in New York and in the same year the American Woman Suffrage Association was organized in Cleveland with Lucy Stone and Julia Ward Howe as its leaders. At first differing widely in policy, the National Association, working to put a suffrage amendment through the federal Congress and its sister organization bending its efforts to convert the country state by state, the two associations later united under the name of the National Woman Suffrage Association. The Association's drive for the vote was led, in turn by Mrs. Stanton, Miss Anthony, Dr. Anna Howard Shaw and Mrs. Carrie Chapman Catt, the latter of whom is now its president. One of our members, Connie Cady Stanton, is a direct descendant of this illustrious lineage.
Advocacy and Action are the Needs of the Hour if we wish to bring about positive change in our country and become a beacon of a society based on democratic principles. The idea of "for the people by the people and of the people" was a pioneering concept of our constitution. But this garden needs tending and pruning and weeding to allow it to flower again on the world stage and uphold our humanitarian principles.
Democracy is not a spectator sport so Get Out and Vote. Send that mail-in ballot as soon as it arrives in your box. No one has the luxury of sitting this one out. Too much is at stake here and if we do nothing, we have no right to complain about the system.
Stay well, stay informed, stay engaged.
Asha Bajaj, Public Policy Chair
(August 2020) The U.S. Supreme Court issued several opinions on critical AAUW priorities.
Equal employment Act
In Bostock v. Clayton County, the Supreme Court ruled that it is a violation of Title VII of the Civil Rights Act of 1964 to fire any employee for being gay, lesbian or transgender. AAUW has long argued that Title VII encompasses this meaning and prohibits discrimination based on sex stereotyping.
Women's access to reproductive health and safe abortions
In June Medical Services v. Russo, the Supreme Court struck down a 2014 Louisiana law that severely restricts access to abortion. Finding it nearly identical to a Texas law that was deemed unconstitutional in 2016, the Court reiterated that requiring abortion providers to have admitting privileges at a nearby hospital "imposes an undue burden on a woman's constitutional right to choose to have an abortion." AAUW supports choice in the determination of one's reproductive life and joined an amicus brief backing June Medical Services.
Gender pay equity
The Supreme Court declined to hear a challenge to the Ninth Circuit Court's decision in Yovino v. Rizo that prohibited employers from relying on a person's salary history to justify pay disparities. We are honored to have worked with Aileen Rizo, who challenged the practice under the federal Equal Pay Act, and are proud to have helped establish an important precedent that brings us a step close to gender pay equity.
Immigrant rights
In Department of Homeland Security v. Regents of the University of California, the Supreme Court rebuked the current administration for their "arbitrary and capricious" decision to rescind the DACA program, as they did not show sufficient legal justification to terminate it. Unfortunately, the Court also issued unfavorable decisions in two cases AAUW weighed in on via amicus briefs. Our Lady of Guadalupe School v. Morrissey-Berru concerned employment discrimination, and Little Sisters of the Poor Pennsylvania addressed contraceptive coverage protections within the Affordable Care Act.
Paid Family leave
On May 15, 2020, the Health and Economic Recovery Omnibus Emergency Solutions Act (HEROES) passed the House of Representatives. H.R. 6800 provides relief measures in response to the COVID-19 crisis, including addressing vital AAUW priorities such as expanding paid sick days, family and medical leave, unemployment compensation, and nutrition and food assistance programs, as well as providing student loan forgiveness to some borrowers and expanding funding for free, fair, accessible, and safe elections. Although the Senate has not taken up the HEROES Act, the Senate Majority Leader has signaled the chamber's intent to pass another round of aid by the end of July before benefits made available in the CARES Act run out.
Racial equity and social justice
Representative John Lewis, the towering figure in the historic struggle for racial equality, "the conscience of Congress" and a Georgia Democrat, announced in December that he had Stage 4 pancreatic cancer. He died on July 10th at the age of 80. On the front lines of the bloody campaign to end Jim Crow laws, Mr. Lewis was repeatedly beaten by Southern policemen and arrested 40 times from 1960 to 1966. He was one of the original Freedom Riders and the last surviving speaker from the March on Washington in 1963. Half a century later, Mr. Lewis saw the demonstrations in response to the killing of George Floyd as a continuation of his life's work. "There will be no turning back," he said in one of his final interviews.
AAUW condemns racism and recognizes that there can be no justice or equality when Black and Brown communities are seen as less deserving of basic human and civil rights. The statement from AAUW CEO Kim Churches, AAUW Stands Against Racism, pledges to work to advance the policies and systemic changes identified in the New Era of Public Safety: A Guide to Fair, Safe, and Effective Community Policing and Vision for Justice platforms.
Pandemic update
California and other states continue to respond to the Corona virus pandemic, with not much coordination for testing and/or equipment or guidelines from the White house. Instead, an embattled CDC tries to get its message out, based on science and data, and once again thwarted by the new edict to turn all virus-related stats to the Department of homeland security. In some good news there are 2-3 vaccines closer to market. Until then please remember to wear your masks and wash your hands and stay away from big group events.
With the November elections approaching, please write to your senators to vote to expand and safeguard voting rights.
The Voter Access & Education webinar information and recording can be found here.
Both this week and last week, we have included an updated call to support the Voting Rights
Advancement Act.
Stay engaged and informed exercise your right to vote
Asha Bajaj, Public policy chair