(September 2020)  August 18th 2020 Marks the Centennial Anniversary of Women's Suffrage –a long battle to get the right to vote for women. Today we face the battle of exercising this right to vote. There are attempts to stop mail in ballots, people are getting dropped off the rolls and voter disenfranchisement especially in brown and black neighborhoods has become a rampant phenomenon.
DAW AAUW is acting to Support Access for All Voters -We have undertaken a postcard writing project directed towards voters who have been dropped from the rolls to make them aware and remind them to update this registration on time. Thank you much for the overwhelming support for this project.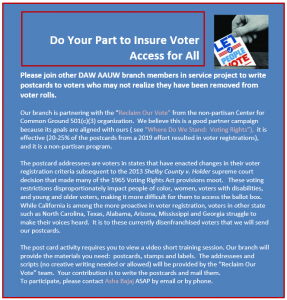 What History Tells Us About the Importance of Voting
Organized work for women suffrage began in the United States with the Women's Rights Convention in Seneca Falls, NY., in 1848. Lucretia Mott and Elizabeth Cady Stanton, early leaders of Massachusetts and New York, called to action, in response to the indignation aroused by the refusal to permit women to take part in the anti-slavery convention of 1840. From the date of that convention, the suffrage movement in the United States
began the fight that lasted seventy years and ended with victory. Another convention followed in 1852 at Syracuse, N.Y., at which delegates from Canada were present and it was there that Susan B. Anthony assumed leadership of the cause to which she devoted her life.
In 1869 the National Woman Suffrage Association, with Miss Anthony and Mrs. Stanton at its head, was formed in New York and in the same year the American Woman Suffrage Association was organized in Cleveland with Lucy Stone and Julia Ward Howe as its leaders. At first differing widely in policy, the National Association, working to put a suffrage amendment through the federal Congress and its sister organization bending its efforts to convert the country state by state, the two associations later united under the name of the National Woman Suffrage Association. The Association's drive for the vote was led, in turn by Mrs. Stanton, Miss Anthony, Dr. Anna Howard Shaw and Mrs. Carrie Chapman Catt, the latter of whom is now its president. One of our members, Connie Cady Stanton, is a direct descendant of this illustrious lineage.
Advocacy and Action are the Needs of the Hour if we wish to bring about positive change in our country and become a beacon of a society based on democratic principles. The idea of "for the people by the people and of the people" was a pioneering concept of our constitution. But this garden needs tending and pruning and weeding to allow it to flower again on the world stage and uphold our humanitarian principles.
Democracy is not a spectator sport so Get Out and Vote. Send that mail-in ballot as soon as it arrives in your box. No one has the luxury of sitting this one out. Too much is at stake here and if we do nothing, we have no right to complain about the system.
Stay well, stay informed, stay engaged.
Asha Bajaj, Public Policy Chair
(August 2020) The U.S. Supreme Court issued several opinions on critical AAUW priorities.
Equal employment Act
In Bostock v. Clayton County, the Supreme Court ruled that it is a violation of Title VII of the Civil Rights Act of 1964 to fire any employee for being gay, lesbian or transgender. AAUW has long argued that Title VII encompasses this meaning and prohibits discrimination based on sex stereotyping.
Women's access to reproductive health and safe abortions
In June Medical Services v. Russo, the Supreme Court struck down a 2014 Louisiana law that severely restricts access to abortion. Finding it nearly identical to a Texas law that was deemed unconstitutional in 2016, the Court reiterated that requiring abortion providers to have admitting privileges at a nearby hospital "imposes an undue burden on a woman's constitutional right to choose to have an abortion." AAUW supports choice in the determination of one's reproductive life and joined an amicus brief backing June Medical Services.
Gender pay equity
The Supreme Court declined to hear a challenge to the Ninth Circuit Court's decision in Yovino v. Rizo that prohibited employers from relying on a person's salary history to justify pay disparities. We are honored to have worked with Aileen Rizo, who challenged the practice under the federal Equal Pay Act, and are proud to have helped establish an important precedent that brings us a step close to gender pay equity.
Immigrant rights
In Department of Homeland Security v. Regents of the University of California, the Supreme Court rebuked the current administration for their "arbitrary and capricious" decision to rescind the DACA program, as they did not show sufficient legal justification to terminate it. Unfortunately, the Court also issued unfavorable decisions in two cases AAUW weighed in on via amicus briefs. Our Lady of Guadalupe School v. Morrissey-Berru concerned employment discrimination, and Little Sisters of the Poor Pennsylvania addressed contraceptive coverage protections within the Affordable Care Act.
Paid Family leave
On May 15, 2020, the Health and Economic Recovery Omnibus Emergency Solutions Act (HEROES) passed the House of Representatives. H.R. 6800 provides relief measures in response to the COVID-19 crisis, including addressing vital AAUW priorities such as expanding paid sick days, family and medical leave, unemployment compensation, and nutrition and food assistance programs, as well as providing student loan forgiveness to some borrowers and expanding funding for free, fair, accessible, and safe elections. Although the Senate has not taken up the HEROES Act, the Senate Majority Leader has signaled the chamber's intent to pass another round of aid by the end of July before benefits made available in the CARES Act run out.
Racial equity and social justice
Representative John Lewis, the towering figure in the historic struggle for racial equality, "the conscience of Congress" and a Georgia Democrat, announced in December that he had Stage 4 pancreatic cancer. He died on July 10th at the age of 80. On the front lines of the bloody campaign to end Jim Crow laws, Mr. Lewis was repeatedly beaten by Southern policemen and arrested 40 times from 1960 to 1966. He was one of the original Freedom Riders and the last surviving speaker from the March on Washington in 1963. Half a century later, Mr. Lewis saw the demonstrations in response to the killing of George Floyd as a continuation of his life's work. "There will be no turning back," he said in one of his final interviews.
AAUW condemns racism and recognizes that there can be no justice or equality when Black and Brown communities are seen as less deserving of basic human and civil rights. The statement from AAUW CEO Kim Churches, AAUW Stands Against Racism, pledges to work to advance the policies and systemic changes identified in the New Era of Public Safety: A Guide to Fair, Safe, and Effective Community Policing and Vision for Justice platforms.
Pandemic update
California and other states continue to respond to the Corona virus pandemic, with not much coordination for testing and/or equipment or guidelines from the White house. Instead, an embattled CDC tries to get its message out, based on science and data, and once again thwarted by the new edict to turn all virus-related stats to the Department of homeland security. In some good news there are 2-3 vaccines closer to market. Until then please remember to wear your masks and wash your hands and stay away from big group events.
With the November elections approaching, please write to your senators to vote to expand and safeguard voting rights.
The Voter Access & Education webinar information and recording can be found here.
Both this week and last week, we have included an updated call to support the Voting Rights
Advancement Act.
Stay engaged and informed exercise your right to vote
Asha Bajaj, Public policy chair