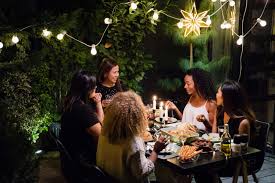 Group Leaders:  Sandy Killoran & Marilyn Steichen
(July 2021) The group met June 19th for an outdoor dinner.  We are a small group; however, we had a wonderful time.  Great food, good conversation and good discussion for the coming year.  We are planning to meet again in August.
Meeting Day/Time:  1st Saturday/6:30 PM.
Gourmet: Culinary Navigators.  We have fun with eating, drinking and friendships.