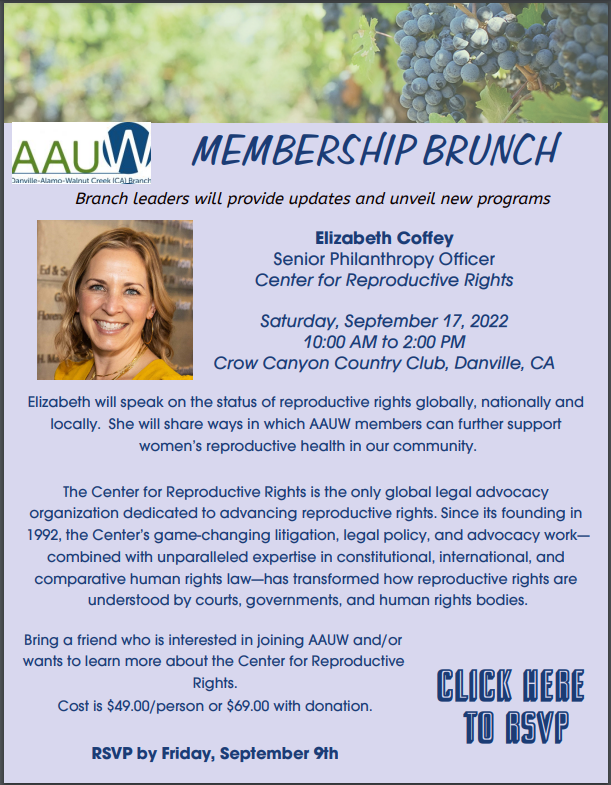 Saturday, September 17, 2022
10:00 am – 2pm
Crow Canyon Country Club
Plan now to attend our branch's annual Membership Brunch at Crow Canyon Country Club in Danville! Renew acquaintances, make new friends, sign up for Interest Groups and branch committees, meet Tech Trekkers and prospective branch members, and listen to an interesting, challenging, and inspiring speaker.
Introduce a friend to AAUW and our Danville-Alamo-Walnut Creek branch at the brunch! They will be able to meet a group of wonderful members, find out about the goals of AAUW as well as discover all the Interest Groups and committee teams that will be represented on that day. If they join at the event, they will get a special "Shape the Future" reduced rate for their first year's dues.
The featured speaker will be Elizabeth Coffey, Senior Philanthropy Officer for the Center for Reproductive Rights. Elizabeth will inform us about the status of reproductive rights globally, nationally, and locally. She will also provide us with ideas about what we can do to further support women's reproductive health.
Elizabeth joined the Center in 2017 after working in Harvard University's San Francisco office and the University of California, Berkeley in major and regional strategy and giving. Prior to that, she worked in Washington DC for the University of California, Washington Center, the Congressional Youth Leadership Council and for Congresswoman Ellen Tauscher. She is a Bay Area native and lives in Oakland with her husband and two young children.
To make a reservation by ticket purchase, please CLICK HERE
Please make your reservation by Friday, September 9th, 2022.
For information on previous membership brunch, please CLICK HERE