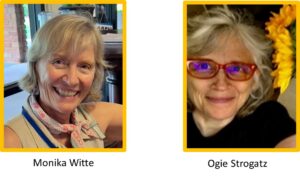 (September 2023)  Over the summer, the new DAW Board met for our annual one-day "Strategy Session" to plan for the coming year. We talked about where we're headed as a branch, our programs for FY23-24, and opportunities to engage with our community. We also discussed some of the challenges we face – such as declining membership and unbalanced fundraising (with a very successful Garden Tour benefiting Local Scholarships, but an anticipated need to really step up this year for Tech Trek).
We committed to continue striving to make a difference as champions for public education, to help realize AAUW's mission: advancing gender equity for women and girls.
Board members shared why belonging to DAW is important to them. The list of reasons is wonderfully wide-ranging! Members expressed their resonance with the mission, the opportunity to promote STEM careers for women and girls, to meet and support like-minded women, to engage with them in leadership, friendship, learning, and service with a meaningful impact on our communities.
Why is belonging to DAW important to you?
We look forward to partnering with you all to explore the many ways in which DAW membership can be rewarding. Welcome to the year ahead!
(July 2023) From Ogie
Hi everyone! Please accept my heartfelt thanks for entrusting Monika and me to serve as your Co-Presidents this coming year. I look forward to pursuing opportunities together to contribute to our mission – advancing gender equity for women and girls through research, education, and advocacy.
It is your advocacy that led me to AAUW in 2020. Since stepping away from paid work in late 2015, I have immersed myself in exploring different ways to give back to community, primarily as a volunteer progressive political activist. One of the roles I've picked up is Contra Costa County organizer for Reclaim Our Vote, a national, non-partisan initiative to cultivate voter registration and turnout in states with the most severe voter suppression. DAW's Public Policy Chair, Asha Bajaj, contacted me in the summer of 2020 for Reclaim Our Vote support with the branch's postcard writing to turn out rural, elderly, low-income Black voters in the Southeast for the Presidential election. I was delighted to discover this local source of vibrant civic engagement and eager to find out more, so I joined the branch in 2021 to help Asha with Public Policy.
CA AAUW's portfolio of Public Policy Priorities is so robust! There is nothing more gratifying to me than the privilege of partnering with wise, caring women who are right nearby and deeply committed to bringing those priorities to life. Whether we're listening together at a monthly meeting to hear about local programs that champion gender equity; celebrating our middle school Tech Trek participants; powering through myriad Garden Tour tactics to raise Local Scholarship funds; or engaging in all the crucial behind-the-scenes branch operations that sustain us, I am consistently inspired to learn and do more.
(July 2023) From Monika
Why do I want to be involved as a leader in our Branch? The older I get, the more I realize that my time is precious, I only want to spend time on things that really are important to me. So – Why DAW, why now?
I believe that it's important to work towards a utopia that is equitable for everybody. Equal educational opportunities, equal opportunity for career advancement, pay equity, and the opportunity to set your own goals and to live your own life – for everyone.
I was so fortunate to have a supportive family, to grow up in California during an era when we had some of the best public K-12 schools in the country, to attend the University of California when it cost (my freshman year) about $210 per quarter. In my career as an engineer there were times when my gender made my progress more difficult. But, on the whole, good mentors, great bosses, good colleagues and teams surrounded me. My success was not blocked or hindered because of my gender.
And I believe that times have now changed in some ways for the worse.
I'm excited to work with Ogie and I look forward to working with all of you to find ways that we can work together to support policies in our community, state and country that encourage gender equity. To support education (STEM and all education) for everyone – to move toward a world where women and girls can believe that they are in charge of their own lives.
(July 2023) From Joanne Quijano and Chris Ritter, Outgoing Co-Presidents
It has been a wonderful honor to serve this amazing group of AAUW members as your Co-Presidents this past year. We hope you enjoyed the journey – especially with our monthly meetings providing time to reconnect with old and new friends and to learn how we can make a difference in the issues that matter to us. Thank you for all your efforts this year to make a difference for women and girls; from the outgoing board members and numerous group leaders to the many, many volunteers who've made our branch activities possible. We have a summary of our achievements later in this edition – we hope you find the successes as gratifying as we do. Your efforts moved us forward toward equity for women.
Our new Board of Directors is poised for action already, and we look forward to supporting these spectacular leaders! We have great hopes that our bonds will continue to grow stronger, and we will continue to use the power of our group to help women succeed in education, economic security, and leadership.
Now it's time for a much-needed break! We wish you all a rejuvenating summer and we look forward to springing back into action starting with our September brunch.
Here's to "Making a Difference"!
Click here to see previous President's Messages from 2022-2023