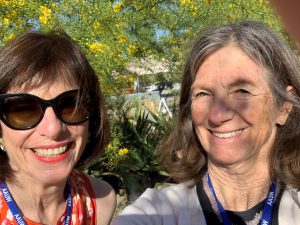 (July 2022)  As new co-presidents for 2022-23, we are excited about plans for the coming branch year! We aim to bring back our much-loved spring Garden Tour, revitalize our in-person relationships, and strengthen our mission activities through monthly Third Thursday member meetings.
Advocacy for women's equity and social justice will certainly be key themes for this year given the recent over-turn of the long-established Roe v Wade decision. We support AAUW's strong opposition to this decision and we will continue to fight at every level of our organization to protect reproductive and all women's rights.
The branch board will meet in August to set our priorities, identify our goals, and plan our activities for the coming year. Now is the time to send your ideas to the related board member so they are included in the planning discussion. Or better yet, join a team where you can contribute your ideas directly and help them be realized!
Have a wonderful summer, and we look forward to seeing you at our brunch on September 17.
Take care – be kind.
Joanne Quijano, Co-President DAW Branch
Chris Ritter, Co-President DAW Branch
Click here
to see previous President's Messages from 2021-2022