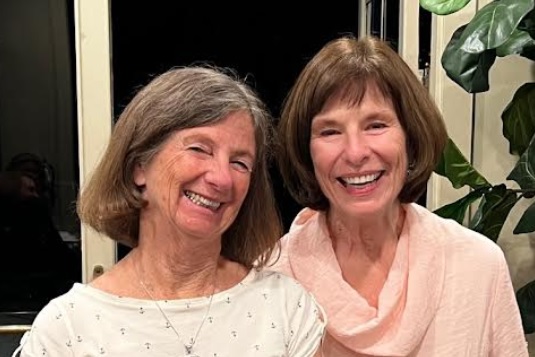 Co-Presidents Joanne Quijano (left) and Chris Ritter (right) 
(March 2023) March is a big month for recognizing women's achievements as well as continuing women's equity issues. It's Women's History Month, which started with an official Women's History Week in 1980 that grew to a month as designated by the US Congress in 1987. It's also Equal Pay Day on March 15, see the National AAUW website to learn about AAUW initiatives to help close the gender pay gap. There's been great progress over the years, but there's still more to go!
Our branch is certainly actively helping address the pay gap by providing scholarships to local women, so they are better equipped to start careers and earn competitive wages. We are currently accepting applications for this year's Local Scholarship awards until March 15. We are looking forward to seeing our hard work raising scholarship funds translate into support for these hard-working scholars.
We were really inspired by the two speakers at our February member meeting who informed us about two excellent initiatives to help people transitioning out of foster care. We're quite happy that our branch is working directly with one of the initiatives, the Renaissance Scholar program, to award a scholarship to one of their deserving students. Visit the event webpage for more about the meeting and to view the presentation slides.
Plans are taking shape for our Garden Tour – featuring five beautiful gardens – with a range from intimate to spectacular settings. Our tour committee is hard at work developing publicity, soliciting sponsors, and making arrangements with the homeowners. It's so exciting to anticipate hosting the tour for two days in May. You can but tickets now on our web site, so please spread the word to your friends and neighbors!
We also updated our "Make a Difference" chart with our new accomplishments in our five focus areas for the year. We are making good progress; please check out the article in the March edition of the Advocate.
Here's to continuing to make a difference!
(February 2023) It's been a pretty wild winter so far; our area certainly needs the rain but maybe in smaller doses. Hope that you've fared well and avoiding flooding or other storm related problems. And we can already look forward to spring flowers and the greener hills that will emerge in the next month or two.
We were really struck by the topic of our January member meeting. The speakers first gave us a fascinating insight into the working of a hospital emergency department. They then explained how vital it is for women who've experienced violence to get medical and other critical services to heal and to stay safe. We have posted links to the vital Family Justice Center and STAND! For Families Free of Violence – Contra Costa County which helps direct people to these needed support services in our county. Hopefully knowing about these resources will prove valuable for people in need; you never know who that might be.
On a pro-active note, one key strategy for preventing family violence is to foster women's equality enabling them to avoid toxic relationships and situations. AAUW Calif will be working on their legislative agenda for the coming Lobby Day identifying legislation critical to building women's equity. 
February is Black History Month – this year's theme is "Black Resilience". We can be inspired by the many strong, tenacious people who have persevered to help move equal rights forward by serving and strengthening their communities. Here's a link to the Smithsonian's National Museum of African American History and Culture to explore and learn more – click here.
Finally, it's application time for our Local Scholarships!  Click here to download our Local Scholarships flyer so you can spread the word to your friends and colleagues. The application deadline is March 17, 2023, so please act quickly.
Stay warm, and we look forward to seeing you at our next meeting on February 16 to learn about making a difference for students transitioning out of foster care.
(January 2023)  Welcome to the New Year! As we reflect on 2022 and think ahead to 2023, we're grateful for the opportunities we've had to re-unite our AAUW branch members at our in-person events. It's finally starting to feel like we know each other again. It was particularly nice to have time to share our holiday plans and enjoy catching up on each other at our December Holiday Party. If you have not yet attended one of our monthly third Thursday meetings, and you are comfortable meeting in-person, we highly encourage you to come to the beautiful Greenbrook Clubhouse. You'll be able to share fellowship with other members and be inspired to help make a difference in our own lives and the lives of other women.
While looking forward to our activities for advancing the AAUW mission this year, we've taken stock of our progress and plans in the five focus areas our board identified during our 2022-23 strategy session; look for the details in an article in this month's Advocate. We encourage you to send us your ideas about how to expand or improve our approach in ways that are meaningful to you and will help us continue to advance gender equity for women.
An important accomplishment to note for our branch is finishing and approving updates to our Policies and Procedures in anticipation of becoming a 501(c)(3) organization. In addition to small updates that enable us to qualify to grant tax deductions to our donors, we also made a revision to allow our board to adjust geography and other eligibility requirements for our Local Scholarship applicants. This will give us the flexibility to direct one or more of our awards to students with financial need evidenced by their membership in a particular group. This year, on a trial basis, we plan to award one of our Local Scholarships to a student from the Renaissance Scholars program at Cal State East Bay. Renaissance Scholars are students who are transitioning out of foster care; you'll learn more about this program at our February Member Meeting. We are excited to explore this new opportunity to extend our scholarship program!
On a final note, look for a milestone in U.S. history and for women in prominent positions – for the first time you will be able to see two women's signatures gracing one and five dollar bills when they go into circulation this year. Both Janet Yellen, Treasury Secretary, and Lynn Malerba, U.S. Treasurer, provided their signatures to the Bureau of Engraving in December to be printed on newly minted bills.
Wishing you all a wonderful, joyous, adventurous, and productive 2023!
(December 2022)  December and the end of the year are upon us, making it a good time to reflect on our AAUW mission of advancing equity for women. One encouraging sign is that after the mid-term elections, 12 women will take office as state governors in 2023, breaking the past record of just 9 in office at any one time. While it's a new high, there is still a long way to go in achieving equity for women in the political realm – but we have successes to build upon and we can anticipate the positive impact of AAUW programs like our local scholarships, the new California Gov Trek initiative, and the national Conference for College Women Student Leaders.
With the hustle and bustle of the holiday season in full swing, we hope you will take time to join us for our December Third Thursday Member Meeting on the 15th. It will be a holiday open house instead of the usual more formal meeting and program. Our artfully inclined members will be showing off their creations, and we'll have plenty of tasty holiday appetizers and refreshments, including award-winning wine from Bette and Jim Felton's Sky Terrace Vineyards. You are all encouraged to bring significant others, guests, and potential new members to share the festive evening; hope to see you then!
At November's Third Thursday Member Meeting, it was a pleasure to experience our second branch meeting at the Greenbrook Clubhouse! Over 40 DAW members and friends gathered for a Title IX-themed evening. The program included a fun mixer activity, a warm chili mini-dinner, and a wonderful, thought-provoking lecture from Allison Kern, the Cal State East Bay Director of Athletics.
We are most grateful to be on track to meet our branch operations fundraising goals, thanks to Pat Morris, her intrepid team of organizers and drivers, and our generous branch participants, all contributing to our successful Mangia Mi dinner fundraiser. However, we still need more funds for our 2023 Local Scholarships; we hope you will consider the request for Local Scholarship, Tech Trek and AAUW Funds donations that was mailed to branch members for our annual fundraising campaign.
As we move into the holidays, we wish that you and your families will share in the peace of the season and experience a joyous New Year.
Take care, and let's continue to "Make a Difference" for women's equity.
(November 2022)  Fall is well underway – the colors are always beautiful this time of year. We're looking forward to some exciting events this month before we get wrapped up in the Thanksgiving holiday. To start, the branch fundraising dinner with Mangia Mi on the 7th, should be a nice way to enjoy a tasty dinner while supporting our branch. And you won't have to leave home since volunteers from our branch will be delivering the meals to you! Then the 3rd Thursday Member Meeting on the 17th promises to be very informative about the current status of Title IX. We will have an excellent speaker who's the director of collegiate sports at CSU East Bay. We'll see you at the Greenbrook clubhouse on the 17th!
There's also a critical date in November – it's the mid-term election day on the 8th. If you haven't already, we encourage all of you to get out and vote! There are important initiatives on the California ballot, as well as local, state, and national candidates to consider. You'll find information about the initiatives in this newsletter. And related to the election, it's been great to see the participation of many branch members in making a difference by writing postcards to "Get Out the Vote".
After the many branch activities in November, we hope you'll have some time to relax with family and friends at Thanksgiving. Let us all truly appreciate the wonderful privileges we enjoy living in our area and sharing the community of our AAUW colleagues. 
Take care, and let's continue to "Make a Difference" for women's equity.
(October 2022)  It was just wonderful to see so many of you at our September Membership Brunch!   We were 85 attendees strong and those who responded to the post-meeting survey gave it high marks. We are looking forward to continuing our reconnection with our Third Thursday in-person meetings every month, beginning October 20th. This year, seven of our monthly meetings support one of our mission focus areas and two are devoted to social activities to build our AAUW member community. All are scheduled to be held in the Greenbrook Clubhouse, 300 Greenbrook Drive in Danville from 6 to 8 pm. We chose this location, in part, because it is a spacious facility with high ceilings and good air circulation.  
We hope you will all join us for our next in-person program, Examining the November 2022 California Ballot Initiatives, presented by the League of Women Voters. The program supports our mission focus area of exercising our power as women through the vote. Also supporting this area of focus is our branch postcard-writing project led by our Public Affairs team, Asha Bajaj and Ogie Strogatz, where we can encourage others in typically underrepresented communities to vote. There's still time to Make a Difference by signing up to write 20 postcards with the team.
Meanwhile, our Branch Committees and Interest Groups and are kicking off their plans for the year so now is the time to contact the leader of any of these teams you may want to join.  As the Lego movie tells us "Everything is Awesome When You're Part of a Team!"
Stay tuned for an active year of reconnecting to Make a Difference in women's equity!
(September 2022)  As a hint of fall cools the air, (at least we hope it will be cooling soon!), the new branch year is getting under way. At our strategy session in August, which was the first working meeting with our new board, we really enjoyed brainstorming with many of the board members. You'll learn more about our theme for this year "Make a Difference" and other ideas we developed at the session in the article in the September Advocate and at the Membership Brunch. It's exciting to see all of the energy that was generated!
As a bonus during the strategy meeting, a very motivated member stepped forward to join the branch board in a critical role. Welcome to Bette Felton as the Garden Tour Chair! With her appointment, we'll be moving ahead with plans for our traditional Garden Tour to be held in May, 2023.
The annual Membership Brunch is coming soon! It's our first member meeting for the year, and an event that's always enjoyable. We hope you'll make your reservation and join us on September 17th.
In October, we'll have the first of our new monthly Third Thursday Member Meetings. We are looking forward to getting to see each other again after so many Zoom sessions! Each monthly meeting will begin with social time, followed by branch updates and ending with our educational program or activity supporting our "Make a Difference" theme. We look forward to seeing you at the Greenbrook Clubhouse, at 6:00 PM every third Thursday from October to June.
Take care – be kind.
(August 2022)  We are excited to be resuming our traditional annual Membership Brunch in September with a wonderful speaker to inform and challenge us. Of course, we'll also conduct branch business and provide information about branch committees and Interest Groups. We expect that everyone is looking forward to the opportunity to get together in person for this inspiring event.
We are happy to welcome Membership VP Liz Peters as our newest board member. Last year, Liz was active with the membership committee, and we are thrilled that she's taken on the lead role. Meanwhile, ready your pens for our upcoming Get Out the Vote postcard-writing campaign encouraging voters in low-turnout areas to register to vote.  Contact Ogie Strogatz or Asha Bajaj to volunteer.
As we reflect on all the recent national issues like the latest Supreme Court decisions, we are reminded that we are proud to be part of AAUW. The organization has been and continues to be instrumental in advances for women including supporting Title IX, doing research regarding equal pay, and championing reproductive rights. Achieving equity for women and girls is an ongoing process!
Take care – be kind.
(July 2022)  As new co-presidents for 2022-23, we are excited about plans for the coming branch year! We aim to bring back our much-loved spring Garden Tour, revitalize our in-person relationships, and strengthen our mission activities through monthly Third Thursday member meetings.
Advocacy for women's equity and social justice will certainly be key themes for this year given the recent over-turn of the long-established Roe v Wade decision. We support AAUW's strong opposition to this decision and we will continue to fight at every level of our organization to protect reproductive and all women's rights.
The branch board will meet in August to set our priorities, identify our goals, and plan our activities for the coming year. Now is the time to send your ideas to the related board member so they are included in the planning discussion. Or better yet, join a team where you can contribute your ideas directly and help them be realized!
Have a wonderful summer, and we look forward to seeing you at our brunch on September 17.
Take care – be kind.
Click here
to see previous President's Messages from 2021-2022