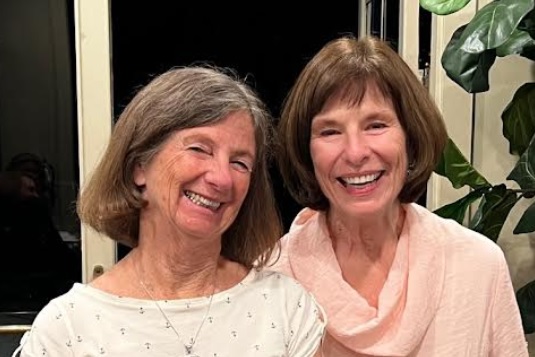 Co-Presidents Joanne Quijano (left) and Chris Ritter (right) 
(November 2022)  Fall is well underway – the colors are always beautiful this time of year. We're looking forward to some exciting events this month before we get wrapped up in the Thanksgiving holiday. To start, the branch fundraising dinner with Mangia Mi on the 7th, should be a nice way to enjoy a tasty dinner while supporting our branch. And you won't have to leave home since volunteers from our branch will be delivering the meals to you! Then the 3rd Thursday Member Meeting on the 17th promises to be very informative about the current status of Title IX. We will have an excellent speaker who's the director of collegiate sports at CSU East Bay. We'll see you at the Greenbrook clubhouse on the 17th!
There's also a critical date in November – it's the mid-term election day on the 8th. If you haven't already, we encourage all of you to get out and vote! There are important initiatives on the California ballot, as well as local, state, and national candidates to consider. You'll find information about the initiatives in this newsletter. And related to the election, it's been great to see the participation of many branch members in making a difference by writing postcards to "Get Out the Vote".
After the many branch activities in November, we hope you'll have some time to relax with family and friends at Thanksgiving. Let us all truly appreciate the wonderful privileges we enjoy living in our area and sharing the community of our AAUW colleagues. 
Take care, and let's continue to "Make a Difference" for women's equity.
(October 2022)  It was just wonderful to see so many of you at our September Membership Brunch!   We were 85 attendees strong and those who responded to the post-meeting survey gave it high marks. We are looking forward to continuing our reconnection with our Third Thursday in-person meetings every month, beginning October 20th. This year, seven of our monthly meetings support one of our mission focus areas and two are devoted to social activities to build our AAUW member community. All are scheduled to be held in the Greenbrook Clubhouse, 300 Greenbrook Drive in Danville from 6 to 8 pm. We chose this location, in part, because it is a spacious facility with high ceilings and good air circulation.  
We hope you will all join us for our next in-person program, Examining the November 2022 California Ballot Initiatives, presented by the League of Women Voters. The program supports our mission focus area of exercising our power as women through the vote. Also supporting this area of focus is our branch postcard-writing project led by our Public Affairs team, Asha Bajaj and Ogie Strogatz, where we can encourage others in typically underrepresented communities to vote. There's still time to Make a Difference by signing up to write 20 postcards with the team.
Meanwhile, our Branch Committees and Interest Groups and are kicking off their plans for the year so now is the time to contact the leader of any of these teams you may want to join.  As the Lego movie tells us "Everything is Awesome When You're Part of a Team!"
Stay tuned for an active year of reconnecting to Make a Difference in women's equity!
(September 2022)  As a hint of fall cools the air, (at least we hope it will be cooling soon!), the new branch year is getting under way. At our strategy session in August, which was the first working meeting with our new board, we really enjoyed brainstorming with many of the board members. You'll learn more about our theme for this year "Make a Difference" and other ideas we developed at the session in the article in the September Advocate and at the Membership Brunch. It's exciting to see all of the energy that was generated!
As a bonus during the strategy meeting, a very motivated member stepped forward to join the branch board in a critical role. Welcome to Bette Felton as the Garden Tour Chair! With her appointment, we'll be moving ahead with plans for our traditional Garden Tour to be held in May, 2023.
The annual Membership Brunch is coming soon! It's our first member meeting for the year, and an event that's always enjoyable. We hope you'll make your reservation and join us on September 17th.
In October, we'll have the first of our new monthly Third Thursday Member Meetings. We are looking forward to getting to see each other again after so many Zoom sessions! Each monthly meeting will begin with social time, followed by branch updates and ending with our educational program or activity supporting our "Make a Difference" theme. We look forward to seeing you at the Greenbrook Clubhouse, at 6:00 PM every third Thursday from October to June.
Take care – be kind.
(August 2022)  We are excited to be resuming our traditional annual Membership Brunch in September with a wonderful speaker to inform and challenge us. Of course, we'll also conduct branch business and provide information about branch committees and Interest Groups. We expect that everyone is looking forward to the opportunity to get together in person for this inspiring event.
We are happy to welcome Membership VP Liz Peters as our newest board member. Last year, Liz was active with the membership committee, and we are thrilled that she's taken on the lead role. Meanwhile, ready your pens for our upcoming Get Out the Vote postcard-writing campaign encouraging voters in low-turnout areas to register to vote.  Contact Ogie Strogatz or Asha Bajaj to volunteer.
As we reflect on all the recent national issues like the latest Supreme Court decisions, we are reminded that we are proud to be part of AAUW. The organization has been and continues to be instrumental in advances for women including supporting Title IX, doing research regarding equal pay, and championing reproductive rights. Achieving equity for women and girls is an ongoing process!
Take care – be kind.
(July 2022)  As new co-presidents for 2022-23, we are excited about plans for the coming branch year! We aim to bring back our much-loved spring Garden Tour, revitalize our in-person relationships, and strengthen our mission activities through monthly Third Thursday member meetings.
Advocacy for women's equity and social justice will certainly be key themes for this year given the recent over-turn of the long-established Roe v Wade decision. We support AAUW's strong opposition to this decision and we will continue to fight at every level of our organization to protect reproductive and all women's rights.
The branch board will meet in August to set our priorities, identify our goals, and plan our activities for the coming year. Now is the time to send your ideas to the related board member so they are included in the planning discussion. Or better yet, join a team where you can contribute your ideas directly and help them be realized!
Have a wonderful summer, and we look forward to seeing you at our brunch on September 17.
Take care – be kind.
Click here
to see previous President's Messages from 2021-2022