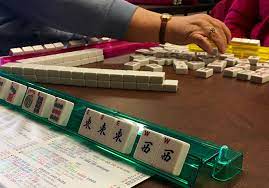 Group Leader:  Paula Weintraub
There are 2 groups, one meeting weekly on Mondays from 9:30 AM to 12:30 PM and one meeting weekly on Tuesdays from 10 AM to 1 PM.
(July 2021) Accepting new members in both groups. Paula would be glad to teach the game to someone interested in the Monday group.
We play the American version which uses a card.  Members need to be able to dedicate 2 hours on a day we will choose for 4 weeks to learn the game. If you already know how to play you must be able to commit to playing weekly or as close to that as possible. To join this group, please contact the group leader.
Meeting Day/Time:  Weekly on Monday/9:30 AM OR Tuesday/10:00 AM
Mah Jongg. MahJongg rules
The National Mah Jongg card is used and must be reordered yearly.