(Dec 2020) Susan Terzsoli, Teresa Cheung, and their numerous drivers and helpers put together a wonderful and delicious fundraiser. This Montecatini event raised $1,728.60 for the AAUW Education Foundation Funds.
IT'S A TRIPLE WIN!!!
ONE: Enjoy a delicious meal delivered to your door on Thursday November 19, 2020
TWO: Support AAUW Funds – Equity for Women and Girls
THREE: Support a local business that sponsors and supports our organization
$49 per three-course meal
($19 tax deductible)
Good things come in Three's!
Here is the delicious 3-course dinner menu:
1) Caesar Salad
2) Choice of the following entrees:
-Pollo Alla Piccata w/ side pasta and fresh vegetables
-Lasagne Casalinga
-Panzotti De Formaggio (Vegetarian cheese ravioli)
3) Tiramisu Montecatini dessert
You must order by Sunday Nov. 15 at 8:00pm to join in our Fabulous FUNDraiser!
Your dinner will be delivered to your home between 4:30 pm – 6 pm Thursday, November 19 by one of our Danville-Alamo-Walnut Creek branch member volunteers.  Please ignore any autogenerated email regarding your pickup date and time, etc. 
Please join our Zoom Meeting for Wine, Dessert Chat at 7:00pm, Thursday Nov 19. 
https://us02web.zoom.us/j/85641038756
This is a fundraiser to support the AAUW Greatest Needs Fund. This fund allows AAUW to respond rapidly, in our communications and advocacy, to critical issues affecting women as they emerge — whether it's a new threat to Title IX, an opportunity to partner with employers, or the dawn of a social justice movement like #MeToo. Greatest Needs is also what fuels our groundbreaking research and effective advocacy work to pass fair-pay laws and other key equity legislation. For more info click: AAUW Fundraising.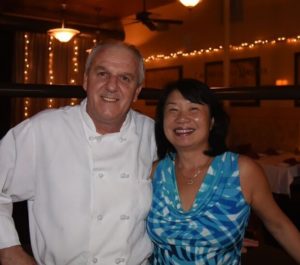 Montecatini Ristorante has been a long-time supporter of AAUW, donating to our Holiday Home Tours and Garden Tours. The restaurant is owned by Teresa Cheung (a DAW Past President, current Webmaster and Technology Team chair) and her husband,  Chef Ermes Paulin.