It's not too late to hear about the ballot pros and cons!  Click here to view the Zoom recording.
California 2020 Ballot Initiatives: Pros and Cons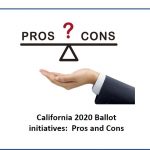 October 6, 2020
5:00 pm – 6:30 pm
Prepare to vote armed with the pros and cons of this year's California ballot initiatives.
Speakers: Carole Woods & Bette Felton, League of Women Voters, Pros & Cons Team
Join the American Association of University Women's Danville-Alamo-Walnut Creek branch and the League of Women Voters of Diablo Valley in an informative presentation of the pros and cons related to our 2020 ballot measures. A discussion with the speakers will follow to help us sort through the latest array of initiatives.
This year, more than ever, we need to be prepared for this critical election before we cast our ballots. California is facing unprecedented challenges including the current public health and economic crises. As voters, we must consider critical issues such as systemic racism, homelessness, rebuilding a crumbling infrastructure, and a wide range of measures on this year's ballot.
This discussion offers a look behind the slogans to better understand the ballot measure opportunities and their consequences.
Please download the meeting handouts:
CA InitiativesNovember_2020_pros_cons
EasyVoterGuide-Nov2020-Eng
AAUW CA Positions on California 2020 Ballot Initiatives