Deborah Wechsler
President 2018-2020
August 2019: As autumn approaches (I can't believe I'm writing this – where are the endless days of summer?).
I am often coaxed into a melancholy reminiscence and astonished by the speed of life. We have plans; then they change instantly on an unexpected turn, chance circumstances that lead to an unanticipated path. Something that can remain constant through turmoil and change is our courage to be actively present for friends and for causes that are important to us. Your 2019-20 executive board and committee chairs will meet in late August to set our goals, strategies and priorities for the coming year.
We are sharing ideas already for some intriguing programs. If you have suggestions or comments, please let me know so I can include them in our discussions. I encourage you to find and follow your own passions as you participate with AAUW. Returning to my opening theme – the speed of life and change. Do you have a friend you haven't contacted in some time? Or know someone who could use a helping hand? Maybe recently you have shared less of your energies or skills to support that important person or cause. Don't hesitate to refresh that friendship, lend a helping hand, or volunteer again for your cause. Your opportunity may
go by with the speed of life.
Deborah Wechsler, president
January 2019
Our Holiday Open House on December 15 was a lovely event. I hope you saw the communication summarizing this fun get-together as we reunited with old friends and found some new ones. We shared our experience and wisdom on how to cope with holiday stressors, and we had a relaxed opportunity to enjoy the company of other motivated, intelligent women.
It is difficult to believe that it is already time to begin thinking about our next year's leadership! Your Board appointed a Nominating Committee for putting together a slate of Board members for 2019-2020: Alicia Jones, Roseann Krane, and Ellen Waskey. Our branch benefits from having a strong, active Board, so please contact these people with your ideas for how you can serve!
We are approaching another major milestone for our branch: our 50th anniversary is coming up in 2019! I am putting together a fun, energetic committee and we will begin work soon on how we can mark this occasion. We welcome all of your skills and creativity to make this a special event, so please call me with your ideas and to volunteer to work with the committee or even just to offer an idea or service for the event.
Look for the article in this issue regarding our progress on funding our Tech Trek campers. Monika Witte, our Tech Trek chair, is doing a fabulous job identifying interviewers and managing the nomination process. We are on our way to funding for 8-10 camperships!
Also please note our next program with Joe Lurie on Cross-Cultural Conundrums, January 14. Hope to see you there.
May 2019 bring you strength, joy, and fulfillment.
October 2018

I say this every fall – how did the summer disappear so quickly? Many of o
ur kids, grandkids, neighbor kids are back in school already, and even though there will be more warm (hot!) days ahead, chilly mornings bring on my normal autumn nostalgia.
Seasons change, but one constant is the opportunity to put your energy into improving the lives of women and girls. AAUW communicates many philanthropic and advocacy actions we can take. Our Danville-Alamo-Walnut Creek branch is active on several fronts, some of which you will see highlighted in each issue of The Advocate. If you want to be reminded about state or national initiatives you can join, you can visit out DAW website https://daw-ca.aauw.net/ and check the links to the California and National AAUW on the right panel.
September 2018
Your Board met on August 30 for our strategy and budget meeting to kick off the 2018-19 year. We approved the FY19 Budget, which will be voted on by the general membership at our meeting on September 22.

We reviewed how our DAW Branch programs and initiatives fit with and support the AAUW National strategic focus areas, illustrated in the graphic here.
The Board discussed how we can improve and enhance our efforts to continue and create programs under this umbrella. We selected 3 major goals to focus on this year:
Develop a more engaged membership by creating ongoing, regular informal monthly gatherings for our membership as a whole. These will be fun social events with a brief informational component.

Encourage membership growth and retention with improved communication of opportunities for participation at all levels.

Create a process and format for addressing spiritual and emotional health and wellness for and among our membership, emphasizing changing needs throughout our life-cycles.
We also identified several opportunities to strengthen our existing programs. Clearly these are broad and ambitious goals, and we will continue to clarify the actions we will take to carry them forward. Look for more in the coming months!
See you at our annual General Meeting and Membership Brunch on September 22nd
++++++++++++++++++++++++++++++++++++++++++++++++++++++++++++++++++++++++++++++
June, 2017
Just when you thought that elections are over, we have one more candidate for your consideration as nominated by the Ad Hoc Committee:
Co-Vice-President AAUW Fund: Bev Nidick
Please cast your ballot by emailing "yes" or "no" to Robin Halloran, Interim Parliamentarian.
Also, I am reminding you to vote in the AAUW National election by 6 PM PST on June 15, if you have not already done so.
Hoping to see you at our special event on June 8!
May, 2017
Spring has sprung. It is a wonderful time of year, the season of renewal. It gives me great pleasure to plant a garden and to enjoy the beauty of nature. It is a special time for our branch, too, to welcome guests to our annual Garden Tour fundraiser. I always look forward to this wonderful display of excellent design so that I may also be inspired to enhance my own beds of blooms or to decrease my small, verdant patch of lawn with the substitution of a xeriscape. That's a drought tolerant landscape, in technical terms.
Spring is also the time of year to consider renewing your AAUW membership for next year. Though our deadline is not until July 1, why not consider doing so early? As an incentive, we are pleased to offer the opportunity to save $20 by renewing your membership at our Appreciation and Installation event on June 8 where you will be entered in a drawing to receive the local part of your dues free. This is our way of showing appreciation to members who pay their dues ahead of schedule.
Thank you for your continuing support of AAUW. Your ongoing membership supports our mission of advancing opportunities for girls and women in our community.
April, 2017
One of the most gratifying aspects of AAUW membership is knowing that our support benefits the education of women in our community. Over the years, the Danville-Alamo-Walnut Creek branch has raised funds for local scholarships to women entering their third year of higher education and beyond this level. This year, we welcome the opportunity to offer educational support to women in two additional ways.
First, the Executive Board is pleased to announce that our branch will be awarding a scholarship to a young woman who has been in the foster care system. Applicants from throughout Contra Costa County are eligible to receive a scholarship that will support their endeavors in higher education.
Second, we have allocated funds for our inaugural scholarship to support a promising student to attend the National Conference for College Women Student Leaders (NCCWSL) at the University of Maryland, College Park. This is an exciting opportunity to support the development of leadership capacity in young women.
Please keep these beneficiaries in mind with your continuing membership, attendance at our two fundraisers (Holiday Home Tour and Garden Tour), and any additional contributions you choose to make to our branch. By contributions, I don't mean financial, but equally important, any time you would like to give to support our mission by means of serving on a committee or in a leadership position. If you have never done anything like this before, fear not, as there are others who have done these jobs who are here to support you. Let me know if you would like to serve in any of these roles. We need people like you!
March, 2017
"In 2015, median earnings for men in California were $50,562 compared with $43,335 for women…This means that working women in California are paid only 86 cents on the dollar compared with working men. For many women, the pay gap is wider. Nationally, Latina women are paid 54 cents for every dollar white, non-Hispanic men are paid; American Indian and Alaska Native women 58 cents; Native Hawaiian women 60 cents; African American women 63 cents; and Asian American women 85 cents.
AAUW members throughout California have joined forces in an initiative to train women to confidently and successfully negotiate salary and benefits packages. To help accomplish this, we are implementing a large-scale, grassroots program to provide AAUW Work Smart salary negotiation workshops to more than 8,000 women in the next five years." (https://www.aauw.org/work-smart-california/)
AAUW Start Smart Salary Negotiation Workshops are an excellent tool for women about to enter the workforce, re-enter the workforce, or who seek better job opportunities in general. I invite you to spread the word about an upcoming workshop on Wednesday, March 15 at Diablo Valley College Extension, 1690 Watermill Road, San Ramon. This event will be held in Room W-204 from 12:30 to 2:30 PM. Please let me know if you are interested in representing our branch to provide information to potential members. Parking is free. For further information, please contact Elena Noble, AAUW Start Smart Facilitator CCC-IBC at 925-787-2410.
February, 2017
Tell Congress: Don't Repeal the ACA
You've likely heard the news: Congress is rushing to repeal the Affordable Care Act (ACA) with no plan for a replacement and no guarantee that people will keep access to quality, affordable health insurance moving forward.
This extreme action could eliminate current coverage for millions of people, wipe out anti-discrimination laws protecting women's health care, and throw the U.S. health care system into disarray. Congress must act to protect our health care not damage it.
Tell Congress now: don't deny health care to millions of Americans
AAUW believes that everyone is entitled to high-quality, affordable, and accessible health care. The ACA is by no means perfect. But Congress cannot repeal the law without immediately jeopardizing the health care we all rely on – regardless of whether a replacement is ever considered, something for which there is currently no guarantee.
Attempts to repeal the ACA specifically put women's access to health care in danger and threaten our economic security. That's because a repeal of the ACA would take us back to time when women were charged more for health insurance than men, when health insurance often failed to cover essential preventive care, and when many women couldn't find affordable health coverage in the individual market.
And with Congress' rumored efforts to also defund Planned Parenthood health centers, where millions of us seek preventive care, and roll back state-based Medicaid expansions, Americans are looking at dire consequences to their health and to their wallets.
Congress needs to hear from you today: protect our health care, protect women from discrimination, don't repeal the Affordable Care Act.
Two-Minute Activist: AAUW
Take Action: Express Concerns Over Cabinet Nominations. As the Senate holds confirmation hearings for Trump cabinet nominees, AAUW has concerns over … www.aauw.org
January, 2017
This is a special time of year, and I am thankful for the support of everyone who contributed in any way to the success of the Holiday Home Tour. Special thanks to Susan Terzuoli and Tena Gallagher who steered this prodigious and fortuitous committee to a happy landing place. As many of us recognize, this effort becomes more challenging each year with our changing demographics, so I am most appreciative of everyone's efforts to raise a substantial amount of funds in support of Tech Trek and local scholarships.
Here is a list of board meeting dates for January through June, 2017. All members are welcome to attend at the Shadow Hills Cabana, 1001 El Capitan Drive, Danville:
Thursday, January 19, 5:30 to 7:00 PM Tuesday, February 21, 10:00 to 11:30 AM
Thursday, March 16, 5:30 to 7:00 PM Tuesday, April 18, 10:00 to 11:30 AM
Thursday, May 18, 5:30 to 7:00 PM Tuesday, June 20, 10:00 to 11:30 AM
Also, I have a special request for each of you to consider. Are you interested in a board position during the 2017-18 fiscal year? If you would like to participate with this decision making group, please contact me.
In the Fall issue of our national AAUW magazine, Outlook, on page 29, it lists the top 50 branches whom contributes to the AAUW Fund and Danville-Alamo-Walnut Creek is #1!!!! That's quite an accomplishment!
Best wishes for a happy, healthy, peaceful, and prosperous new year!
December, 2016
This has been an election season unlike any other in our lifetimes. At the state level, here are the results of the initiatives on which AAUW took positions:
• Proposition 51: School Bonds to fund K-12 and Community College facilities
Position: Support Result: Passed with 54%
• Proposition 52: Continues hospital fees that help fund Medi-Cal
Position: Support Result: Passed with 69.6%
• Proposition 53: Voter approval on large revenue bonds
Position: Oppose Result: Failed with 48.6%
• Proposition 55: Extends taxes on high-earners to go to schools and healthcare
Position: Support Result: Passed with 62.1%
• Proposition 58: Allows structured bilingual education programs for English learners.
Position: Support Result: Passed with 72.4%
In summary, AAUW was five for five, perhaps in part as a result of our organization's advocacy at the branch level as well. Special thanks to our Public Policy Chair, Asha Bajaj for coordinating our October branch event in conjunction with the League of Women Voters. It was very informative and well attended.
We can also celebrate the accomplishments of women newly elected to the Senate so that in January, there will be a record number of 21 female senators including our two representatives from California.
As the final votes continue to be tallied in our state, our nonpartisan AAUW leadership vows to advocate for research-based policies.
"It is now, after an election, that the real work begins," said Lisa Maatz, the vice president of government relations and advocacy. "AAUW will find common ground with the Trump administration and the new Congress on issues that are important to women and working families. Women want progress on issues that affect them, and AAUW intends to be a fair critic and a valued ally. Most importantly, in true AAUW fashion, we will not hesitate to speak truth to power."
November, 2016
As the clock winds down to November 8, on behalf of AAUW's Public Policy advocates, I remind you about the importance of voting in the 2016 election. Although women constitute more than half of our population, only 19.4% of the U.S. Congress is female. Many issues that affect us are at the forefront of social policy and legislative change, but women's perspectives are lacking. As women, it is vital that we register to vote and cast our ballots in order to ensure that our voices are heard.  We need to engage candidates to address our concerns thereby empowering us in the democratic process. "When women vote, we change the conversation."
Following are California election deadlines:
•Voter registration ended October 24, 2016
•Vote by mail – completed ballots must be postmarked on or before November 8, 2016 and received by your county elections office no later than November 14, 2016
•Vote at the polls November 8 – polls are open 7 AM to 8 PM
On the subject of voting, I am soliciting your feedback. At our most recent board meeting, we discussed the pros and cons of transitioning our membership directory to a digital version only. Publication and distribution of our directory currently costs $850 a year, which are funds that we would prefer to allocate to scholarships. The directory only has minimal changes from year to year, so we are proposing that annual updates be printed and mailed only to members who request a hard copy. Other members may opt out of a hard copy and elect to receive a digital copy.
Please click on the link to access a questionnaire where you may elect one of the two choices or both options. Thank you in advance for your participation!
October, 2016
We are finally in the home stretch of what is proving to be a "seasonless" national election. With this in mind, our branch is pleased to provide the opportunity for our members and our community to learn about the seventeen statewide measures on the ballot.
In conjunction with the League of Women Voters, we invite you to join us for our Public Policy Forum this month. Amidst the 24/7 barrage of presidential election news, it is easy for other races to get overshadowed and forgotten. "AAUW is dedicated to making sure every woman is registered and has all the information she needs to cast her vote."
I encourage you to get involved in the election process by helping to register voters – especially young women who may be voting for the first time. AAUW provides the opportunity to train for this important responsibility in the form of three webinars over three months. The first one was on August 31, but it is archived on the website so that you may enroll at any time. Similarly, the second one became available on September 28, and the final session is scheduled for October 18. This training will support your efforts to make a difference in the upcoming election.
Furthermore, AAUW posts a wealth of resources for other election related activities that promote our organization's mission. Finally, AAUW's Public Policy Committee evaluated California's seventeen ballot initiatives and takes the following positions on five of them that relate to our organization's priorities:
•Proposition 51, support – School Bonds. Funding for K-12 and Community College Facilities
•Proposition 52, support – The Medi-Cal Funding and Accountability Act, hospital fees that help fund Medi-Cal
•Proposition 53, oppose – Voter approval on specified bonds
•Proposition 55, support – Funding for schools and children's healthcare
•Proposition 58, support– The California Multilingual Education Act. Allows structured bilingual education programs for English learners.
Our branch supports AAUW's goals by offering programs that are "meant to influence public policy as part of AAUW's powerful voice on behalf of women and girls." Add your voice to our collective efforts by getting involved, whether by registering voters, getting people to the polls, or simply by exercising your right to vote!
September, 2016
Thanks to everyone who responded to the survey, we have a representative sample. Here is a summary of our findings from the July/August 2016 Membership Survey:
• More than half of our members have been part of our branch for at least seven years
• More than half of our members are over sixty-five years of age
• Over 70% of our members are retired
• Over 40% of our members plan to volunteer for the Holiday Home and Garden Tours
• Almost 40% of our members are available to volunteer one or two times a year
• 50% of our members support offering needs-based scholarships in the future
• Over 50% of our members attended the Membership Brunch, Holiday Home Tour, and Garden Tour
• A preponderance of members prefer to attend meetings on weekdays and weeknights
• Almost 80% of our members support AAUW's mission and want to get involved
• Few members are interested in serving on the board
One of my goals this year is to change the perception of serving in an executive or appointed board position. I find it to be challenging, but also fun working with such a wonderful group of women. I hope to share the enthusiasm. All members are welcome to attend board meetings at anytime. Here is our upcoming schedule through the end of the year:
Thursday, September 8, 5:30 PM to 7:00 PM
Tuesday, October 18, 10:00 AM to 12:00 PM
Thursday, November 10, 5:30 PM to 7:00 PM
Tuesday, December 20, 10:00 AM to 12:00 PM
All meetings will be held at the Shadow Hills Cabana Club, 1001 El Capitan Drive, Danville. You are welcome to bring food and drink. RSVP two days prior to the meeting, and you will receive a copy of the agenda by email. I hope to see you soon!
August, 2016
Thanks to those of you who responded to the survey. If you have yet to respond, this is my second request.
This survey will take about ten minutes to complete. Please note that many questions also solicit your comments. We will compile, analyze, and summarize this data and present it to you at a future date. It will be invaluable in helping us to plan a productive and gratifying year for all members.
All survey responses will be anonymous, unless you choose to include your name and email address. Please click on the link in The Advocate to begin the survey.
July, 2016
Your feedback is important to us!
I am kicking off our new year with a request for your feedback. First, I am seeking some demographic data because it is important for us to know a little about our members' background. Second, I am interested in knowing why you joined in the first place; whether you have a passionate interest in our organization's mission and want to be of service, or if you seek personal enrichment through special interest groups, or perhaps you just want to make new friends. Also, where has your membership led you? Volunteering your time to help raise funds to support Tech Trek and local scholarships? Serving on a committee to support these efforts? Perhaps a desire to contribute to AAUW's public policy efforts this election year?
We can serve you better by scheduling events that interest you when you are available, which is why I am inquiring about these areas. Finally, providing leadership to our organization is an ongoing need, and I am especially interested in getting people involved who may not have imagined serving in this capacity.
This survey will take about ten minutes to complete. Please note that many questions also solicit your comments. We will compile, analyze, and summarize this data and present it to you at a future date. It will be invaluable in helping us to plan a productive and gratifying year for all members.
All survey responses will be anonymous, unless you choose to include your name and email address. Please click on the link in The Advocate to begin the survey.
Mary Ellen Blake
President 2014-2015

June 2015 President's Letter
I've been trying to figure out a way to sign off on my year as president.  How best could I describe the year? After much thought, a line from Charles Dickens came to mind; "It was the best of times, it was the worst of times."  This really wasn't what I wanted to say so I did a bit more thinking and the title of a Leone movie came to mind; The Good, the Bad and the Ugly.  But that didn't work either.  Finally, after even more thinking, a quote from Samuel Beckett seemed to describe it best "How time flies when one has fun!"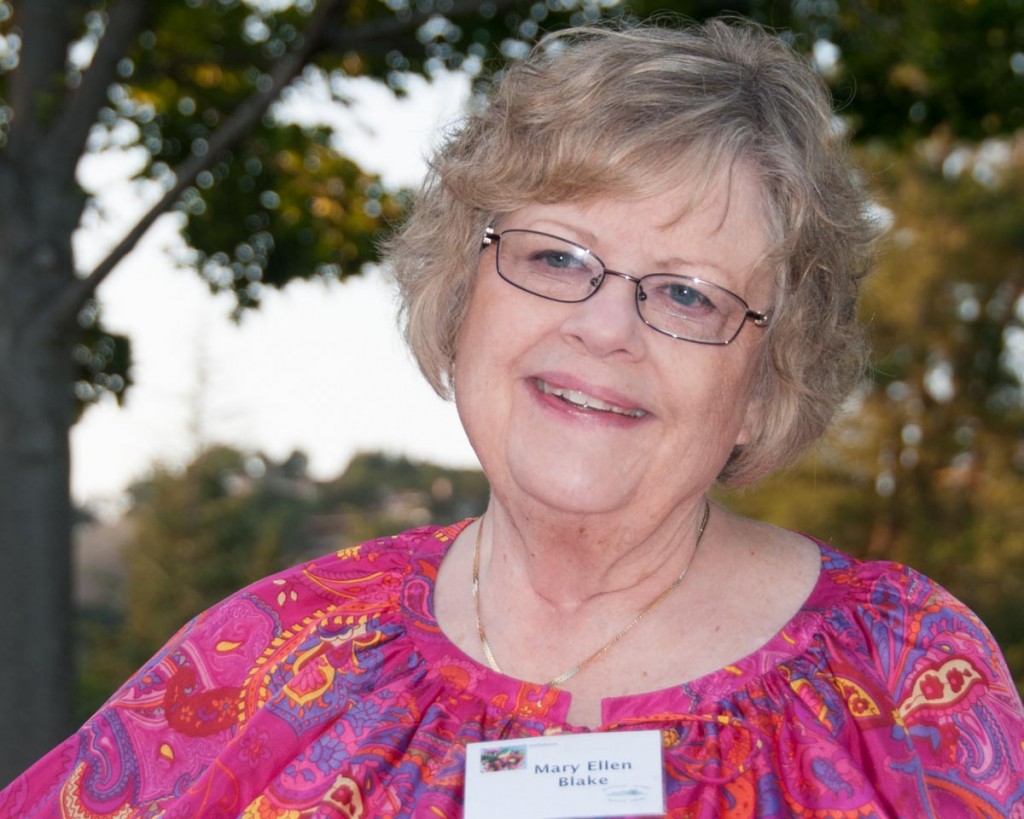 One of our major goals this past year was to put more fun into volunteering and, to some extent, I think we achieved that.  I now sign off with the hope that you will help our incoming Co-Presidents, Kathy McKnight and Liz Williams, continue working on our goal of having fun.
Thank you all for an unforgettable year. I hope you realize what a marvelous and generous group of ladies you are.
March 2015 President's Letter
"Team Work makes the Dream Work" (L. James) and thanks to the generosity of our members, the dreams of two local seventh graders to attend Tech Trek, will come true.  Thanks to Loretta Altshuler, Pat Foster, Cathleen Freeman, Tena Gallagher, Dianne Giacovelli, Luisa Hansen, Judy Lauper, Marilyn Lawver, Sharon Ritchey and Deborah Wechsler, we are now able to send 12 girls to Tech Trek.
And a huge thank you to Helga Glasson.  Helga has been our Tech Trek Chair for the past several years and has given generously of her time.  These days, time is a very rare commodity.  Helga is stepping down so she can spend more time with her growing children.  Enjoy your family time, Helga!
February 2015 President's Letter
The AAUW DAW Website Committee would like your input.
If you haven't been to our website lately, you should take a look. It is constantly evolving with all the latest news and information about AAUW DAW.  Plus, the newly formed Website Committee is working to further improve the site to make it easier to navigate; the menu tabs will be more intuitive, a calendar tab will be added to show a monthly calendar, and much more.
If there are areas of the website you'd like to see improved or you have suggestions, please send an email to Melanie Wade with copies to Teresa Cheung, Holly Sauer and Mary Ellen Blake
January 2015 President's Letter
Happy New Year! Oh my, where did the old one go and how did it go so fast?
A new year is a reminder to celebrate all the things we accomplished in 2014. However, right now I would like to look forward, not back. But before I do, I would like to thank each and every one of our members who so graciously gave of their time and talents to make this another successful year. You ladies are downright awesome!
Now back to looking ahead. We've had some great programs over the past few years but do they cover what you want to hear or learn about? We would like your feedback – the good, the bad, or the ugly. Is there an area we're not covering with our programs that you'd like to know more about? Please let us know. If you have any recommendations for speakers, again, let us know.
To paraphrase Lincoln, our organization should be 'of the members, by the members, and for the members'. So members, please let me know (Mary Ellen Blake!), not only about programs, but about any suggestions you might have to help us become a more 'for the members' organization.
I hope you all have a happy, healthy, and rewarding 2015, and again, thank you for a terrific 2014.
 December 2014 President's Letter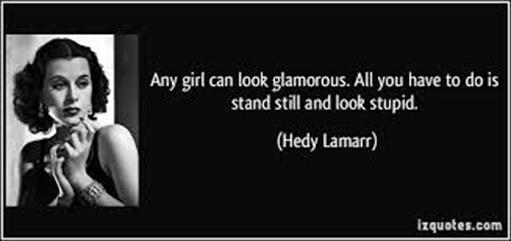 What do Miss Augusta Ada King, Countess of Lovelace and the daughter of Poet Lord Byron, Admiral Grace Hooper, actress Hedy Lamarr, and Sister Mary Kenneth Keller have in common?  All were mathematicians who made significant contributions to computer science & technology.
Lady Lovelace translated Luigi Menabrea's memoir on Charles Babbage's analytical engine in 1843. Her notes are considered to be the first algorithm intended to be processed by a machine, making Ada the first computer programmer. The notes were a thorough methodology on how to use Babbage's engine to calculate a sequence of Bernoulli numbers and would have run correctly had the engine itself ever been built.  The Department of Defense gave her name, "Ada", to its computer language in 1980.
Admiral Grace Hopper was one of the first female programmers, the first woman to graduate from Yale with a Ph.D. in mathematics, and the first woman to reach the rank of Admiral in the U.S. Navy.  Hopper invented the first computer compiler in 1952, developed COBOL (Common Business-Oriented Language), was instrumental in the creation of FLOW-MATIC language for the UNIVAC I and UNIVAC II computers and was quoted as saying "It is easier to ask forgiveness than it is to get permission."
Hedy Lamarr.  While known for being a beautiful actress, Lamarr contributed to wireless communication while trying to defuse a military threat during World War II. To prevent remote-controlled torpedoes from being hijacked, she helped develop an early version of spread spectrum communication, now used for wireless technologies such as Bluetooth and Wi-Fi.
Sister Mary Kenneth Keller was the first woman awarded a Ph.D. in computer science in 1965. Keller assisted in the development of BASIC computer language at Dartmouth – which had previously held a "men only" rule.  Keller, who also held a BS & MS in Mathematics and an MS in Physics, believed that women should be involved in computer science. "We're having an information explosion…and it's certainly obvious that information is of no use unless it's available."
 November 2014 President's Letter
You're invited! Have you ever wondered how our branch works; what's involved with organizing an event or even what the responsibilities are for each of our elected or appointed positions? If you have, there's an easy way to find out. Just attend one of our Board meetings where we discuss all of the above and much more. The Board meets the second Tuesday of each month at 1001 El Capitan Dr., Danville from 9:30 am to 11:30 am. I encourage each of you to attend at least one board meeting – it's the best way to find out what your board does and how it works. I hope to see you at one of our board meetings soon.
October 2014 President's Letter
Can one AAUW volunteer accomplish the following in a very short period of time?
Prepare the 2014-2015 Directory
Update all content & verify accuracy
Add new members
Do all design work
Work with vendors, i.e. Printer, etc.
Create the 2014 Membership Brunch program while getting feedback from way too many cooks.
Create Sponsor materials
Design a flyer for the upcoming Candidate's Forum
Begin work on the design for the Holiday Home Tour.
And much, much more.
One can, but only if she's our Volunteer Hero of the Month, Dora-Thea Porter. Dora-Thea wears two volunteer hats; Directory Manager and Graphic Designer and I don't know how she does it. If it weren't for ladies like Dora-Thea, I don't know where our organization would be. So, the next time you see her, please thank her for all her hard work.
September 2014 President's Letter
Why do we have neighborhood groups?  That's another question I'm frequently asked.  I think the following note is one of the reasons: 
"Dear Jessica, Thank You so much for the ride and I will let Sandy know I am coming thanks to your loving AAUW sister hood relationship. That is the total purpose of our neighborhood groups to support independent women in a time of need. Blessings Joan" (from Castro Valley)  
I could not have scripted a better note.  In addition, the neighborhood groups are a great way to introduce new members to their AAUW neighbors.
I feel fortunate to be in an active neighborhood group.  We're having another pot luck this week and I'm looking forward to catching up on all the local news such as new grandchildren, interesting vacations, etc.
And while we're on the subject of neighborhood groups, I'd like to introduce you to our Hospitality Chairs who oversee neighborhood groups among their many responsibilities: Sandy Killoran, Robin Halloran, and Norma Spencer.
When I had trouble finding someone to take the Hospitality Chair position, Sandy agreed to do it if she could find a partner.  As you see she found two, and others have volunteered to help out when needed.  In the future, I hope we can use this as a model for filling appointed positions.  If you're asked to help, before saying no, think about who it would be fun to work with. From what I can tell, the Hospitality ladies are having fun as well as doing a great job.
August 2014 President's Letter
We need your help! How often have you heard that? From the feedback I've been getting, the answer is; way too often and some members don't understand why. Why? I've given this question a lot of thought and the simple answer is; since AAUW is a strictly volunteer organization, we can't achieve our goals without everyone who's able, volunteering. Each year we have a critical goal to generate enough revenue to send 12 girls from local middle schools to Tech Trek and to award nine Local Scholarships and one Creative Endeavors Scholarship. Another goal is to give back to the community and we do this by supporting Expanding Your Horizons (EYH).
We achieved these goals in 2013-2014; however, all three of these activities required docents, lots and lots of docents. And, if we want to achieve our 2014/2015 goals, we will continue to need docents. This need will not go away; however, we are working to find better ways to ask for volunteers. Ways that don't require us to ask several times and in several different ways. Stay Tuned!
The next question was; why so many docents? The answer to that is also simple, but surprising. I think the best way to explain is to show you the list of volunteers needed for our Holiday Home Tour.
| | |
| --- | --- |
|      Activity | # |
| HHT Co-Chairs | 2 |
| Head Docents | 5 |
| Ticket Sales/Database Mgt. | 4 |
| Docent Coordinators | 4 |
| Refreshment Coordinators | 2 |
| Refreshment Docents | 8 |
| Restaurant Participation | 1 |
| Directional Signs | 2 |
| Ticket -Graphic Design & Production | 1 |
| Pay Pal/Website | 2 |
| Marketing/Publicity | 2 |
| Photography | 1 |
| Boutique/Sales Coordinator | 1 |
| Quilt Drawing Coordinator | 1 |
| Head Docent Bags/Name Tags | 1 |
| Selection of Homeowner Gifts | 1 |
| Home Selection | 5 |
| Shuttle Drivers 1/ | 4 |
| Membership & Tech Trek Display | 4 |
| Docents 2/ | 140 |
| Total | 191 |
| 1/   Four per home as needed | |
| 2/   5 houses x 4 shifts x 7 docents per shift | |
To all of you who have volunteered and for those who now plan to volunteer; a very big Thank You!
Mary Ellen Blake
President
 June 2014 President's Letter
(June 2014) If May is the time of year we look back on our accomplishments, then June is the time we look forward to what we want to accomplish in the upcoming year.   I want to thank our outgoing co- presidents, Karen Large and Loretta Altshuler, and their Executive and Appointed Boards for an incredible year of achievements.  Please click here to read about them at our Branch Board webpage.
In 2014-2015, we will strive to maintain our status as Number One in the state for giving to AAUW Funds, continue raising funds for Tech Trek and Local Scholarships through our annual Holiday Home and Garden Tours, and much more which you will hear about in coming months.
For now, have a great summer everyone.  
________________
2013-2014 Presidents' Messages
from Loretta Altshuler and Karen Large
(May 2014) May is the time of year when we look back and realize what an amazing year it's been.
In 2013-2014, the Danville-Alamo-Walnut Creek branch maintained tradition, but also broke new ground. Key accomplishments include:
Named Number One in the state for giving $41,164 to AAUW Funds
Raised close to $23,000 at our 9th annual Holiday Home Tour to send 12 girls from local middle schools to Tech Trek summer camp and award 9 Local Scholarships and one Creative Endeavors Scholarship
Created the new Creative Endeavors Scholarship through quilt drawing sales and added scholarship funding raised by advertisements
Pending National Association approval, a 15-year $200,000 American fellowship is planned in honor of the 45th Anniversary of our branch
Treated our community to our 14th annual Garden Tour this Mother's Day weekend May 9-10.
Expanded use of Pay Pal for all tours and programs
Heard a variety of timely topics on animals (ARF),  drugs, gangs, and homicides in our county, climate change, and Pixar movie direction
Balanced our annual branch budget
Enhanced Advocate and branch communications through new designs
Continued branch networking, enjoyed field trips and formed new special interest groups in theater, film, and mah jongg.
We thank our 2013-2014 Executive and Appointed Board members and all branch members for volunteering and donating generously. Your contributions continue to bring our branch success and recognition across the state and nation. Thank you for a  great year.
Click here to view 2013-2014 Presidents Messages by Loretta Altshuler and Karen Large