Please join our June general meeting:
Local Scholars Celebration & Executive Board Installation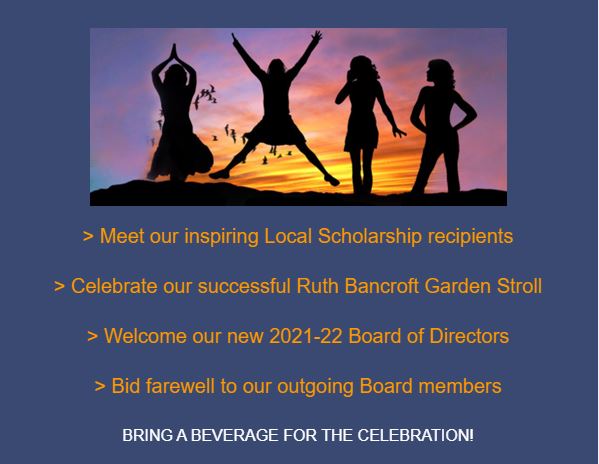 We will meet our 2021 scholarship awardees through a series of short videos in which they  share their backgrounds, academic plans and their appreciation for their awards.  This is also an wonderful opportunity for us to celebrate our fundraising efforts to support these awards, including our recent successful Ruth Bancroft Garden Stroll.
Next, we welcome our newly-elected 2021-22 DAW Executive Board of Directors, who will lead us in our post-pandemic re-awakening of our in-person activities!   We are very appreciative of our new leaders who are volunteering their time and efforts to enabling our branch to fulfill its mission, and this installation is one way to honor their efforts.
Finally, we will offer our heartfelt thanks to our outgoing Board Members and congratulate them on our successes in a difficult year,  and wind up with a toast to our branch, its leaders and our Local Scholars.
Cheers!