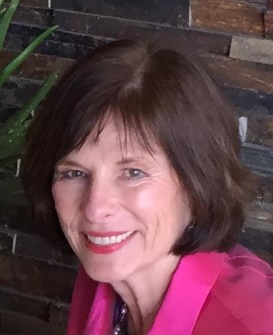 (February 2021) January got off to a rocky start with the event of January 6 leaving us shaken and horrified at the attempted takeover of our nation's capital. Both National AAUW and CA AAUW have strongly condemned the insurgent activities surrounding the transition of power and demanded that those responsible be held accountable.
Nonetheless, our democratic institutions prevailed and we now have a new Washington administration with our first woman Vice President in place that is aligned with our AAUW goals of equity for women! As we get our vaccinations and gradually awaken from what feels like a long hibernation, we look forward to stepping up our activities in our community.
Our branch January program, Race and Racism with Dr. Lori Watson was extremely timely and informative. Because the session was interactive, we did not record it. So, I hope you were able to join in. I know that I took away several ideas about how I could personally act to address the specific challenges face by women of color.
Our January Wine Chat and Board Update topic was "What is the first thing you want to do after the Covid-19 restrictions are lifted?" We had lots of fun sharing our aspirations to travel, hug loved ones, and get back into our public life activities. Our next Wine Chat and Board Update is February 18 at 5:00 pm. So please join me and your AAUW friends for this fun social chat time.
This month's program comes up very soon. Be sure to mark your calendar for Tuesday, February 9 for our "Women in STEM" program, celebrating mother and daughter scientists and their journeys in two different time periods in the male-dominated STEM world.
In this Advocate edition, you will be treated to the first of a new series of articles "What was it Like for You, Mom?", written by our editor, Beth Clark, and based on experiences shared by our members and other women. This will be a collection of anecdotes and remembrances of what the world was like before women gained the rights we have today. I expect we will be motivated by these reflections to want to share them with younger women and to encourage us all to continue our efforts toward equality for all.
Please read the letter from Julia Brown on the proposal from our National AAUW to eliminate the degree requirement for membership. You can learn more about this proposal on the AAUW Open Membership page.   Comments are being accepted until February 5. Votes will be held from April 7 to May 17. Please be prepared to make your voice heard on this issue
Finally, we continue to upgrade our website. I invite you to take a look at our Volunteers Needed page that lists volunteer opportunities within AAUW. If you are looking for a way to contribute, here's quick access to the activities you can join. We also added invitations from our local sister AAUW branches to the "To Do" list side bar on our webpages, and created a page "Other Branch News". These should help you take advantage of all our regional zoom programs. I hope this website is a great resource for all of us to find the latest and greatest on DAW AAUW.
Wishing you all a good month and I look forward to seeing you at our next event.
Christine Ritter, President
(January 2021) Welcome to the New Year! I know I am happy to see the dawn of new hope for the vaccine as our path to returning to lunch dates, coffee together, and eventually even attending a group event. We will, of course, move very cautiously as an AAUW group by continuing our meetings and events virtually until our health officials advise us it is safe to meet.
Meanwhile, if you haven't joined our virtual Zoom events, I encourage you to try out our next Wine, Chat and Board Update Party on January 21 from 5:00 to 6:00 pm. If you need help getting started, see Tips for Those New to Zoom. If you want to practice or need a one-on-one helper, drop our webmaster Teresa Cheung an email via our web contact page and she will set you up with a Zoom pal. Virtual meetings can be a lot of fun and help us keep in touch with our friends and moving forward in our lives.
Speaking of moving forward, we have learned that Tech Trek is going virtual this summer. Deborah Wechsler shares the plan for Tech Trek. We are looking for lots of volunteers to help advise the campers via Zoom. So, here's another reason to become a Zoomer! Please contact Deborah Wechsler if you want to take part in this rewarding effort.
Bette Felton's article reviews our wonderful educational programming so far this year, and announces our next event on January 27, focused on Race and Racism. The program features an experienced workshop leader who will teach us new approaches to doing our part to end racism. Please share the invitation with your friends as this event is open to all.
Advocacy is also back in focus this month; it's time to register for AAUW CA Advocacy Days, which will be held virtually this March. You need to sign up for training meetings by January 8. See the details in the article about the AAUW CA Public Policy virtual lobby day and join the effort to support representatives in Sacramento who support our agenda.
Here's to 2021 as a year of joy and progress with the help of COVID vaccine! I look forward to seeing you all soon at our next events.
Christine Ritter, President
________________________________
(December 2020) We wrap up a truly astounding year—capped off with a break-through for all women with our first woman Vice President of the United States. Please take a moment to read the AAUW Statement from our president, Kim Churches, expressing our pride in Kamala Harris' election and our hopeful expectations for the new administration to unite our country (Page 3 of our December Advocate newsletter) .
We are entering our holiday season in a very different world with pandemic restrictions. Yet, we seek to experience the joy and peace of the season.
I hope you enjoyed our November program, Embracing Life Online, where we learned how various digital communication tools can help us to communicate. Despite the pitfalls of social media, we believe these apps, along with video conferencing, can enrich our lives in a time when in person meetings are not possible. We are relying heavily on Zoom, for example, to continue our branch activities. If you need help connecting to zoom, please check out the article  on page 5 of our December Advocate newsletter to learn the basics. If you need more help, please let us know by contacting the webmaster to ask for a one-on-one mentor to help you join in programs and events.
Our November Triple-Win FUNDraiser was a smashing success. Thanks to our Team Leaders, Susan Terzuoli and Teresa Cheung, and to all our members who supported FUND with a wonderful meal. We held our second Zoom Wine Chat and Board Update party on the same evening and enjoyed a fun social check-in time loosely centered on our online life experiences. Our next Wine, Chat and Board Update party will be January 21 at 5:00 pm – it's a fun way to catch up with your AAUW friends.
Our December Program will kick off the holiday season with a festive social event via Zoom, complete with party games and other activities. Join in to share holiday cheer and fellowship, Dec. 3, 5-7:00 p.m.
Your 20-21 AAUW Member Directory should have just arrived via snail mail. Thanks so much to Joanne Quijano for leading this major effort.
Finally, I want to extend our thanks to Aline Soules, our Advocate Editor, for her excellent work in creating our newsletter, and join me in welcoming Beth Clark as she takes the helm with the January issue. The dedicated work of all our many volunteers is something for which we can be truly grateful.
Wishing you and your family a healthy and happy holiday season.
Christine Ritter, President
________________________________
(November 2020) With the election looming, I hope we are all making our voices heard at the ballot box. Last month, our extremely successful "California 2020 Ballot Initiatives: Pros and Cons" program enabled us to reach over 130 individuals from our local AAUW  branches and the public. I am encouraged by these early results of our community outreach.
Our Fall virtual Membership Brunch was attended by 42 of our current members. During the  program, we welcomed 23 new members to our group. We all enjoyed an inspiring presentation
by one of our AAUW national FUND Fellows, Araceli González, followed by branch leaders sharing our plans for the year and the members approving our budget.
We also held our first "Wine, Chat and Board Update Party" where 17 of us shared our personal histories and connections with AAUW, and chatted about our current branch activities. The
party is a fun way to stay in touch with our AAUW friends. Next up is our November Program, "Embracing Life Online", led by two Social Media entrepreneurs who will help us understand
the what, how and whys of the common applications so we can use them to our advantage.
BREAKING NEWS! Our fundraising team came up with a wonderful new idea to enjoy a delicious meal, support AAUW FUND and support our local businesses—the Triple-Win FUNDraiser, November 19.  For your donation, you will receive a wonderful three-course meal from Montecatini restaurant delivered to your door. Our Wine Chat and Board Zoom Party that evening will follow at 7:00 pm so we can enjoy dessert and socializing after our dinners. Check out the details in the Triple-Win FUNDraiser article.
I look forward to seeing you at our upcoming events.
Christine Ritter
President 2020-21
(October 2020) What a relief to see our California blue skies again. I hope you are all faring well in our new COVID-safe lives.
Our website says, "we are tenacious and trailblazing", so I am happy to announce that we will demonstrate our tenacity by moving forward with a full menu of 2020-21 programs and events while trailblazing new ways of using virtual tools to keep us safe and keep us connected.
Our Website is Key to Staying Connected in our Virtual World
We are placing new emphasis on the website to keep it chock full of timely information about branch events and other news.  Click here to check it out.
With our new virtual activities, we will post the zoom meeting links in Members Only pages so that unwanted "guests" will not join our meetings.  Please click here to take a look at the Members Only website page and click on the Zoom Meeting Links.  You will be asked for a password.  If you don't know the Members Only password, please go to our main web site, choose "about", then "contact", and send a request for password to our webmaster, Teresa Cheung.
Upcoming (Virtual) Programs and Events
Membership Brunch- Oct 3, 11:00 AM – 1:00 PM
We launch our year with our virtual Membership Brunch.  This year, we have a wonderful AAUW FUND Fellow as our speaker, who will inspire us with her work in rural education. We will also announce our full calendar of branch events, volunteer opportunities and approve our branch operating budget. The Zoom meeting link is in your email invitation sent Sept 9 and on the Members Only Zoom Links page of our website.
California 2020 Ballot Initiatives: Pros and Cons – Tuesday Oct 6, 5:00 – 6:30PM
Here's a great opportunity to arm ourselves with information on California's 2020 Ballot Initiatives.  We are co-sponsoring this event with the League of Women Voters of Diablo Valley.  Both members and the public are invited so please spread the word.  The Zoom meeting link is in your email invitation sent Sept 14 and on the Members Only Zoom Links page of our website.
New Wine Chat and Board Update:  Starts October 22, 5:00 – 6:00 PM
Repeats monthly on the Thursday after the third Wednesday Board Meeting.
All members are invited to join me and other Board Members for a new monthly quick-update and social event called "Wine, Chat and Board Update".   This will be an opportunity to learn the latest branch news followed by small group activities where you can interact with a variety of other members.  I hope we will all meet members who we did not already know.  The meeting link is on the Members Only Zoom Links page of our website.  I will also send an email invitation with the link closer to the date.
So, What's So Important About Social Media?  Tuesday, November 10, 6:30-8:00PM.
Our November program features two leading women Social Media Entrepreneurs. They will discuss how the use of social media, zoom and events in the digital world are present in daily life, from careers, to dating and socializing with friends and family.  Watch for your email invitation and DAW AAUW website info.
Friends, Fun and Enjoying the Holiday Season: Thursday, December 3, 5:00 – 7:00 PM
Save the date for our December Social Program:  We are planning to jump-start the holiday season with an all branch social mixer event.  Details to follow.
Call for Public Policy Advocates
Public Policy Chair, Asha Baja, is looking for a few good activists who want to help us boost our public policy activities to increase our influence in our local community.  To find out more about the Public Policy Committee opportunities, please contact Asha Bajaj.
Call for Advocate Editor
We extend our sincere thanks to Aline Soules, our intrepid Advocate Editor since March, 2019.  Aline has decided to step down from her position after our December issue.  We will miss her helpful editing of our informative and enjoyable newsletter.
If you would like a fun position where you can to try out your newsletter editing skills (we use standard word processing software), please contact Chris Ritter right away.  We need your help.
I hope to see you at our upcoming events.  As always, please contact me with your thoughts, reactions and ideas for our branch at any time.
(September 2020) With our successful garden fundraiser in the rearview mirror, it's time to look forward into our new year of joining together to support our mission and each other.
Virtual Membership Brunch– Our first meeting will be our virtual Membership Brunch featuring AAUW Fellow Araceli González who will be speaking on "Education Equity and Access in Rural Communities". This October 3rd event will begin at 11:00 AM and will also include new-member introductions, Interest Groups updates, and unveiling of our Calendar of Activities and other special initiatives for this year. Watch your email for your zoom meeting invitation.
Member Survey Results – It's probably no surprise to us that the main reason we belong to DAW AAUW is to "connect with like-minded women for social interactions, individual growth and support". We also seemed to need a stronger advocacy program for members to directly affect our mission. See what our membership values and is willing to support in the Member Survey Results article.
Join the Voter Access Postcard Project – Armed with our survey results and direction from our national AAUW to support voter access, we already launched our first advocacy initiative sending postcards to unregistered voters. We moved quickly in order to support the November election process. The postcard writing phase of this project is now complete but phone banking and texting options are still available. Please read about the details and learn how to sign up for this project in Asha Bajaj's Public Policy Update article.
Review our FY21 Plan and Budget – Your Board of Directors met to craft our FY21 branch goals, strategies and activities during our Summer Strategy Meeting. Strategy Meeting Results are reported in this issue of the Advocate and full plan and budget will be posted on our website after our September 16th Board Meeting under Annual Goals & Budget. We will send you an email ballot at the end of September requesting your approval of the FY21 budget. Contact me if you have any questions or feedback.
Website Update – If you haven't visited our website recently, please take a look at its updated organization. We will be making a concerted effort this year to keep everything current so the web site will become your first stop for information. Please check out the details in the article by our new webmaster, Teresa Cheung.
Finally, a warm welcome to our newest Board Members, who volunteered this month
Maryam Alexandrian-Adams, Fundraising Outreach Chair – We welcome Maryam to her new role leading our effort to expand our fundraising to the corporate sector. We have been looking for a member with the right background to help us explore funding opportunities and partnerships with business. Maryam brings an extensive network of professional contacts as well as the skills to determine what may interest a potential corporate funding partner.
Teresa Cheung, Webmaster – Teresa will step into the role of webmaster. In the days of virtual communication, our web is more important than ever so we are excited to have Teresa take on this challenge.
Deborah Wechsler, Parliamentarian – We welcome our Past-President back to our board in her new role as Parliamentarian. Thank you, Deborah for continuing to share your wisdom and for helping us institutionalize your knowledge by leading the update of our Policies and Procedures this year. Deborah will also work to complete our Leadership Succession Plan that she drafted while serving as our President last year.
I am looking forward to seeing you at the Fall membership zoom brunch.
(August 2020) With a wonderfully successful AAUW Garden Walk 2020 behind us, we can all feel proud that we met the challenge of fundraising in the time of COVID. By adapting our plans to meet health guidelines, we were able to fully fund our Local Scholarships for 2021 while also providing a much-needed way for the attendees to get out in nature. Kudos, congratulations and our heartfelt thanks to our Garden Walk Team, led by Kathy Harkins and supported by you, our branch members for this resounding success!
Meanwhile, we are all learning how to apply social distancing that allows us to continue with the meaningful activities in our lives. For our branch, this means we will plan to carry on with our monthly activities while adapting the format to accommodate current health guidelines.
Our 2020-21 Board of Directors will meet this August to plan our upcoming year's activities within our new constraints. Thank you to all who responded to the Member Survey that closed July 31. The results will inform both our near-term plans and our longer-term direction.
Several of our interest groups are evolving to continue through zoom meetings and other distancing methods. The updates are listed in the updated DAW Interest Groups sections of our August 2020 newsletter.
Our September membership brunch, which will be held in virtual format, is the kick-off for our year and we will work to make it meaningful, productive and fun! Watch your email for a "save the date" message soon.
Our 2020-21 budget in conjunction with our proposed monthly event calendar will be presented at the September brunch for your approval.
With our move to virtual activities, it is more important than ever for you to check your email regularly for communications from daw.aauw@gmail.com. During the months that we are unable to meet in person, email can help us stay connected through our branch activities.
Wishing you all a safe and relaxing summer to recharge before we come together again in September to kick off our new year advancing women's equity.
Chris Ritter
President 2020-21