Join DAW AAUW Members at the Rally for Abortion Justice
October 2nd, 2:00pm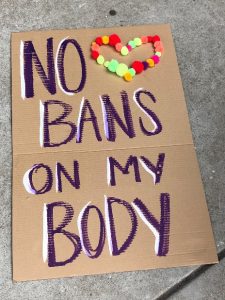 Women in Texas are facing one of the most pernicious and forceful attacks on their human rights because of Senate Bill 8 that became effective on September 1, 2021. This law prohibits women from having an abortion once a fetal heartbeat can be detected, even in cases of rape and incest. And it allows private citizens to sue any individual who assists a woman in such an abortion.
This law goes directly against the AAUW's most recent Reproductive Rights Policy , which states: "AAUW trusts that every woman has the ability to make her own informed choices regarding her reproductive life within the dictates of her own moral and religious beliefs. Further, AAUW believes that these deeply personal decisions should be made without government interference."
We are going to march on October 2nd in Danville to demand that this right be protected for all women and girls. This rally is being organized by the Women's March group; participants will meet at 400 Front St (Danville Green).
RSVP for the rally by clicking Women's March Oct 2 RSVP
Please let our DAW march coordinator at Claudiaschwarz@comcast.net know you are coming so we can plan our representation at the rally.
Come join us and help make our voices heard!