Annual Membership Brunch
Saturday Sept. 14, 10:30-2:00

Crow Canyon Country Club
Speaker: Ms. Elizabeth Hillman, President, Mills College
Theme: Leadership with an emphasis on Gender & Racial Justice
We are honored and excited to have the President of Mills College as our guest speaker.
~~~~~~~~~~~~~~~~~~~~~~~~~~~~~~~~~~~~~~~~~~~~~~~~~~~~

Addressing Hot Spots of Air Pollution
Saturday, March 9, 2019,   10 a.m. – 12 noon,
$10.00 Donation requested
Veterans Memorial Community Hall.  400 Hartz Avenue, Danville
Air pollution has long been viewed as an environmental issue, but recognition of air pollution as a social justice issue has only recently become far more widespread. Discussion Points:
–  The hot spots of air pollution in the Bay Area and their implications for health.
–  New technologies which enable researchers to better understand the scope of the problem.
–  Actions being taken by the State and others to address these issues, and
–  What you can do to ensure that everyone can breathe clean air.
Our speaker, Andrea Morgan is an AAUW Career Development Grant recipient. She is in her final semester at UC Berkeley where she is pursuing concurrent master's degrees in public policy and environmental engineering. Her work and studies center on reducing air pollution and combating climate change while promoting environmental equity.  For five years prior to attending graduate school, she was an environmental engineer at the U.S. Environmental Protection Agency.
Coffee, tea, and pastries will be served. A $10 donation will be donated to AAUW Funds.
~~~~~~~~~~~~~~~~~~~~~~~~~~~~~~~~~~~~~~~~~~~~~~~~~~~~~~~~~~~~~
Monday, January 14, 2019, 7-9 pm: Cross Cultural Conundrums, with Joe Lurie, UC Berkeley IH Executive Director Emeritus
Beth Chaim Congregation, 1800 Holbrook Drive, Danville
Cross Cult
ural Conundrums Presentation by Joe Lurie
UC Berkeley International House Executive Director Emeritus, Award-Winning Author, Cross-Cultural Communications Trainer
In Perception and Deception: A Mind-Opening Journey
Across Cultures, Lurie explores surprising
misunderstandings between individuals from diverse backgrounds, based on his years in the Peace Corps and at I-House.
"Our age of globalization often produces polarization,
so the theme is particularly relevant," Lurie says.
"Instantaneous communication increasingly is thrusting cultures together. Without preparation and context, many cross-cultural misunderstandings have
confusing consequences."
$5 donations to AAUW gratefully accepted, supporting gender equity for women and girls through research, education and advocacy. 
More info at https://daw-ca.aauw.net/programs-2/
~~~~~~~~~~~~~~~~~~~~~~~~~~~~~~~~~~~~~~~~~~~~~~~~~~~~~~~
++++++++++++++++++++++++++++++++++++++++++++++++++++++++++++++++++++++++
Tuesday, November 13, 2018 7-9 pm Immigration Attorney Paul Bertoni discusses Legal Immigration
Danville Congregational Church
989 San Ramon Valley Blvd, Danville
+++++++++++++++++++++++++++++++++++++++++++++++++++++++++++++++++++++++
Details about our Garden Tour. Thanks for helping and supporting us with the garden tour. You have earned funds for women's education.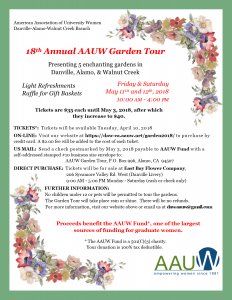 +++++++++++++++++++++++++++++++++++++++++++++++++++++++++++++++++++++++February 23, 2019: Expanding Your Horizons
A one day conference for girls 6th to 9th grade. The purpose is to expose girls to STEM (science, technology, engineering, and math) fields that might lead to career choices in one of those subject areas.
++++++++++++++++++++++++++++++++++++++++++++++++++++++++++++++++++++++++
June 23-29, 2019: Sonoma State Tech Trek Camp
DAW TechTrek Page: daw-ca.aauw.net/techtrek
++++++++++++++++++++++++++++++++++++++++++++++++++++++++++++++++++++++++
EVENTS/PROGRAMS
MONTH
Make a Difference in Your Community (IBC CCC)
POSTPONED
Estate Planning
October 26, 2017
AAUW N. CA Fund Luncheon
October 29, 2017
Holiday Home Tour
December
8-9, 2017
AAUW Legislative Advocate, Shannon Smith-Crowley
January 27, 2018
EYH Math-Science Conference for Girls
TBA
International Relations
TBA
AAUW State Convention in Irvine, CA
April 27-29, 2018
18th Annual Garden Tour
May 11-12, 2018
2018-2019 Installation and Local Scholarship Awards
June 7, 2018
 Tech Trek
 June 24-30, 2018