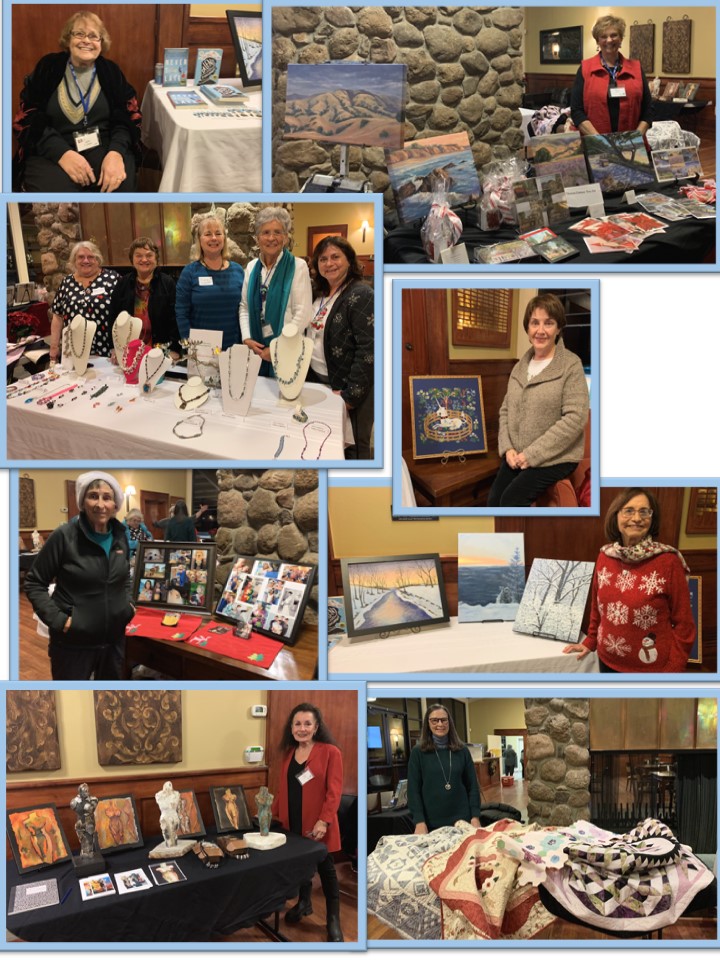 Open House Holiday Celebration Was a Blast of Fun and Creativity!
Thursday, December 15, 2022
Greenbrook Clubhouse, 300 Greenbrook Drive, Danville
About 60 members and their guests joined the festivities for our Open House Holiday Celebration and Creativity Night on December's third Thursday Member Meeting night! There was no formal program for this meeting.
Tasty food was catered by Sunrise Bistro and we thank Bette Felton (again) for providing wine from Sky Terrace Vineyard. A heartfelt thanks to Becky Bhatt and her hard-working committee (Nancy Dowell, Cindy Dragomanovich, Bette Felton, Marilyn Lawver, Susan Mann, Liz Peters, Claudia Schwarz, Lisa Simone, and Judy Slinger,) for organizing such a wonderful event for us.
 We also are grateful to some of our branch "creatives" for sharing their inspiring work. Check out the photos above!
Jessica Barrett, Jewelry
Sharon Cohune, Painting
Dianne Giacovelli, Jewelry
Lynn Goodwin, Author
Tricia Grame, Painting & Sculpture
Kathy Harkins, Jewelry
Roseann Krane, Jewelry
Judy Lauper, Cross Stitch and Knitting
Susan Mann, Photography
Mary Mix, Quilting
Caroline Sanchez, Painting
Sherry Wilcoxson, Jewelry