July AAUW Evening Stroll in the Ruth Bancroft Garden
Featuring The Ruth Bancroft Garden and Nursery 27th annual outdoor art show.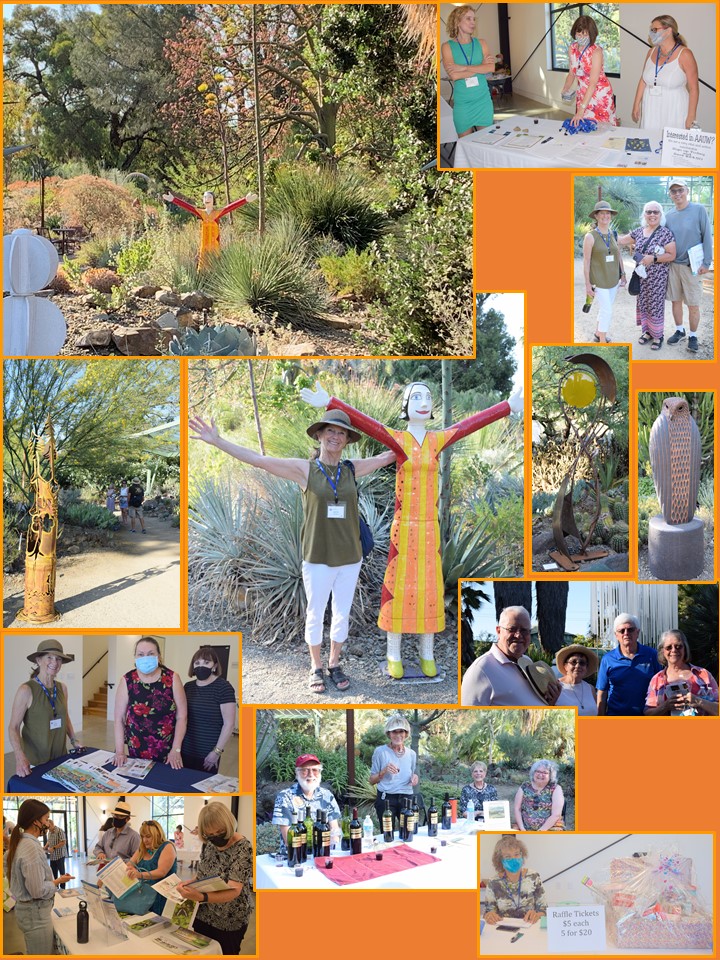 Thank you everyone, for making our Bancroft Garden Stroll a success and supporting our Local Scholarships! 
Attendees were entranced as they enjoyed a warm evening stroll in the garden during the Ruth Bancroft Garden's annual special garden art show last week. This was the second time our Branch has partnered with the Garden to reserve the facility for an exclusive evening stroll. The plantings were amazing as usual, and the garden sculptures were distributed throughout the grounds in surprising and thoughtful ways.  An EBMUD representative was present with literature and information about water conservation.
In addition to wandering the garden and enjoying tastes of Sky Terrace wines, there were several raffle items offered. This facet of our event helps add to the fun atmosphere and contributes additional funds for our scholarships. During the evening participants enjoyed viewing and donating for:
Three Amazing Baskets (Cake Pops Creation Kit, Serenity Wagon of Plants, and Wine Pairings) created and donated by DAW member Carol Highton; they were won by Penny Adams, Katrina Cookman and Nancy Samelson.
Sky Terrace Vineyards Wine Duet donated by Bette and Jim Felton; it was won by Nancy Samelson.
"Brighter Days" Quilt, created and donated by DAW member Mary Mix; it was won by the very lucky DAW member Nancy Samelson.
We netted almost $2,000 to help fund our Local Scholarships for women! Combined with our May event, this brings us close to $6,000 for this worthwhile project.
"Thank You" to the many people who made this event a success, including –
The Ruth Bancroft Garden and Nursery for the stunning venue, fascinating plants, and amazing volunteer docents. Julia Ibarra was extremely helpful as on-site manager for the evening.
DAW member Bette Felton and her husband Jim again for providing wine varietals from their Sky Terrace Vineyards, as well as a wine duet for the raffle.
Dee Brook, and Marilyn and Bryan Lawver for helping the Feltons with wine sampling.
Carol Highton for creating and donating three amazing baskets for the raffle.
Mary Mix for making and donating her beautiful quilt.
Jolene Bertetto from EBMUD, for providing informative literature and discussions about water conservation ideas.
Caroline Sanchez, with her bust of Ruth Bancroft's father-in-law, for sharing her historical knowledge about the family.
Volunteers who assisted by manning our sign-in, membership, refreshment and raffle tables, greeting visitors, taking photos and disseminating information: new members Wendi Whitcomb and Lisa Simone, Asha Bajaj, Candy Blackman, Tena Gallagher, Robert Landau, Susan Mann, Joanne Quijano and Chris Ritter.
If you missed the event and would like to support our program, please write a check made out to "AAUW-CA SPF" and on the memo line you must write "DAW Local Scholarships"
Checks should be sent to:
AAUW Danville-Alamo-Walnut Creek Branch
Attention: Local Scholarships Treasurer
P.O. Box 996
Alamo, CA 94507
---
May Ruth Bancroft Garden Evening Stroll
The Danville-Alamo-Walnut Creek Branch of the American Association of University Women collaborated with the world-famous Ruth Bancroft Garden, Walnut Creek. The premise of this 3.5-acre garden is the exceptional development of water-conserving plants as well as cutting-edge design.  With the Ikebana exhibit in place,  May was a very special time to tour the garden!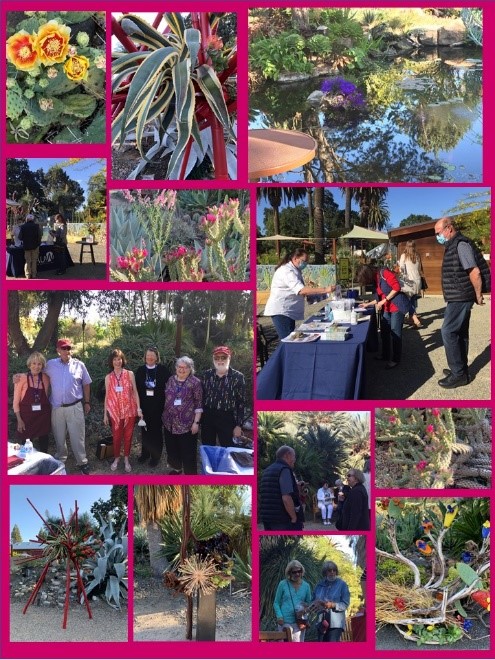 This AAUW event supported our Local Scholarships for Women. We had a wonderful time and raised about $2000 for our scholarships.
Welcome Packet: Self-guided tour brochure, current blooms descriptions, water/drought and landscaping information, and AAUW & Sponsor information
Wine sampling offered by Sky Terrace Vineyards
Quilt, Garden basket, and the Sky Terrace wine duet raffles were popular
__________________________________