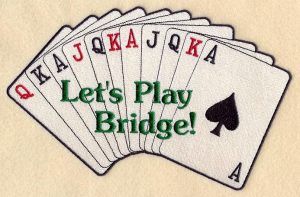 Group Leader: Arlene Barnett
(July 2021) The 2nd Monday Party Bridge group will return to in-person bridge in houses starting monthly in July.  We will start at 12:30 with hostesses serving only snacks and liquid refreshments.  Many in the group have been playing bridge online with the Trickster app for the past 11 months, not only to enjoy playing the game, but in the hope that we will all remember how to play at the level we want to when we are back to "normal". Call Arlene Barnett at 925 947-6122 if you are interested in becoming a sub as our group is currently full.
To join this group, please contact group leader.
Meeting Day/Time: 2nd Monday/12:30 PM
Bridge, 2nd Monday Party is an informal social group. View bridge rules.
We start at 12:30 with hostesses serving snacks and  liquid refreshments.  We are accepting substitute players.
Arlene Barnett, Evening Bridge Interest Group Leader