Missed the Holiday Celebration with your DAW Friends?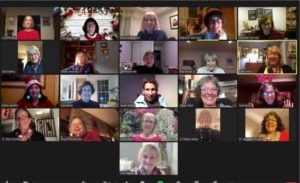 There's still time to enjoy wonderful ideas for the season and the coming year shared by your AAUW friends.
Our thanks to Kathy Harkins and Bette Felton for planning this upbeat event and to Deborah Wechsler for capturing our ideas in the beautiful word artwork.   Thanks also to our small group facilitators Linda Jimerson, Deborah Wechsler, Joanne Quijano, Bette Felton and Kathy Harkins.
And congratulations to our prize winners, Liz Williams and Sara Lautenbach!  They each received a beautiful holiday gift baskets to launch the season with cheer.
This virtual event will helped us recognize how we have learned, grown, and found joy within this stressful year and helped us get ready for 2021 with increased strength and reduced stress!