February 2020: Work Smart: Negotiation Seminar:Joint Program with Orinda-Moraga-Lafayette Branch
AAUW-OML and DAWC (American Association of University Women
—Orinda Moraga Lafayette and Danville Alamo Walnut Creek Branches) are co-hosting a seminar on Work Smart, AAUW's salary negotiation program, on Sunday February 23, 2:00-4:00 p.m. at the Lafayette Library and Learning Center in Lafayette. The seminar is free and open to the public.


AAUW's Work Smart program is designed to help close the gender wage gap by empowering women with the skills and confidence needed to negotiate their work salaries and benefits. Seminar attendees will learn about the Work Smart program, and some tools and strategies for successfully negotiating for fair pay in a new job, raise or promotion.You will want to attend this program. Negotiation skills are useful in all aspects of our lives, not just for increased salaries. You will also be better equipped to convey the value of the Work Smart program to others, including daughters, nieces, and even your peers.
For more information, visit: https://oml-ca.aauw.net/You deserve a raise. This free online course will give you the tools you need to successfully negotiate and close the pay gap for women everywhere. Register today and learn how to improve your negotiating skills in every part of your life.
https://salary.aauw.org/
_____________________________________________________________________________________________________
November 2019:
AAUW DANVILLE-ALAMO-WALNUT CREEK & SAN RAMON BRANCHES
PRESENT A Conversation about Transitions through Higher Education for Foster Care Students featuring Dr. Lael Adediji — Director of Renaissance Scholars at CSU East Bay, Dr. Jodi Servatius — Professor Emerita, former Vice President at CSU East Bay
Monday, November 18, 2019 at 7 p.m.




Beth Chaim Congregation,

1800 Holbrook Drive,

Danville 94506


Open to All. Admission is free.
A suggested $10 donation is appreciated.
Please RSVP to daw.aauw@gmail.com. Click here for more information

___________________________________________________________________________________________________
October 2019:

______________________________________________________________________
September 2019: 
Annual Membership Brunch Sept. 14, 10:30-2:00

Crow Canyon Country Club, 711 Silver Lake Dr., Danville, CA
Speaker: Ms. Elizabeth Hillman, President, Mills College
Theme: Leadership with an emphasis on Gender & Racial Justice
We are honored and excited to have the President of Mills College as our guest speaker.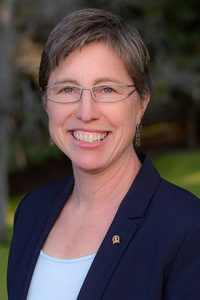 Dr. Elizabeth L. Hillman is the 14th President of Mills College. She brings to Mills extensive experience in higher education administration and instruction and a distinguished background working on key gender and women's issues.
During Dr. Hillman's first year as President of Mills College, the College articulated MillsNext, a new standard for accessible, transformative education through three pillars: academic excellence in the arts, humanities, sciences, social sciences, and technology; applied learning, global understanding, and real-world skills development; and gender and racial justice in academic programs and community engagement. In September of 2017, she led a tuition reset effort to translate the value of a Mills education to prospective students and their families, resulting in a historic 36 percent (or $16,000) reduction in undergraduate tuition, confirming Mills' commitment to access and affordability for all students. Her leadership team has relied on Mills' illustrious faculty and enterprising students to elevate student success, building new pathways to degrees, new academic structures and programs, and stronger partnerships.
Hillman's expertise in sexual violence and gender issues in military organizations and culture has brought her national and international recognition. She has been an expert witness testifying before Congress on numerous occasions, including at the Congressional Women's Caucus hearing to address non-consensual pornography in the U.S. Military (Marines United). She is a sought-after educator and speaker on the topics of sexual assault and harassment, and women's leadership and rights. In 2013–2014, she served on the Response Systems to the Adult Sexual Assault Crimes Panel (RSP), and also chaired the RSP's Comparative Systems Subcommittee.
Hillman is a founding member of the President's Alliance on Higher Education and Immigration, and currently serves as interim president/chair of ACAA Presidents Council, on the executive committee of the Association of Independent California Colleges and Universities, the board of the Women's College Coalition, and as a member of the NCAA Division III Chancellors and Presidents Advisory Group. She was appointed to serve on a blue-ribbon study group, the National Academies of Sciences, Engineering and Medicine Committee Addressing Sexual Harassment in the Science, Engineering, and Medical Workplaces, that released a path-breaking report in 2018.
Hillman is the former provost and academic dean at the University of California, Hastings College of the Law, where she also served as the chief academic officer. Prior to her position at Hastings, Hillman served as professor of law and director of faculty development at Rutgers University School of Law and taught at Yale University and the US Air Force Academy. She also was an officer in the US Air Force, where she served as a space operations officer and orbital analyst.  She received her Bachelor of Science in electrical engineering from Duke University in 1989 and an MA in history from the University of Pennsylvania in 1994, and went on to receive a JD from Yale Law School in 2000 and a PhD in history with a focus on women's history from Yale University in 2001.
Brunch information: Viewing and meeting  social time with interest groups and our new advertiser exhibitors begins at 10 a.m. Our lunch will be the specialty salads of the house: Classic Cobb, Blackened Salmon Salad and Sunburst Salad with Chicken, Berries, & Pecans. Dessert will be Chocolate Cake. Beverages are included. 
You can contact our Membership VP Marsha Anderson for more details.
We look forward to a very happy event featuring the new venue of Advertiser Booths, along with Interest Groups, and our traditional Quilt raffle. Please arrive early for good parking.
2018 ~~~~~~~~~~~~~~~~~~~~~~~~~~~~~~~~~~~~~~~~~~~~~~~~~~~~~~~~~~~
2018 Membership Brunch
Danville-Alamo-Walnut Creek Branch 2018 Membership Brunch
Saturday, September 22, 2018, 10:00 am to 1:00 pm
Crow Canyon Country Club, 711 Silver Lake Drive, Danville CA   
Presentation: The Honorable Ellen O. Tauscher                                                                            
The Honorable Ellen O. Tauscher is a former 7-term member of Congress and Under Secretary of State for Arms Control and International Security in the Obama Administration. She currently serves on the University of California Board of Regents and as chairman of the Board of Governors for Los Alamos National Security, LLC (LANS) and Lawrence Livermore National Security, LLC (LLNS). She also serves as Vice Chair of the Student and Academic Affairs Committee and Chair of the Labs subcommittee of the Board of Regents.
Tauscher represented California's 10th congressional district in the House of Representatives from 1997 until 2009, when President Obama appointed her to the State Department during her 7th term in the House. Tauscher served as special envoy for Strategic Stability and Missile Defense at the State Department until her resignation from government service in 2012. As Undersecretary of State for Arms Control and International Security Affairs (2009-2012), Tauscher negotiated the NEW START treaty with the Russian Federation in 2010 to further reduce the threat of nuclear conflict and oversaw other critical nuclear non- proliferation priorities around the world. While in Congress, Tauscher was a leading centrist Democrat, and the chairman of the New Democrat Coalition, a caucus of 65 moderate Democrats in the House of Representatives. Her fiscally responsible, bi-partisan, unique brand of leadership in Congress was coined "Tauscherism" by Time Magazine. Prior to serving in Congress, Tauscher worked on Wall Street for 14 years and was one of the first women to hold a seat on the New York Stock Exchange.
Since leaving the State Department, Tauscher has assumed a number of publicly-held corporate and non-profit board positions, and currently serves on the boards of Edison International/Southern California Edison (EIX) in Rosemead, CA, eHealth (EHTH) in Mountain View, CA, the Board of Advisors of SpaceX, the Board of Directors of BAE Systems, Inc, NTI, and the Executive Committee of the Atlantic Council. She serves as vice chair of the Atlantic Council's Brent Scowcroft Center on International Security. Tauscher spent 5 years as a board member of the National Comprehensive Cancer Network (NCCN) and served as Chair of the NCCN Foundation. She has been an advocate for more education, more funding, and earlier screening for the disease.
Ellen Tauscher was born in Newark, New Jersey. The eldest of four children and the first member of her family to attend college, she graduated in 1974 from Seton Hall University, where she obtained a Bachelor of Science degree in early childhood education. In 1989, Tauscher moved to California and later founded the first national research service to help parents verify the background of childcare workers. She also published The ChildCare Sourcebook and headed the Tauscher Foundation, which provided funds for elementary schools to buy computers and Internet access.
Tauscher's most proud life work and accomplishment is her daughter, Katherine, a graduate of Bucknell University, where she was an English major and the Captain of the Bison's Division 1 Women's Volleyball team. Ellen and Katherine live in the San Francisco Bay Area.
++++++++++++++++++++++++++++++++++++++++++++++++++++++++++++++++++++++++
May 11,12 2018: Danville-Alamo-Walnut Creek AAUW GARDEN TOUR
Friday & Saturday,  * 10:00am – 4:00pm Celebrate Mother's Day and Spring by experiencing the beauty of colorful and whimsical gardens in Alamo & Danville. While traditional and non-traditional plants and flowers abound, these gardens were planned with outdoor entertaining and comfort in mind. In the mist of the flowers, […]
Details about our Garden Tour. Thanks for helping and supporting us with the garden tour. You have earned funds for women's education.

—————————————————————————————————————————-

January 19,  2018, Friday: We'll BART to the Asian Art Museum to see "Couture Korea".    Cost is $20 for adults and $15 for seniors (65+).    We will lunch at the museum café after our free noon docent tour.     Discover the past, present and future of Korea in this first U.S. exhibition to consider Korean fashion as an expression of social and cultural values.    This exhibition, with over 120 works, links artifacts to today's fashions.   Couture Korea opens with an introduction to the exquisite craftsmanship, signature silhouettes and bold aesthetics of clothing from the Joseon dynasty (1392-1910), presented in precise reconstructions based on archival records.   Learn how details of design – cut, materials, colors and accessories – communicated moral codes and customs, the wearer's age and position in society, and the occasion and season for which a garment was crafted.   Karl Lagerfeld's 2015-2016 Cruise Collection for Chanel was influenced by Joseon dynasty fashion.    The other galleries focus on contemporary designers who have been inspired by Korean tradition, including  established and up-and-coming designers.   Please contact Jacque if you have questions or to sign up.  It should be fun and fascinating.
January 27, 2018 10 a.m. – 12: The Danville-Alamo-Walnut Creek and Concord Branches present Shannon Smith-Crowley, attorney, legislative advocate and AAUW lobbyist. This informative and timely presentation, so closely tied to our AAUW mission, will focus on a recap of the 2017 legislative year, a preview of the 2018 year, and how to become involved whether one has two minutes or two days. Where: Danville Town Meeting Hall 201 Front Street, Danville, CA

February 24

, 2018: Expanding Your Horizons
A one day conference for girls 6th to 9th grade. The purpose is to expose girls to STEM (science, technology, engineering, and math) fields that might lead to career choices in one of those subject areas.
Friday, March 2, 2018 10:30 a.m.:  "Spirit of the Old West" Exhibit at the Blackhawk Museum in Danville.   An extra-special treat is that our AAUW member Caroline Sanchez will be our docent.   Caroline is a long-time member and past-President of our branch.   The cost is $8/person, to be collected at the museum.  We will meet at the museum at 10:20 am, and those from Walnut Creek can carpool to Blackhawk Plaza.   After our tour, we will lunch at Blackhawk Plaza.   After lunch, you can also take a moment to browse through the Alamo-Danville Artists' Guild Gallery in Blackhawk Plaza.   Art & Garden visited this gallery about two years ago. The "Spirit of the Old West" is dedicated to presenting a balanced narrative of both Native Americans and American Settlers —  depicting their challenges, their successes and failures, their ways of life.   These inspiring stories make up the larger American story which should be preserved for future generations.   Jerry Fick, a collector of Indian, pioneer and cowboy artifacts and partially of Native American descent, moved to Cody, Wyoming in 1989.   There he opened Tecumseh's Frontier Trading Post, Museum, and Workshop.   Thousands toured his museum and were fascinated by the topographic table of thousands of miniatures he had built to tell the story of the 19th

 Century settlement of the Western Plains of the US.   In 2014,  Mr. Fick sold much of his collection to Ken Behring and permanently loaned  the remainder to Blackhawk Museum.  By bringing the Fick Collection to Blackhawk Museum, Mr. Behring hopes to provide the opportunity to better understand both the great challenges and opportunities faced by our forefathers, as well as the leadership and sacrifices required of them in building our Nation.  Please contact me to sign up or for more information.    Jacque Schubert
Member Appreciation, Scholarship Presentation, and Executive Board Installation on Thursday, June 7
June 24-30, 2018: Sonoma State Tech Trek Camp
DAW TechTrek Page: daw-ca.aauw.net/techtrek
EVENTS/PROGRAMS
MONTH
Make a Difference in Your Community (IBC CCC)
POSTPONED
Estate Planning
October 26, 2017
AAUW N. CA Fund Luncheon
October 29, 2017
Holiday Home Tour
December
8-9, 2017
AAUW Legislative Advocate, Shannon Smith-Crowley
January 27, 2018
EYH Math-Science Conference for Girls
TBA
International Relations
TBA
AAUW State Convention in Irvine, CA
April 27-29, 2018
18th Annual Garden Tour
May 11-12, 2018
2018-2019 Installation and Local Scholarship Awards
June 7, 2018
 Tech Trek
 June 24-30, 2018