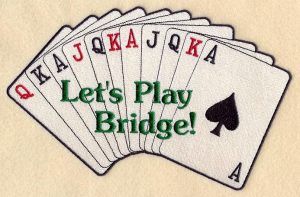 Group Leader: Lola Rohrs
To join this group, please contact group leader.
Meeting Day/Time: 4th Monday, 12:30 pm
Open to those with intermediate-advanced bridge knowledge.
Bridge: Duplicate. We play 21 hands during our monthly session. Our meeting home rotates with each regular member hosting once during the year. We start at 12:30 with hostesses serving snacks and liquid refreshments.  We are accepting substitute players.
Here's a reference link for a refresher on bridge rules.