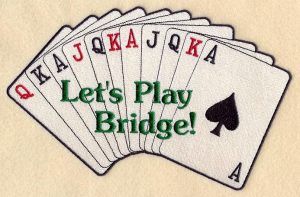 Group Leader: Lola Rohrs, email:  lolarohrs@msn.com
(July 2021) We will start at 12:30 with hostesses serving only snacks and liquid refreshments.  Our first meeting will be at my house on July 26th at 12:30. Experienced bridge players are encouraged to talk to Lola Rohrs regarding playing with this group.  My phone number is 925 680-8345.
To join this group, please contact group leader.
Meeting Day/Time: 4th Monday/12:30 PM
Open to those with intermediate-advanced bridge knowledge.
Bridge, Duplicate. Play 21 hands. Meeting home rotates.  We start at 12:30 with hostesses serving snacks and  liquid refreshments.  We are accepting substitute players.
View bridge rules.