CONGRATULATIONS TO California branches  donating $471,581 to AAUW Fund in 2018!
Danville-Alamo-Walnut Creek branch was number one in the USA donating $32,207.
(June 2017) The DAW branch is #1 in Donations to AAUW Fund in 2016
Thank you and congratulations to the members of AAUW California for your generous donations. 2016 was a record breaking year. Our endowment is heading toward completion. Do remember #4391 Danville-Alamo-Walnut Creek 45th Anniversary Research now has an accumulated $82,442.16. We need $117,557.84 to complete the endowment.
(June 2015) Our Branch is #2 in Donations to AAUW Fund in 2014.
AAUW Fund recognizes these Branch members for their generous contributions: Jo Harberson, Mary Ann Hruska, Martha Slavin, Charla Gabert, Chris Winter, Carla Pancheco, Tena Gallagher, Carol Kennedy, Pat DeRensis, Phyllis Duggan, Luisa Hansen, Roseann Krane, Mary Mix, Sharon Ritchey, Cynthia Savell, Liz Williams, Holly Sauer, Connie Cady, Susan Devoe, Nancy Lennstrom, Merilyn Milam, Bette Felton, Bev Nidick, Sonya Borlandelli, Cindy Silva, Marian Bliss, Karen Abu-Hamdeh, Marcia Steinhardt, Kathie Hixon, Marianne Gagen, Joan Mancuso-Adair, Teresa Cheung, Ann Shelton, Laurie Miller, Diana Sanderson-Mori, Diane Stangel, Mary Ellen Blake, Dee Brook, Cathleen Freeman, Marilyn Lawver, Nona Thomas, Sylvia Benzler, Asha Bajaj, Joyce Tenney, Paula Weintraub, Candice Newburn.
Thanks all members who made an individual donation in 2014.
Carol Kennedy, Funds VP
(March 2015) Our final 2014 branch donation total is $38,309.36. What a positive contribution towards promoting equity for women and girls!
2014 was the first year of our Branch's Educational Opportunities 45th Anniversary Fellowship (#4391). We are committed to fulfilling this $200,000 Fellowship in 15 years. Donations designated to this endeavor totaled $27,020.79 in 2014 – an excellent beginning. Also thanks to several members who have already donated in 2015 to #4391!
Again a reminder that our 80+ members who made individual tax-deductible donations to the fund of their choice will be recognized at our June meeting. Thanks to all of you.  
(January 2015) Thanks to over 35% of our members who donated to AAUW Fund in 2014. Over $5,500 was raised for our Branch 45th Anniversary Fellowship #4391 from individual donors. In addition, our 2014 Garden Tour raised $21,275. We've made a significant contribution to the mission of AAUW this year!
Donors to the Branch Fellowship: Karen Abu-Hamdeh, Asha Bajaj, Arlene Barnett, Sylvia Benzler, Sonya Borlandelli, Joan Buchanan, Linda Bushnell, Connie Cady, Teresa Cheung, Pat DeRensis, Sue DeVoe, Bette Felton, Charla Gabert,  Marianne Gagen, Luisa Hansen, Kathy Hixon, Mary Ann Hruska, Carol Kennedy, Roseann Krane, Marilyn Lawver, Harlean L'Engle, Mala Marcus, Joan Mancuso-Adair, Susan Mann, Merilyn Milam, Laurie Miller, Mary Mix, Bev Nidick, Carla Pancheco, Diana Sanderson-Mori, Holly Sauer, Cynthia Savell, Gus Slavin, Nona Thomas, Marcia Steinhardt, Liz Williams.   
Remember our commitment to AAUW Funds is the backbone of our organization enabling more women to break barriers, achieve equality and make a real difference in today's world. You are encouraged to designate your donation to the Danville-Alamo-Walnut Creek Branch 45th Anniversary Fellowship (Educational Opportunities) #4391. Look for your fundraising letter with full details in the mail.  Click here to donate online now.
Branch Members Recognition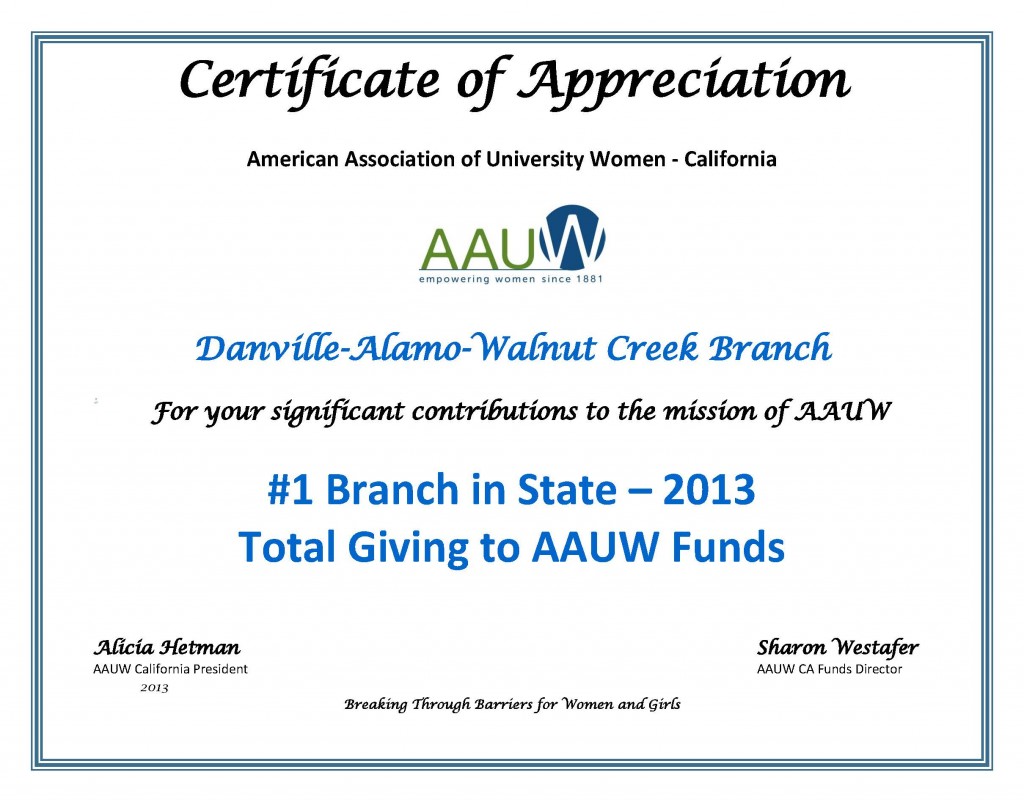 (June 2014) These branch members have made significant contributions to the mission of AAUW with individual donations to AAUW Funds in 2013: Karen Abu-Hamdeh, Marian Bliss, Connie Cady, Teresa Cheung, Susan Devoe, Tena Gallagher, Marianne Gagen, Lyn Griffith, Luisa Hansen, Jo Harberson, Kathie Hixon, Mary Ann Hruska, Carol Kennedy, Roseann Krane, Karen Large, Nancy Lennstrom, Penny Mendelsohn, Merilyn Milam, Mary Mix, Gail Murray, Beverley Nidick, Carla Pancheco, Linda Reeve, Sharon Ritchey, Cynthia Savell, Ann Shelton, Cindy Silva, Martha Slavin, Marcia Steinhardt, Leslie Vilhauer, Barbara Welch, Liz Williams, Chris Winter and Caroline Wood.  Thank you!  Thank you!
We are Number 1!!!
(April 2014)  Our Branch was announced as #1 in California for contributions to AAUW Funds in 2013! At our upcoming Installation and Recognitions meeting on May 29th @ 5:30 pm at Round Hill CC, many of our donors will be honored for their significant contribution to AAUW funds. Please attend & enjoy complimentary appetizers and beverages with other branch members. RSVP today!
Looking forward to seeing you there………….Carol Kennedy, AAUW Funds VP
P.S. We are beginning an American Fellowship in honor Danville-Alamo-Walnut Creek Branch 45thPlease consider a donation to this fund in 2014. Thanks.
February Event
Please join us in our February 2014 DKG event with AAUW Funds recipient speaker Mamie Chow.
2013 Year End Report
(December 2013) A big thank you to the 60 members – 24% of the branch – who made special individual donations to AAUW Funds in 2013. Along with our successful Garden Tour fundraiser last May, we have sent an amazing $40,500 to Association this year. Our Branch truly believes it is important to help women who strive to a make a difference in today's world!
Please join us in February for our program featuring our AAUW Fund Recipient speaker, Mamie Chow.
Carol Kennedy, AAUW Funds Vice President
AAUW Fellowships and Grants 125th Anniversary
(December 2013) Since 1888 AAUW has funded women's graduate education, investing in women who go on to change the world. By 2013, AAUW has awarded nearly $100 million in fellowships, grants and awards to more than 12,000 women from over 130 countries. In this video, you will learn about the influence alumnae and AAUW members have had all over the world through the 125-year-old fellowships and grants program. Join us in celebrating AAUW's rich history by sharing this video with your networks and AAUW community.
2012-2013 AAUW Funds Summary
by Roseann Krane
(June 2013) As 2012-2013 Vice President of AAUW Funds, it is my pleasure to announce that in 2012 the Danville-Alamo-Walnut Creek AAUW branch gave a total of $42,020 to AAUW Funds. We were ranked second in California in Funds gifts and third in the state in Per Capita Funds gifts.
In addition, in May 2013, our branch completed the $75,000 Tena Gallagher R&P Grant (Fund #4353) which will give fellowships in Research and Projects to many women. Other completed endowments honoring our branch include four in the branch name only, Research and Projects grants honoring Connie Cady, Joan Harberson, Rita Wustner, and Tena Gallagher, an American Fellowship honoring Chris Winter, and an International Fellowship honoring Joan Harberson.
Special praise goes to Mary Holzheimer and Kathy McKnight for the 2012-2013 outstanding garden tour. Because of their hard work, funds were generated which we were then able to contribute to AAUW Funds.  Many thanks go to Linda Reeve for donating the drawing prizes and kudos go to all of our members who worked as docents and did special baking for the tour. This May, our branch donated toward the 2013 year total of $21,020 to AAUW Funds as follows: $7020 toward the Tena Gallagher R&P Grant (Fund #43563), and $3,000 each to  Leadership, and Public Policy Funds, and $8,000. to Legal Advocacy. In addition, special thanks to all our members who sent in donations to association and credited our branch.
California AAUW honors the following women who have donated funds, time, and efforts to AAUW Funds.
Amicus Leadership Programs: Jo Harberson Amicus LAF: Charla Gabert, Luisa Hansen LAF: Charla Gabert, Carol Kennedy
Major Donors: Charla Gabert, Jo Harberson, Maryann Hruska, Carol Kennedy, Carla Pancheco, Chris Winter
Chocolate Club: Sandy Hoffman, Roseann Krane
Second Century Club: Karen Abu-­Hamdeh, Lyn GrifRith, Luisa Hansen
Century Club: Sue Devoe, Marianne Gagen, Janice Geahry, Carol Highton, Susan Hill, Nancy Lennstrom, Mary Mix, Linda Reeve, Diana Sanderson, Paula Weintraub, Sherry Wilcoxson
AAUW Funds:  Asha Bajaj, Luisa Hansen, Barbara Nexsen, Charla Gabert, Sharon Ritchey, Leslie Vilhauer, Joann Turner
Please give generously to our Funds.  Don't forget to credit the Danville-Alamo-Walnut Creek Branch when you are making your donations.