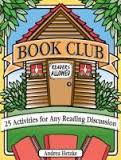 Group Leader:  Linda Jimerson
This group is wait-listed. If you have questions or would like to be added to the waitlist, please contact group leader.
Meeting Day/Time:  7:00 PM; 4th Tuesday of the month, September – June in members' homes or Zoom.
Calendar of Books: 
September 29, 2020 – The Life We Bury by Allen Eskens
October 27, 2020 – The Dutch House by Anne Pachett
December 1. 2020 – Meet Me at the Museum: A Novel by Anne Youngson
Jan 26, 2021 – Deep Creek – Finding Hope in the High Country by Pam Houston
Feb 23, 2021 – American Dirt A Novel by Jeanine Cummins and
and Yareli Arizmendi
March 23, 2021 – The Accidental President: Harry S. Truman and the Four Months That Changed the World by A.J. Baine
April 27, 2021 – A Tree Grows in Brooklyn by Betty Smith
May 25, 2021- Next Year in Havana by Chanel Cleetonneed
June 22 2021 – Beneath a Scarlet Sky: A Novel by Mark Sullivan, Will Damron,
September 28, 2021 – The Elephant Whisperer : My Life with the Herd in the African Wild by Lawrence Anthony.
Page updated September 2020